In the cabin that is.
Royal Jordanian just posted this on Twitter with no further explanation as to which US department told them this.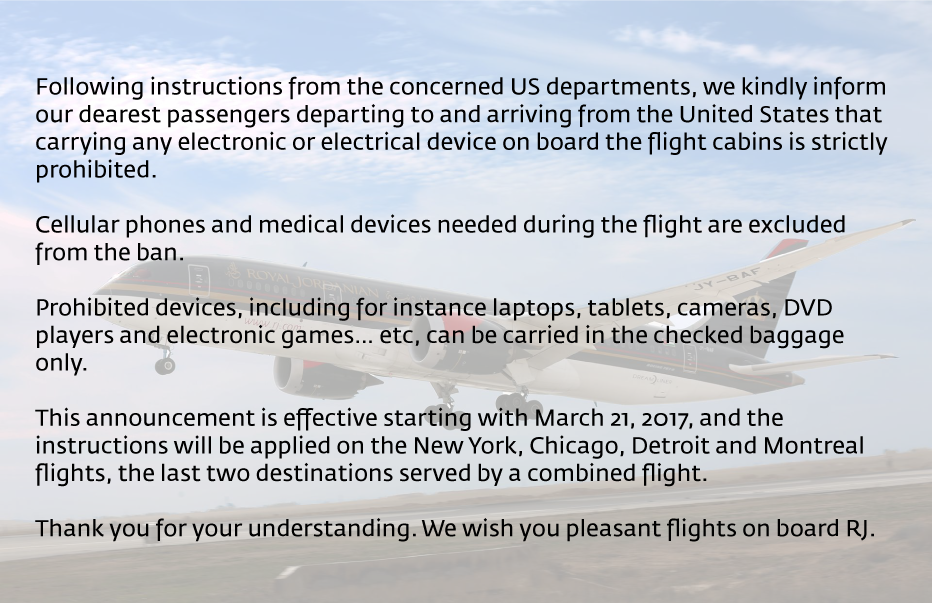 https://twitter.com/RoyalJordanian/s...60881947725825
Update:
US bans electronic devices on flights from eight majority-Muslim countries
Donald Trump's administration has banned airline passengers from eight Middle Eastern and North African countries from carrying large electronic devices.

No American carriers are impacted by the ban, which involves any device larger than a mobile phone.

The ban would stop passengers bringing laptops, iPads and cameras in carry-on luggage and is thought to effect at least 12 airlines.

It is thought to apply to nonstop flights to the US from 10 airports in eight countries which are believed to include Jordan, Egypt, Saudi Arabia, and the United Arab Emirates.

The policy is expected to be announced on Tuesday where the full details of the ban will be disclosed.
Update 2:
https://www.washingtonpost.com/news/...ory/?tid=sm_fb
From Tuesday on, passengers traveling to the U.S. from 10 airports in eight Muslim-majority countries will not be allowed to have iPads, laptops or any communications device larger than a smartphone in the cabin of the plane. If you are traveling from Egypt, Jordan, Kuwait, Morocco, Qatar, Saudi Arabia, Turkey, or the UAE on Egypt Air, Emirates, Etihad Airways, Kuwait Airways, Qatar Airways, Royal Air Maroc, Royal Jordanian Airlines, Saudi Arabian Airlines, or Turkish Airlines, and you want to use your laptop on the flight, you are probably out of luck.
http://www.bbc.com/news/uk-39343971
The UK has announced a cabin baggage ban on laptops on passenger flights from Turkey, Lebanon, Jordan, Egypt, Tunisia and Saudi Arabia.

The restrictions, which also apply to tablets, DVD players and phones over a certain size, follow a similar US ban affecting eight countries.

Downing Street said they followed talks on air security and were "necessary, effective and proportionate".

US officials said bombs could be hidden in a series of devices.

The six affected UK carriers are:

British Airways
EasyJet
Jet2.com
Monarch
Thomas Cook
Thomson

The eight overseas airlines subject to the ban are:

Turkish Airlines
Pegasus Airways
Atlas-Global Airlines
Middle East Airlines
Egyptair
Royal Jordanian,
Tunis Air
Saudia

The ban applies to any device, including mobiles and smart phones, larger than 16cm long, 9.3cm wide or 1.5cm deep.

Any affected device will need to be placed into hold luggage and checked in before passengers go through airport security.

A UK government spokesperson said: "Decisions to make changes to our aviation security regime are never taken lightly.

"We will not hesitate to act in order to maintain the safety of the travelling public and we will work closely with our international partners to minimise any disruption these new measures may cause."