Welcome to GAF-Hop!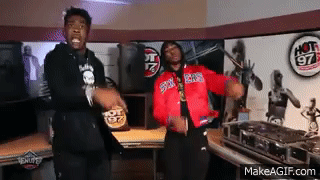 This is a place where everyone here is free to express themselves and talk about whatever they want in terms of Hip-Hop! Unless you like anything we don't, of course. If you like anything we don't like, then you can go ahead and fuck off for all we care. And you'll be put on everyone's ignore list. It's what we do.
Jokes aside, you will find that, no matter what your tastes in Hip-Hop, there will be people who share your taste in music, and everyone here is friendly regardless the occasional argument between each other. If someone rips on someone else, you can be sure 99 percent that it's all in good jest. And being completely serious here, if you are lurking or just stumbling upon this thread, don't hesitate to introduce yourself and join the community. The more folks here, the more variety of tastes we have, and the better this community is. Speaking of which…..
Initiation
.
For those who are looking to introduce themselves, here ya go. Enjoy and have fun!
1. Pick a Coast to rep (Chiraq/Atlantistan/etc)-
2. What's your favorite subgenre of rap? (Conscious/Backpack, Trap/Drill, Mafioso, WC Gangsta, Swag, Weed, Hyphy, Club, etc) -
3. Favorite Artists (Pick Five)-
4. Favorite Artists Outside of Hip-Hop (Pick Five)-
5. What was your hip-hop AOTY last year? What's your current hip-hop AOTY? -
6. What are you listening to right now? –
7. What's something you like that you might consider a guilty pleasure? What's something you haven't listened to that you think a hip-hop aficionado might give you shit for? -
8. Rank a Random Rapper's Discography (Pick Someone With > 3 Albums)

GAF-Hop Discusses

1. What do you like about the current state of hip-hop? What's missing from the game? -
2. Who's Your Favorite Wu-Tang Member? -
3. Jay-Z or Nas? Biggie or Pac? Lil' B or Anyone else (correct answer is Lil' B)? -
4. What Hip-Hop Album Are You Currently Anticipating? -
5. Who is the Most Underrated Emcee? Who is the Most Overrated?
6. Would You Rather Eat An Ass or Have Your Ass Eaten? -
7. Onions, Avocados, Both, or Neither? -
8. Do you still listen to Eminem? Why? -
9. Who's your favorite pop artist? And who's the finest? -
10. Recall a personal event that went down about a week ago... –
Archive!
―Ξ
OT0
-

OT1
-
OT2
-
OT3
-
OT4
-
OT5
-
OT6
-
OT7
-
OT8
-
OT9
-
OT10
-
OT11
-
OT12
-
OT13
-
OT14
-
OT15
Ξ―
Wall of FAME (FUCK SHAME)
Enjoy!