Power up and build the ultimate version of your favorite DC legends in INJUSTICE 2. With a massive selection of DC Super Heroes and Super-Villains, INJUSTICE 2 allows you to equip every iconic character with unique and powerful gear earned throughout the game. Experience an unprecedented level of control over how your favorite characters look, how they fight, and how they develop across a huge variety of game modes. This is your super Hero. Your Journey. Your Injustice.
Thanks Amazon
Playable on
: Playstation 4, Xbox One
Developed by
: NetherRealm Studios
Published by
: Warner Bros. Interactive Entertainment
Genre
: Fighting
More on
Injustice.com
|
Abilities and Gear Sets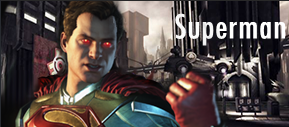 Aside from Darkseid, who is a preorder DLC Character, Injustice 2 will get 9 DLC Fighters. 3 have been released so far.
Screenshots by Tyaren:
(Captured on PS4 Pro)

Trailers:

Guilds:
PS4
: GAFs NeoGods
ID
: QQ5F3
XBO
: GAF House of Ls 3
ID
: EJ8EY
How can i join a Guild?
- Once you reach Profile Level 5, go to Guilds in the Main Menu and search for one of the IDs above. Don't forget to mention your Gaf Name when you are able to type a message!
What do i gain from being a Guild?
- You gain access to the Guild Multiverse, where you can earn Motherboxes and Guild Currency, which you can use to buy more Motherboxes. You can also chat in the Guild, look up other Guild Members Profiles and get Motherboxes simply by checking in every now and then. Play the Guild Multiverse to unlock more Missions and Rewards for your Guild.
Please put your Gaf Name in the Request Message! If you wish to join the Xbox Live Guild, send your Gamertag to
GringoSuave89
.
Injustice Gaf/House of L's Discord, Quote to Reveal: