-------------------------------------------------------------------------------------------------------------------------------------------------------------------------------------------------------------------------------------------------
PS VR, is a virtual reality gaming head-mounted display developed by Sony Interactive Entertainment and manufactured by Sony Corporation.

Why the official thread you ask?

Because the consumer version of PlayStation VR has finally arrived!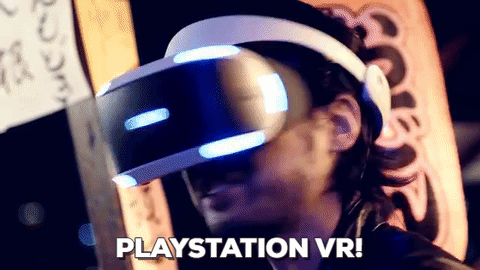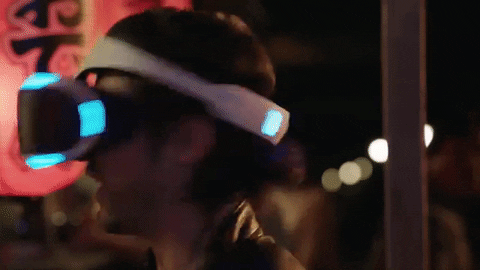 Release Date: October 13th, 2016 (Worldwide Release)
Platform: PS4
Cost:

Core Bundle - US $399 / CAD $549 / £349.99 / €399.99 / AUD $549.95 / NZD $629.95 / ¥44,980 / HKD $3,180 / RMB 3299 / MYR 1,849 / SGD $599 / IDR 6,690,000
PHP 22,900 / THB 17,490 / KRW 498,000 / TWD 12,980

Launch Bundle - US $499 / CAD $699.99 / HKD $3,480 / RMB 3699 / MYR 2029 / SGD 649 / IDR 7390000 / PHP 25290 / THB 18990 / KRW 538,000 / TWD 14,480

How to Setup PS VR - (Video)

How to Use PS VR - (Video)

How to Calibrate PS VR - (Reddit Link)

How to Troubleshoot PS VR - (Courtesy of Pocket-Lint)

PlayStation VR Headset, Processor Unit, PlayStation VR Headset Connection Cable, HDMI Cable, USB Cable, Stereo Headphones, AC Power Cord, AC Adaptor, PlayStation VR Demo Disc (Video)

External Dimensions:
VR headset: Approx. 187×185×277 mm (width × height × length, excludes largest projection, headband at the shortest)
Processor unit: Approx. 143×36×143 mm (width × height × length, excludes largest projection)

Mass:
VR headset: Approx. 610g (excluding cable)
Processor unit: Approx. 365g

Connection Interface:
VR headset: HDMI, AUX, Stereo Headphone Jack
Processor unit: HDMI TV, HDMI PS4, USB, HDMI, AUX


Headset:
Display Method: OLED
Panel Size: 5.7 inches
Panel Resolution: 1920×RGB×1080 (960×RGB×1080 per eye)
Refresh Rate: 120Hz, 90Hz, 60Hz (Reprojected)
Field of View: Approximately 100 degrees
Sensors: Six-axis motion sensing system (three-axis gyroscope, three-axis accelerometer)
Processor Unit Function: 3D audio processing, Social Screen (mirroring mode, separate mode), Cinematic mode
Required

- PlayStation Camera
- PS4

Optional:

- PS Move Controllers
- PS4 Pro
All of these games will be available at launch:



The Heavy Hitters

Battlezone

DRIVECLUB VR

EVE: Valkyrie

RIGS: Mechanized Combat League

The Asian Angels

Hatsune Miku VR: Future Live

Idolmaster Cinderella Girls: Viewing Revolution [Japan Release] [Region-Free]

Summer Lesson [Japan Release] [Region-Free]

The Occasional Others

100ft Robot Golf

Ace Banana

The Assembly

Batman: Arkham VR

The Brookhaven Experiment

EVE: Gunjack

Fly to Kuma [Japan Release] [Region-Free]

Harmonix Music VR

Headmaster

Here They Lie

Job Simulator

Keep Talking and Nobody Explodes

Loading Human: Chapter 1

O!My Genesis VR [Asian Release] [Region-Free]

PlayStation VR Worlds

Rez Infinite

Rise Of The Tomb Raider: VR Mission

SportsBar VR

SUPERHYPERCUBE

Thumper

Tumble VR

Until Dawn: Rush of Blood

Waddle Home

Wayward Sky

The VR Patched

Bound [Free w/ Original Game Purchase]

Catlateral Damage Free w/ Original Game Purchase]

Hatsune Miku: Project DIVA X [Free w/ Original Game Purchase]

Hustle Kings VR [Discount w/ Original Hustle Kings Mega Pack]

Hyper Void [Free w/ Original Game Purchase]

Nebulous [Free w/ Original Game Purchase]

Super Stardust Ultra VR [Discount w/ Original Game Purchase]

VEV: Viva Ex Vivo [Free w/ Original Game Purchase]

Volume: Coda [Free w/ Original Game Purchase]

The Freebies

Cyber Danganronpa VR: Class Trial [Free] [Asian Release] [Region-Free]

Kitchen [Free w/Demo Disc]

PlayRoom VR [Free w/PS4]

World War Toons [Free To Play]
Experience VR with your family & friends and find new interactive ways to play in groups.

Social Screen Features

5 Player Competitive or Co-op (1 PSVR player vs. 4 DS4 players)
Mirror Gameplay View (TV displays what the player sees)
Different Gameplay View (TV displays different view of the gameplay)
No Gameplay View (TV displays something completely different from what the player sees)
The Verge - 85

At the same time, holding out for total perfection is the wrong move. I don't want PlayStation VR to become the only headset that people build for; it's just not ambitious enough. But even this early in the game, Sony is providing a home for interesting, low-key experiences that highlight some of the medium's strengths. More than any single piece of cutting-edge technology, the key to making VR succeed is just getting more people to use VR. And with PlayStation VR, Sony has just made that a lot easier
Engaget - 84

Good on Sony for actually delivering a decent VR headset that comes in much cheaper than the competition. It's even more impressive that it managed to get a decent amount of developers onboard for the initial push. Nonetheless, the PS VR is hard to recommend for most people. Even if you're intrigued by virtual reality, it's worth waiting for prices to go down and for the overall market to settle.
ArsTechnica

In a way, it's incredible that a virtual reality experience this good is possible on the PlayStation 4 at all. At its best, PlayStation VR approaches the quality of the current state-of-the-art PC-based VR headsets at a fraction of the price. The fact that the PlayStation VR is much more comfortable and has better optics than those competitors, that it can be easily set up in a living room, and that it comes with the significant software publishing muscle of Sony all make it instantly compelling. Still, the middle-of-the-road approach comes with compromises on both ends.
IGN - 85

Despite its relatively low resolution it looks very good in games, and the headset is comfortable to wear and easy to use after you've dealt with its many wires. Paired with the Move controllers it provides good but sometimes flakey motion tracking on your hands, but the PlayStation Camera's limited viewing angle is a weakness, and so is its inability to see behind you.
CNET -79

I really like using the PS VR, but I don't know if I'm still in the honeymoon phase. It really depends if more compelling software continues to churn out. As much I enjoy jacking into that false reality, I still find it more relaxing and enjoyable to play a standard video game.
Eurogamer

The full-fat PC VR experience has been nipped and tucked in terms of core technology and visual accomplishment, but the sense of presence required for a top-tier virtual reality experience is undiminished and there's plenty of promise in the initial launch line-up. Bearing in mind its price in relation to the competition, PlayStation VR is a remarkable achievement - especially bearing in mind that it manages to outscore its much more expensive rivals in key respects, principally in terms of comfort, fit and finish. ... [But] as much I enjoyed my time with it, there are three significant arguments against investing in it right now.
Gizmodo

Playstation VR is the first virtual reality system any regular person should bother with.
Press Start

Honestly, I know that a lot of people are going to be on the fence about PlayStation VR. It's not perfect and there are still some kinks to iron out, but it's genuinely the most exciting piece of hardware to release in the gaming space in quite a number of years. It legitimately feels like a huge step forward in immersion and provides new experiences that really further the medium of gaming.
Q: Do you need a PS4 Pro to use PS VR?
A: No, all PS4 versions will be capable of running PS VR (PS4 / PS4 Slim / PS4 Pro)

Q: What is the Processor Unit and what does it do? Does PS4 Pro need it?
A: The PU is a small box that comes with your PS VR, it provides HDMI cable management, Social Screen TV output, 3D audio processing, and Cinematic mode.
A: Yes, all PS4 versions require the PU to use PS VR.

Q: Does the Processor Unit support 4K and HDR pass through?
A: The PU pass through supports 1080p signals and also supports 2160p (UHD or '4K') content in YUV 420 color format at up to 60 Hz from a PlayStation Pro. It does not however support HDR signals.

Q: Can I use PS VR on my PC?
A: No, as of now, only PS4 consoles are officially supported.

Q: How many games are currently in development for PS VR?
A: (A lot) As of now there are hundreds of titles in development for PS VR.

Q: Can I use the SHARE button when playing VR and non-VR PS4 games during Cinematic mode?
A: Yes, all SHARE button functionalities are supported with PS VR.

Q: How long can people safely wear PS VR?
A: It can be worn for extended periods of time. However, it's recommend you take breaks when using PS VR.

Can't find your Q&A?, go to: PlayStation VR: The Ultimate F.A.Q
A very special shout-out and thank you to Manyisurux (also known as my graphic designer girlfriend), for helping this lvl.1 Photoshop guy make some awesome banners and images :P
I would also like to thank everyone who help me in my time of need due to financial troubles, to everyone who donated and gifted me a chance to play with all of you at launch. I will never forget the kindness the community has given me. I would like to dedicate this section to the following people:

Sephiroth_VII, ShadowKingpin, NotSmartEnough, Tagg9, Kyolux, AngerdX, Chopper, King_Moc, Briarios, III-V, Freewheelin', motodd, DangerMouse, fastest finger, ryseing, JustenP88, kyser73, heavy liquid, Magicman103, sadromeo, Evoker1995, Carl, mrklaw, AnthonypUK, Yakkity, JaguarCROW, Gemeanie and to the many others who contributed anonymously.

Again, I thank you from the bottom of my heart.
Thanks to the PS VR community here on NeoGaf for helping me out, finding info on my other threads and making me make this OT.
Special mention to all the VR naysayers and PS VR cancelers, would like to thank you guys too for making me work hard to impress you with this thread.

Never Forget:


Experience PS VR

North America: https://www.playstation.com/en-us/ex...tion-vr/trial/

Europe: http://trypsvr.com/en-gb
NeoGaf PS VR Discord Community

Spreadsheet

(Courtesy of Kyolux)
Hope you guys enjoy the thread: