http://www.figures.com/databases/act...ticle=417&nl=1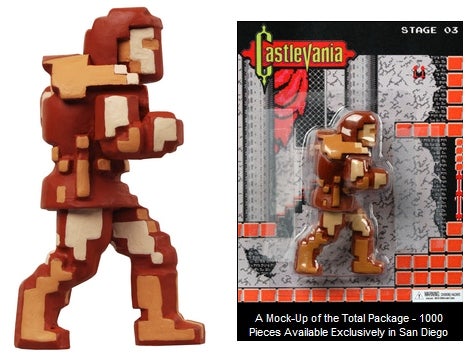 New San Diego Comic-Con "Pixel" Simon mini-figure...

Talking about a blast from the past...

NECA announces that they will be celebrating the launch of their highly-detailed Castlevania action figures (see "NECA's New Castlevania Simon Belmont Figure") with this surprise San Diego Comic-Con exclusive addition.

The "Pixel" Simon Mini-Figure is based on the look of the original Castlevania vampire hunter, Simon Belmont, and how he appeared on the original 8-Bit NES platform.

This figure is a non-poseable resin mini-figure that stands about 3" tall. He will be packaged on a small blister card that re-creates the original game artwork and background. This mini-figure will be available only at the San Diego Comic-Con and will be limited to 1000 pieces.