Sekaiju no Meikyu 2 - The Royal Grail (DS/Atlus/Coming this Winter)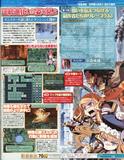 - New classes: Doctor Magus, Gunner and Pet. The Magus is sounds like a combat mage, which has healing properties as well as offense boosts from studying the body. The Gunner can use various elemental bullets. The Pet class is an animal class.
- Existing jobs will have brain new artwork.
- Battles will be much more visually exciting.
- FOEs will have new rules and new types.
- The director is Komori (the writer of EO1, Devil Summoner PS2 and Princess Crown), and she says they decided to make a sequel when they looked into the template and realized they could improve the balance of the calculations and skills, as well as brushing up the existing formula.
- There are two settings this time: the Sekaiju as well as the flying castle.
- You can create a total of 30 charcters this time.
- They have added a quicksave function for saving in the middle of dungeons. (YAY)
- For map creation, there are now 3 different colors you can use.
- There are also more icons and arrows to use.
- When buying equipment now, the character status is displayed so you can see how effective they are before buying. (YAY!)
- Game is 70% complete, release date will be announced soon.
- The character design, monster design and sound are handled by the same staff as the first game. (KOSHIRO COME TO ME!!!!!!!!!)
Yggdra Union PSP - 24th Jan 2008
- New additions to characters and the scenario
- There is a brand new 3 min opening movie
- Battle animations will be improved
- Types of Tactics Cards will be increased
Star Ocean 1 Remake on PSP will be released on 27th Dec, there will also be a PSP bundle.
Reviews:
Arcana Heart - 7/6/7/6
SuchiPai4 - 8/7/6/5
Lair - 9/7/8/9
Operation Darkness review - 6/6/6/5
PGR4 - 9/8/8/8
For Operation Darkness, Famitsu sez:
- Graphics suck donkey nuts
- Highly strategic, battle tempo is good
- The game is pretty tough, without using the game's cover and ambush systems properly it can be extremely hard to win
- Camera and minimap are kinda dodgy
- The worldview is a good mixture of fantasy and historical settings
- The game systems involved in developing your characters are rather hard to understand
- The game isn't very cinematic and the presentation is a little dull