Confirmed?: Free Loader for Wii due in about 10 days

Divineo.co.uk has confirmed to us that in around 10 days, Datel are set to release Freeloader for the Nintendo Wii. The product allows you to play import games from all over the globe and a single version works on PAL, USA and JAP consoles.
Source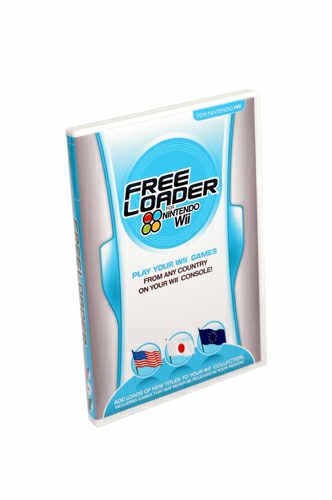 Originally Posted by VOOK

Oh and I promised this,


Originally Posted by CODEJUNKIES

This is the one you've all been waiting for! Wii FreeLoader lets you play ANY region of Wii or GameCube game on your Nintendo Wii! At last, you can import games from other territories and play them on your Wii…

Videogamers the world over get really frustrated when games are released in other territories long before they reach the shops in their home country, if they ever get released at all. You want to play that blockbuster survival horror which is out in Japan three months before it hits the shelves elsewhere. What about the soccer or F1 sim which only gets a European release or a gridiron football or NBL baseball game that's never released outside the States? Or maybe you bought an imported Wii because you wanted to get it early, and you now want to play games from your own region without buying a second machine. Well, now you can. With Wii FreeLoader, you can play ANY region of game on your Wii!

Wii FreeLoader is really easy to use. Simply insert your FreeLoader disc and load it in the usual way. When the drive stops, eject the Wii FreeLoader disc and insert the game, which then loads and plays just like it would on its own region of Wii. It's as simple as that!

Wii FreeLoader is 100% unofficial, but as it requires no modifications to your console, it does not invalidate the warranty. As well as letting you play Wii games from all regions, Wii FreeLoader also works with imported GameCube games when played on your Wii. It won't work in a GameCube console, though – for that, you need Freeloader for GameCube, also available from Codejunkies…

Features

* Play ANY region of Wii or GameCube game on ANY Wii.
* Easy to use.
* No console modification required.
* Doesn't invalidate warranty.
* Play games never released in your region.
* Play local games on your imported console.
* 100% unofficial.
ATTENTION EVERYONE

I have actually had a LONG conversation with one of the codejunkies technical experts over the phone yesterday, when I ordered freeloader (the phone call at their expense - they called me back!)

This is what freeloader does, confirmed by codejunkies staff, who actually investigated my questions when I asked about it, TESTED it, and then called me back:

• WII FREELOADER IGNORES ALL REGION-CODING.
• WII FREELOADER IGNORES ALL WII UPDATES ON A WII GAME DISK (INCLUDING SUPER SMASH BROS. BRAWL).
• WII FREELOADER IGNORES THE NECESSITY OF CHECKING FOR GAME UPDATES; THUS ALLOWING THE GAME FILES TO BE PLAYED SAFELY WITHOUT ANY RISK OF BRICKING YOUR WII CONSOLE.
• CODEJUNKIES STAFF HAVE CONFIRMED TO ME, BY PHONE, THAT IF A WII FIRMWARE UPDATE SOMEHOW BLOCKS THE WII FREELOADER, THEY WILL SEND YOU AN UPDATED WII FREELOADER FREE OF CHARGE WHEN ONE IS CREATED, AS LONG AS YOU HAVE PROOF OF PURCHASE OF YOUR ORIGINAL COPY OF WII FREELOADER.

Hope this helps everyone!



===MESSAGE RESPONSES===

-ok i really need this question answered i have the latest update for the wii will freeloader work do you think ?
-Yes, it will.

-But surely Nintendo wouldn't actually break someone's Wii just because they used a freeloader? It's not like it's illegal or anything... yet.
-They can legally block modchips in europe, but I do not believe they can legally block software (a.k.a. freeloader discs)

-Sounds good, but until someone updates their wii and confirms that their wii and freeloader survived the update it just sounds too risky.
-Codejunkies has confirmed it's completely safe because wii freeloader loads the game file, ignoring all updates on a game disk.

-If it DOES bypass the updates, Nintendo could change the format of some games in the near future making them unplayable even with a Freeloader (they did so in the SNES era with Super Mario RPG by making it unplayable using region-changing devices). So you would be spending over £50 on one game.
-It bypasses all updates and plays the raw game file safely, with the wifi and everything safe - this has been confirmed 100% by codejunkies to me.

-Brawl will come with an update just like metroid prime 3 and super mario galaxy. It will not work
-Yes, it comes with an update, but use of the wii freeloader allows that update to be ignored.

-So moving swiftly on....I've gone ahead and order the freeloader and smash bros. After reading all the pages of this thread I'm very skeptical about what will happen once I run the freeloader.
-You have every right to be skeptical, but it is unneeded, as codejunkies have tested the Freeloader with a japanese version (with update on disk) with BOTH european, and american consoles.
Originally Posted by batbeg