Or...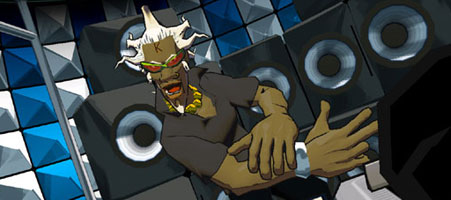 That is the question.
As I'm sure you are all well aware, Jet Set Radio (Or Jet Grind Radio in America) was an action/platformer released on the Dreamcast in in 2000. Developed by Smile Bit and published by Sega, the game is extremely well known for its style. Jet Set Radio was unlike anything anyone had seen at that point. It codified the use of Cel Shading in video games, giving the game a strange, pseudo hand-drawn look. It was also praised for its unique soundtrack, and game play. It took a very different approach compared to other games based on sports, instead using a more traditional action-adventure/platformer set up, making the game very accessible. The game could be described as a crazy 3D Pacman. The play is tasked with spraying graffiti in all of the select areas while being hounded by the police and anything else the Japanese Defense Force sends at you. The game apparently sold poorly, but it was received extremely well by critics and it has a huge cult following to this day.
And then Sega left the hardware business, instead releasing games as a third party publisher/developer.
In 2002, Sega released the game's sequel, Jet Set Radio Future on the Xbox. It was very similar to its predecessor with a few key differences. First, the game play was much faster. Grinding a rail actually moved you faster than running speed, and could be kept up indefinitely as long as the player pressed the trick button with a consistent rhythm. Second, while the police and military are still present, they do not hound you throughout the levels, instead you are tasked with combating them in specific events. Third, all the characters were given new character designs. Fourth, the means of spraying graffiti was also changed quite radically. In the end, the game felt more like a modernized take on N64 collectathons than an action game. It was also very well received by critics, and also sold poorly. However, it seems as though time has not been kind to JSRF. JSRF is rarely mentioned outside of being a mediocre follow up to its predecessor.
So, tell me your thoughts. Jet Set Radio vs Jet Set Radio Future. Which is better and why?