Update 2:
Originally Posted by SolidSnakex

I'll be announcing the upcoming release of something new on Sat; the same day as the Spike Video Game Awards. Coincidence? I think not.

http://twitter.com/tonyhawk/status/144150318949732352
Update:
Newest Clue: "Would you believe there really are secrets still left in the game industry?"
Video:
http://www.gametrailers.com/video/vg...ke-vgas/724577
Original:
13 Exclusive world premieres
Metal Gear Solid Rising, Bioshock Infinite, PS3 exclusive you wont believe and much more, plus a special tribute to The Legend of Zelda
Source
http://twitter.com/geoffkeighley/sta...47269932597248
Originally Posted by chronos4590

I Took a better pic from outside of Penn Station.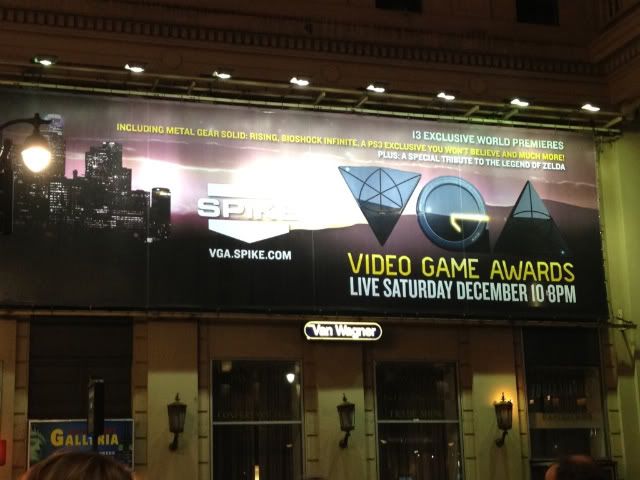 ----
"Yes, at VGAs we will be revealing a PS3 exclusive you won't believe. We'll be able to share more soon."
https://twitter.com/#!/geoffkeighley...72708202184705
"BLIZZARD will be at 2011 VGAs. Founders to receive Gamer God Award, plus World Premiere the opening cinematic for DIABLO III!"
https://twitter.com/#!/geoffkeighley...59050278600704
In the below two tweets, Keighley implies Sony Smash isn't the exclusive.
http://twitter.com/#!/geoffkeighley/...67340714725377
http://twitter.com/#!/geoffkeighley/...44874113343490
---
List Of Known Reveals:
1.) Metal Gears Solid: Rising
2.) BioShock Infinite
3.) Alan Wake XBLA
4.) Transformers: Fall Of Cybertron
5.) "BioWare's New Franchise" (Best Guess: C&C: Generals 2)
6.) "PS3 Exclusive You Won't Believe" - "Would you believe there really are secrets still left in the game industry?":
http://www.gametrailers.com/video/vg...ke-vgas/724577
(Best Guess: Until Dawn - A PlayStation Move Zombie Game)
7.) Diablo 3 opening cinematic
8.) Rainbow 6: Patriots
9.) New franchise from Epic
10.) The Amazing Spider-Man
11.) Mass Effect 3
Unknown:
13.) Sound Shapes
In the commercials:
14.) Darksiders
At the Pre-Show:
10.) Tony Hawk
15.) Hitman: Absolution
16.) Tekken