From Nintendo's GDC website:
The Nintendo Web Framework is a development environment based on WebKit technologies, supporting application development on the Wii U system using HTML5, JavaScript, and CSS. It also supports the Wii U GamePad controller, Wii Remote controllers, and JavaScript extensions such as video playback. With the Nintendo Web Framework, development times will be reduced and Wii U applications can be easily developed using common Web technologies. Combining the handy Wii U GamePad, the TV screen, and the Internet, the potential exists for the services and games you are developing to progress by leaps and bounds.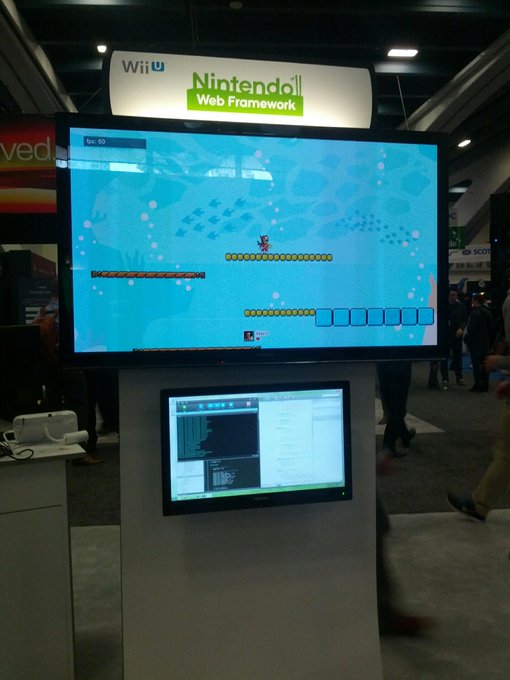 A couple of tweets:
https://twitter.com/Duckols/status/317035928378019840
It looks really slick, and the editing tools have a publish button that sends the build right to Nintendo for approval
https://twitter.com/GameplayDev/stat...35939446808576
Nintendo's Wii U Web Framework talk was very interesting. HTML5/JavaScript applications can be easily created for/ported to Wii U.
https://twitter.com/pkollar/status/317044964787900417
Yeah, presentation focused on apps at first but then confirmed they want it to work for games as well.
https://twitter.com/DatBoiDrew/statu...52084220489729
Super Ubi Land is a HTML5 based game so this announcement of Nintendo Web Framework is amazing! Things should be a lot easier for porting...
Originally Posted by KillerTravis

Seems like you can port iOS games with the push of a finger using this free software:


Note: The conversion is actually done through Intel, not Nintendo.
Nintendo put up a form for any developers interested in doing Wii U development with Unity, Javascript, or HTML5.

https://gdc2013.nintendo.com/sign_up.php

They'll contact you after GDC is over.

You can choose whether to make free, commercial, or web applications (or games) for Wii U.