Jan 31, 2018
1,428
4,181
570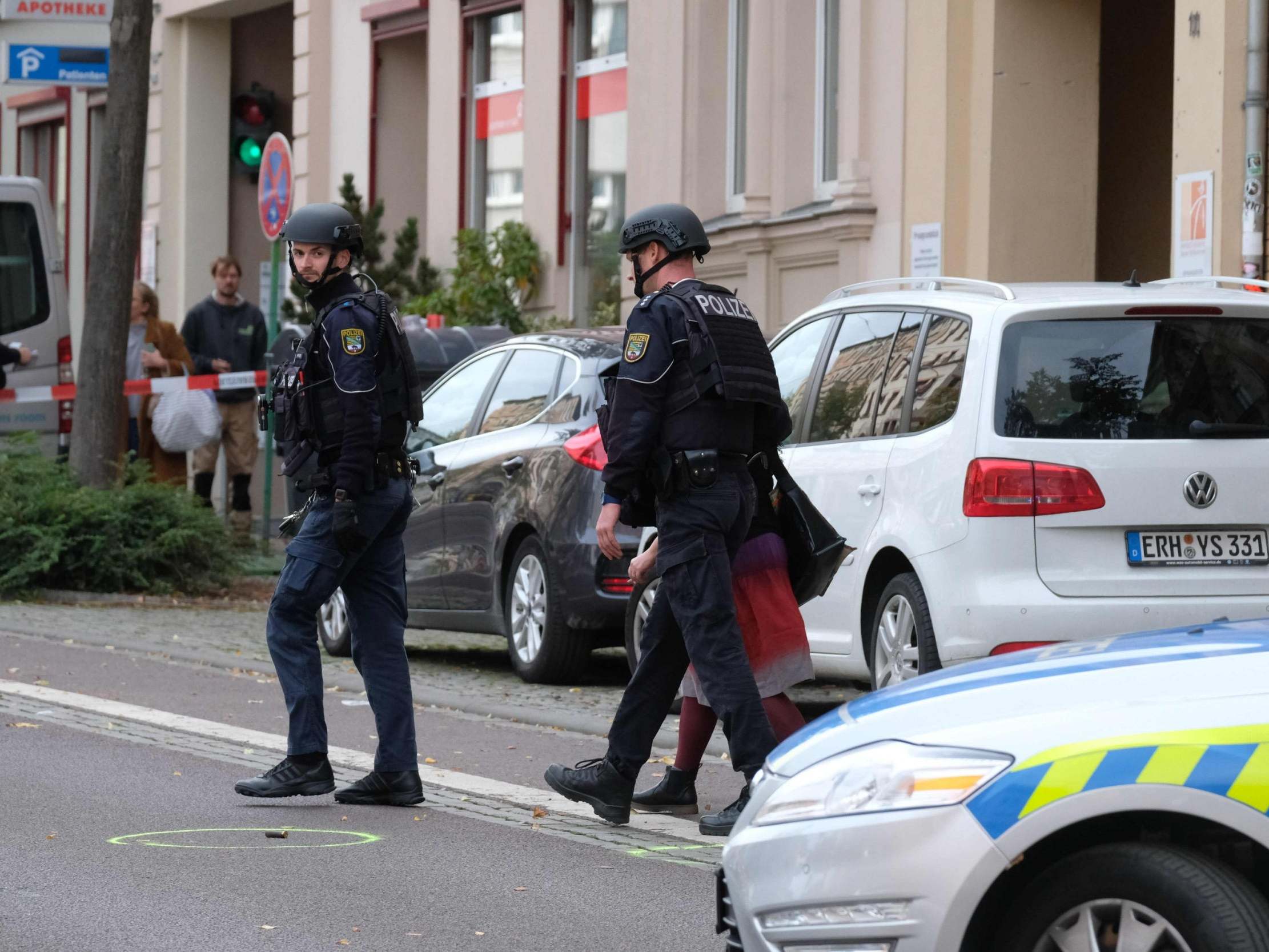 Manhunt underway after shootings in at least three locations during Jewish religious festival of Yom Kippur
www.independent.co.uk
At least two people have been killed in shootings at a number of locations in
Germany
, including near a synagogue in the city of Halle.
Local police have arrested one person but told people to "remain vigilant" on Wednesday afternoon.
Shootings were reported outside the synagogue, where an attacker attempted to break down the doors, at a nearby Turkish kebab shop and in a town about 10 miles away.
The alleged gunman in Halle
broadcast his attack on the Twitch live-streaming video platform
.
Follow live updates here
Speaking in English, the man called himself "anon" and announced himself as a Holocaust denier.
Feminism is the cause of declining birth rates in the west, which acts as a scapegoat for mass immigration, and the root of all these problems is the Jew," he continued, while filming himself in a car before starting the attack.
Investigators initially said perpetrators of the Halle attack fled in a vehicle, and a manhunt was under way.
"According to initial information, two people have been killed in Halle," a police spokesperson said.
"Several shots were fired. The alleged perpetrators are fleeing in a vehicle. We are asking the public to stay in their homes."
Watch more
The number of attackers at large was unclear, but video footage showed a man wearing military-style clothing and a helmet mounted with a camera.
Germany's federal public prosecutor has taken over the investigation into the case – a move commonly seen for suspected terror attacks.
The Independent understands it is looking into potential ideological motivations including far-right extremism, but has not yet confirmed the background to the shootings.
Officials at a Halle hospital said it was treating two people for gunshot injuries, including a victim undergoing surgery.
One victim's body was in the street outside the synagogue, while another victim was said to have been shot at a nearby Turkish kebab shop.
A separate shooting was reported in the town of Landsberg, about a 20-minute drive from Halle.
Anja Werner, the mayor of Landsberg, later said two suspects had hijacked a car and were on a motorway that leads to Munich.
Police have not confirmed whether the incidents are linked.
The Halle incident started at around noon local time on Humboldtstrasse, which houses a synagogue and Jewish cemetery.
Police did not immediately confirm
local reports
that a man had attempted to break through the door of the synagogue and then shot a passer-by.
Some reports said the victim was a woman using a nearby tram stop.
An eyewitness told reporters at the scene that he heard an explosion at the Jewish cemetery, and that he saw the attacker use both a shotgun and machine gun.
He described the gunman being "dressed like a police officer" with protective clothing and a helmet, and said he fled in a Volkswagen Golf.
The
Bild
newspaper reported that the attacker used a submachine gun in the assault, and threw a hand grenade into the cemetery.
The attack came during Yom Kippur, a Jewish religious festival that sees observers fast and pray to atone for sins.
A spokesperson for the local Jewish community told
Der Spiegel
that up to 80 worshippers were inside the synagogue at the time, but security measures at the building's entrance "withstood the attack".
Heiko Maas, the German foreign minister, said the timing of the attack had "touched our hearts".
"We must all fight against antisemitism in our country," he added. "In these difficult hours, my thoughts are with those killed and injured, their relatives and the police."
Local reports said a second victim was killed outside a kebab shop about 600m away from the synagogue.
Conrad Roessler, a witness, told N-TV the man threw something that looked like a grenade, which bounced off the doorframe, before opening fire.
"All the customers next to me ran, of course I did too – I think there were five or six of us in there," he said. "The man behind me probably died."
Mr Roessler said he hid in a toilet as other customers attempted to flee out of the back of the takeaway outlet, adding: "I locked myself quietly in this toilet, and wrote to my family that I love them, and waited for something to happen."
Halle's main railway station was shut as the search operation continued, and Germany's federal police were increasing controls at land borders and airports to prevent any potential escape.
A secondary school in Markranstädt, around 20 miles from Halle, was put on lockdown but police said the measure was a precaution.
The attack came two days after a hijacked
lorry was rammed into cars in Limburg
, near Frankfurt.
A 32-year-old Syrian man is accused of deliberately ploughing the vehicle into victims, who suffered minor injuries, and police are investigating whether the crash could be an act of Islamist terrorism.
German authorities have also been attempting to combat a resurgence of right-wing extremism in the country, which has seen synagogues firebombed and vandalised in recent years.
The country's deadliest terror attack was at a
Christmas market in Berlin in 2016
, when a Tunisian migrant drove a stolen lorry into crowds and killed 12 people.
Despite being heavily-armed, he only managed to kill one person outside the synagogue and another at a nearby kebab shop.
In the stream he incoherently rants about jews, feminism, and immigrants.
The gunman himself livestreamed the shooting on Twitch. I'm probably not allowed to share the footage here and I haven't watched all of it myself yet, so I'll just say that a lot of his time was spent trying to navigate the obstacle of
locked doors
. He tries kicking doors down, shooting the locks out, and he just can't do it. He never actually manages to enter the synagogue. His incompetence gave people nearby time to contact authorities, who ended his rampage before any more lives could be taken.
The suspect's initial target of the ~80 worshippers in the synagogue were unharmed. Those killed were a woman walking near the synagogue and a man sitting in a kebab shop.
Heart goes out to the families of those lost. People just going about their day, killed for nothing.
Last edited: