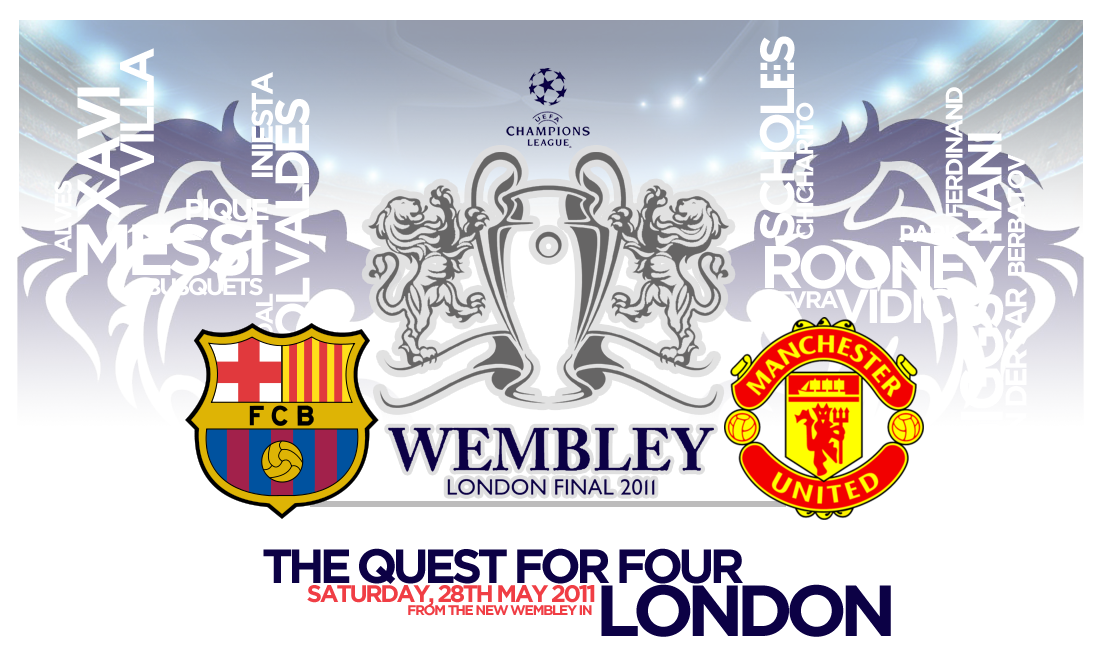 The biggest match of the biggest tournament featuring the biggest teams in the world.
The 2010-11 UEFA Champions League comes down to the final two
:
FC BARCELONA
and
MANCHESTER UNITED
. Both have already triumphed in their domestic leagues: Barcelona Champions of Spain for a 21st time, Manchester United Champions of England for a record 19th, and both aim to conquer Europe once more. The two are no strangers,
Barca having defeated ManUtd just two years ago in Rome for the very same prize
. How much have the two sides changed?
Can The Greatest Manager in the World
overcome
The Greatest Team in the World
?
The Quest For Four all comes down to this.
--------------------------

Saturday, 28th May 2011
From Wembley Stadium in London England
--------------------------
Kickoff:
19:45BST / 2:45PM EST
Viewing:
ITV1 and SkySports (UK) / FOX (US)
Referree:
Victor Kassai (Hungary)
Assistant Referees:
Gabor Erös (touchline) (Hungary)
György Ring (touchline) (Hungary)
Mihaly Fabian (penalty area) (Hungary)
Tamás Bognar (penalty area) (Hungary)
Fourth Official:
István Vad (Hungary)
Reserve Official:
Robert Kispal (Hungary)
---------------------------------------------------

More than a club.
For the past five years FC Barcelona have been exactly that. Under the guide of Pep Guardiola, this team has become an unstoppable offensive juggernaut, snatching every piece of silverware on offer along the way.
--------------------------
MANAGER:
Pep Guardiola
CAPTAIN:
M Xavi / D Carles Puyol / D Eric Abidal
--------------------------
STARTING XI:
1 Valdes
2 Alves ( SUB OUT, 88' )
14 Mascherano
3 Pique
22 Abidal
16 Busquets
6 Xavi
8 Iniesta
17 Pedro ( GOAL! 27' / SUB OUT, 90+2' )
7 Villa ( GOAL! 69' / SUB OUT, 86' )
10 Messi ( GOAL! 54' )
SUBSTITUTES:
38 Oier
5 Puyol ( SUB IN, 88' )
9 Bojan
15 Keita ( SUB IN, 86' )
20 Afellay ( SUB IN, 90+2' )
21 Adriano
30 Thiago

:VS:

The Biggest Club in the World.
And who would say otherwise? A fanbase reaching around the world, and with good reason. This season, Manchester United have returned to championship form, but one trophy can simply not be enough for these Red Devils, can it?
--------------------------
MANAGER:
Sir Alex Ferguson
CAPTAIN:
D Nemanja Vidic
--------------------------
STARTING XI:
1 van der Sar
20 Fabio ( SUB OUT, 69' )
5 Ferdinand
15 Vidic
3 Evra
25 Valencia
16 Carrick ( SUB OUT, 77' )
11 Giggs
13 Park
10 Rooney ( GOAL! 34' )
14 Chicharito
SUBSTITUTES:
29 Kuszczak
12 Smalling
24 Fletcher
8 Anderson
18 Scholes ( SUB IN, 77' )
17 Nani ( SUB IN, 69' )
7 Owen

---------------------------------------------------