Feb 13, 2012
48,423
0
0
41
Recently revisited this after having some friends over, and this came up in a mini-Paxton marathon. It was chosen largely because of all the performances in Cameron's worst movie (not counting Pirahna II, which
nobody
really counts) Paxton's shitty weasel of a scam-artist is the one that stands out the most in the memory. But then again, that's kinda
what Paxton did
: Show up, steal the movie, leave.
We knew it'd be racist, because it was racist in 94, and time hasn't gotten any kinder. So when the anti-arab racism started in full force, we were at least prepped for it, much like the sort of "oh shit, this awful mess is coming" you steel yourself for when watching something like You Only Live Twice (Bond in Yellowface) or Goldfinger (Bond rapes a lesbian straight).
But it's the Bond comparisons (and the movie openly invites them every 5-10 minutes, so it's unavoidable) that really brought into contrast just how
badly
this film has aged in the 20+ years since its release. I remembered this movie being more of a spy movie than it actually is. There's not much spy shit here at all. It's closer to fuckin'
Austin Powers
than Bond.
Maybe that's a slight exaggeration. But it's a slight one. This is James Cameron going for broke and trying to do the sort of action comedy that Edgar Wright would come along and perfect about 10 years later. And if his decision to rely on the one-two punch of Schwarzenegger and Tom Arnold as the primary load bearers of this comedic burden wasn't enough of a sign his instincts were
fucked
, the actual jokes themselves would definitely hammer it home.
This shit is basically
Dad Joke: The Movie
. I did
not
remember this at all. More corn than Ray Kinsella's baseball diamond. And Cameron shoots the shit like he shoots everything else, too, so you have some Laffy Taffy comedy getting staged and blown through like he'd do any other action set piece, and holy shit is it
weird
. Curtis and Paxton are the only people in the film who seem to know how to transform these moments into the laughs that are intended.
And even Curtis' talents can only go so far, because what many people consider her standout moment in the film—the striptease—plays
so fucked up
. It probably did then, and I just didn't notice? Or I did and it didn't occur to me that it was fucked up, because I was a dumb fucked up kid back then too? The Venn diagram there is probably a lot fuller and rounder than I'd be comfortable with now.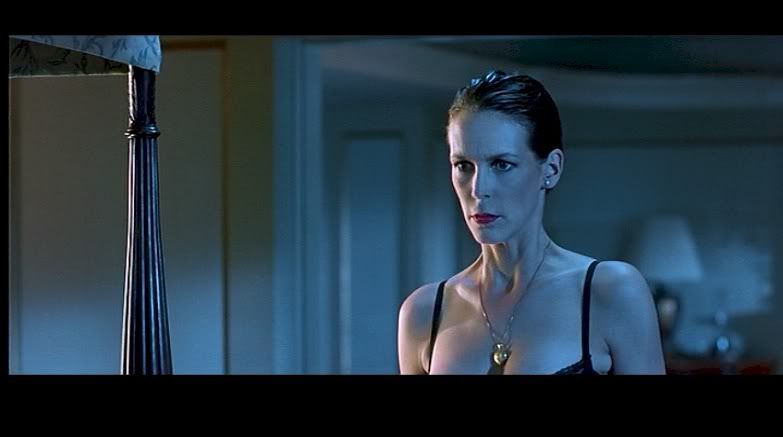 But Harry Tasker essentially lies his wife into a dangerous situation, forces her to pretend she's a prostitute, then forces her to perform for him, and while Harry gets his comeuppance for this later, the entire thing is played 100% as an acceptable gag. It's really fucking creepy and gross.
I know he was making the film at the request of his friend Arnold, and he was coming off his third divorce, so maybe there was some serious shit to work through (The Abyss, which I believe was made while in the midst of marital troubles with his producer, features his most authentically felt romantic moment in any of his films, a moment in which his surrogate in the film, Ed Harris, slaps his dead wife in the face and calls her a bitch until she comes back to life via the power of his love) and attempting to make a lighthearted action comedy about saving your marriage by turning your wife into a version of yourself really appealed to him.
But James Cameron is not good at lighthearted comedy. He's good at mawkish romance, he's good at tension, he's good at action, he's good at pacing (usually - this movie is overstuffed as shit), and he's good at bits of comedy as punctuation and/or release. But
sustained
comedy? Nah. He's not good at that. At all.
If anything, maybe this is his Temple of Doom: A technically proficient (seriously, some of these stunts and setpieces are fucking nuts - and anything having anything to do with the harrier jets is amazing to look at) basket of weird, irresponsible, racist, and sexist elements hastily & sweatily glued together, showing off maybe a
little
too much of the less savory aspects of the man's storytelling sensibilities.
I like Temple of Doom better than I like this - and this is, amazingly, still
kinda
likable despite the fact it's mostly one long run-on gross dad joke.
Curtis and Paxton are the real MVPs. But this revisit did
not
go how I was expecting it to go.
When the blu-ray finally does drop, this is getting a pass.
I'm snatching up that Abyss in 1080p with the quickness, though.