Nov 30, 2012
16,271
7,722
1,070
Age of Empires II: Definitive Edition
I have an i5 4670, 16GB RAM and a GTX 1060 6GB. Tried this game today and i have to say, it beats even Sega Rally 2007 and GTA4 for the worst programmed game on PC. Because at least these have the excuse of being multiplatform games.
AOE suffers from severe frame pacing and performance issues even at the lowest settings. You can see here how bad it is: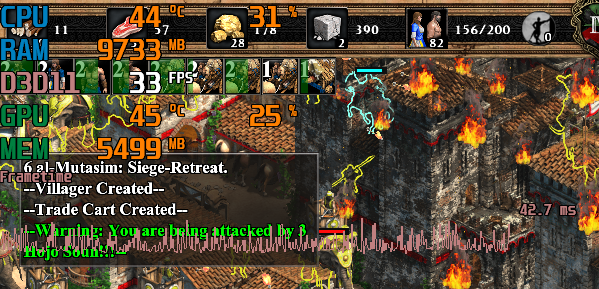 Just look at this mess. CPU and GPU utilization is so low, never even going as far as, say, 40%. Yet, the framerate is in the low 30's at low settings using the game's benchmark. You can also see a high VRAM usage despite the low settings, almost maxing my 6 GB pool. And look at the frame time line, isn't that vomit inducing? The game is
literally
unplayable because this results in horribly stuttery scrolling when you move or zoom the map. It just jumps along instead of moving smoothly.
But wait. There is more. You can see the janky programming in more parts of the game. The loading screens for instance are pretty funny. There is supposed to be some kind of fancy particle effects animation during those screens but most of the time these either run at 3 fps (measured with RTSS) or they just freeze completely until the game loads with a janky 1 fps transition.
The game was also crashing for me the first day i tried it. It just couldn't load any map. After some searching, i found that the issue was my low (apparently) virtual RAM setting (what-year-is-this.jpg). Since i have 16GB RAM, i set 4GB of virtual RAM max so it doesn't eat too much space off my SSD. But this game didn't like that. It needs way more virtual RAM in order to run, despite having plenty of system RAM to use. It just rolls like that, you know.
A quick google search tells me this is an issue most people seem to have and there aren't any solutions you can perform to improve the situation, or at least i haven't found something. I tried everything i could do myself (tried 2 different monitors, one with Gsync, tried various Vsync and performance settings, tried windowed/fullscreen, tried locking the frame rate with RTSS, tried various ingame setting, etc) but nothing works.
Just wanted to ramble about it and warn other users before they get this piece of crap.
Definitive
edition, lol.
Last edited: