If they are Dutch, upright and breathing they are more racist than your favorite player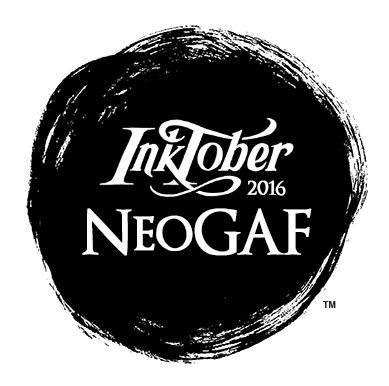 Back for another year! When October the 1st comes around, it's time to get your tools ready (be it analog or digital) and get cracking!
Inktober was started by Jake Parker, here's what he has to say about it
:
31 Days 31 Drawings

Every October, artists all over the world take on the InkTober drawing challenge by doing one ink drawing a day the entire month. I created InkTober in 2009 as a challenge to improve my inking skills and develop positive drawing habits. It has since grown into a worldwide endeavor with thousands of artists taking on the challenge every year.

Anyone can do InkTober, just pick up a pen and start drawing.

InkTober rules:

1) Make a drawing in ink (you can do a pencil under-drawing if you want).

2) Post it on your blog (or tumblr, instagram, twitter, facebook, flickr, Pinterest or just pin it on your wall.)

3) Hashtag it with #inktober

4) Repeat

Note: you can do it daily, or go the half-marathon route and post every other day, or just do the 5K and post once a week. What ever you decide, just be consistent with it. INKtober is about growing and improving and forming positive habits, so the more you're consistent the better.

That's it! Now go make something beautiful.
InkTober is, by now, a bit of a NeoGAF tradition! Do yourself a favor and check out the
2015
and
2016
editions. Props to ExMachina for getting it going last year
Past works by fellow GAF members.
ExMachina
YesNOnoNOYes
Timo
Mik2121
Some random asshole
Jhoan
DM_Uselink
Above all, have fun!