So I finally am cracking into the Banjo-Kazooie series after downloading them on XBLA awhile back from that "free point" mega thread we had awhile back and have been enjoying them quite a bit. I 100% Banjo-Kazooie and am working on doing the same for Banjo-Tooie. I currently just completed what I can of Jolly Roger's Lagoon, and I can't help but notice that Rare clearly put a gay bar within the game and it is being run by non other than Jolly Roger himself. Now I played Banjo-Tooie back when I was younger but this obviously all went over my head, and now replaying as an adult I'm realizing there's simply no way all of this can be a coincidence.
To start: Meet Jolly Roger.
He runs his own bar called "Jolly's" in a small beach town that attracts to men of the sea, specifically sailors and pirates. When you first approach him within the game he'll tell you his partner went out on a jet ski, hasn't come back and is worried. So you set out to go rescue this fellow to get a nice jiggy in return.
What he doesn't tell you is that his partner is what can only be assumed to be a cross dressing reptile named "Merry" Maggie Malpass. And that she looks like this.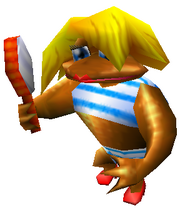 After you rescue her from being trapped within a giant fish, she returns back to Jolly Roger to help tend the bar. If you talk to her back at the bar she'll thank you for rescuing her and inform you of some activities and specials being held at good old Jolly's.
Now if you talk to Jolly he'll be ecstatic about bringing his partner back and even jump on the bar (with his pink and spotted pants) and blow kisses at apparently no one.
If that's not stereotypical enough, he also runs a one bedroom hotel, that he describes as a cheap, dirty room filled with rodents. So one is to assume it's not for sleeping?
Furthermore the bars signature drink is Ginger Beer. A term uncommonly used as a replacement for the word queer. See:
Urban Dictionary
So with all that said, I will leave you with this last image, and maybe someone can explain to me just how exactly did Rare slide this past ratings boards and without controversy?