Going to start with the series of lost games with the big one and one that I have a lot of frustration over. This game might of been the Sonic 06 of the classic era if it released (due to it being in development hell), but very similar to 06, this game suffered thanks to Yuji Naka. Will explain this as I go on, but this game and 06 are reasons I have no respect for the man despite doing a great job during the mainline classic era Sonic's.
Lets go to the game itself first.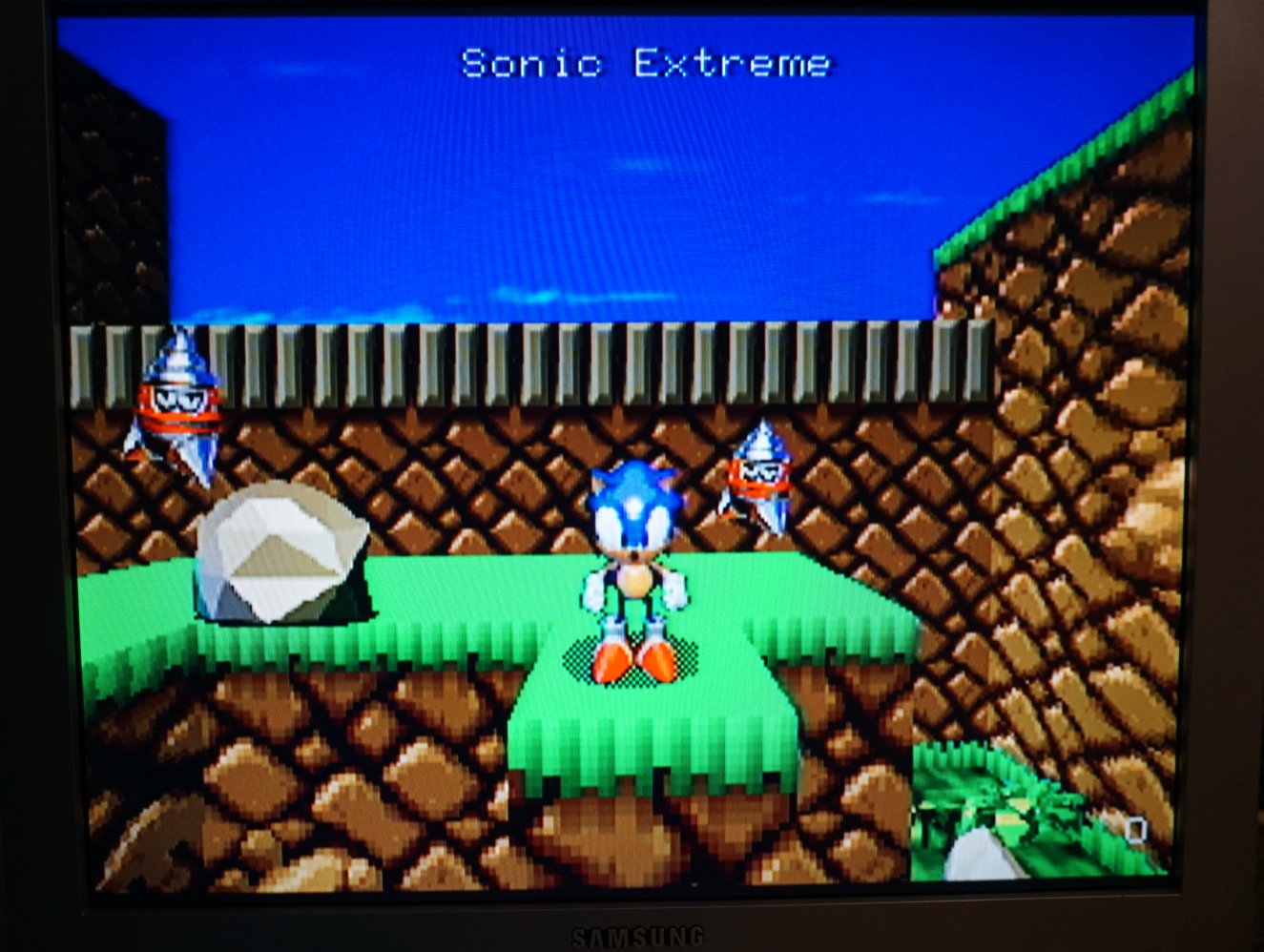 It was going to be Sonic's first official 3D platforming adventure (not like 3D Blast with it being top-down, but completely 3D). If you played games like Klona or Pac-Man World on the PS1, this style of gameplay would be familiar; Sonic can walk into and out of the screen but the gimmick is that was using fish-eye lens.
What does this mean? Watch this Gif (not from the game but a fan effort re-create it):
The camera goes into and out of the screen as Sonic walks around and his moveset heavily mirrors his Classic style gameplay; he can run, jump, roll and spin-dash through the levels. Your goal is to collect special rings that Eggman is after.
Sonic has some new abilities like a Spin Slash that has his spikes point out and drill through objects but the gameplay footage released never showed this in action.
Yes, footage released, as this game never happened; it was put into deep development hell.
This site
tells the story well, with it starting out as a 32X game but then migrating over the Saturn. Along the way, they started developing it for the PC but it wouldn't run as well on the Saturn hardware.
So, they decided "We need to use another engine". A head of Sega walked in and offered the Nights engine, to make development easier. I will just link to what that link states happen next....as it really angers me:
"Eager to help, Stolar promised the tools, and delivered with editors and the engine code not long afterward. The problem was that the creator of NiGHTS and the man credited with the creation of Sonic the Hedgehog, Yuji Naka, was not consulted on this, and became very irate, and, according to Stolar, forbade the team from using the engine, even threatening to leave the company if it didn't happen. The team was back to square one, with two weeks lost developing on an engine that they couldn't use. Things didn't look good; in fact, they were downright awful."
What does that mean? Simple; Naka refused to let a struggling team use an engine he made and thus they had to reset a lot of work and start over again.
And this is after having a lot of trouble to begin with.
The team using a ton of different engines, story changing over time, gameplay styles with Knuckles/Tails/New Character added in, and unique engines for the levels & boss fights; they tried hard to get the game in finished state but nothing was sticking due to political problems behind the scenes (heads of Sega wanting them to use the boss engine for everything, different members making sections of the game, ect).

So, Naka's engine could of been the thing to save the game, but he chose to not let them use the engine, making the team suffer. You want to know what he also did? He had no confidence in western developers making Sonic. Not a great thing to tell fellow developers tackling the Sonic IP.

I'm sorry but I have a lot of anger toward Naka over how Xtreme went, not because of the game not releasing, but from what happens next.
One developer, Chris Coffin worked hard to finish this game despite horrid working conditions and after so long, working over 16 hours a day, living in his damn office to get the game done and almost dying getting the game finished.....the game never saw the light of day.
If he continued working on the project, he would of gotten a fatal illness and died. So it ended and as a back-up plan, Sega commissioned Sega Japan and Travelers Tales to get a port Sonic 3D Blast for the Saturn.
More information on the game can be found here:
http://info.sonicretro.org/Sonic_X-treme
Its interesting that Chris Sheen came back to work on Sonic with Sonic Boom Wii U (as he was credited as a key member for the project, doing a lot like Level Design, Gameplay Systems, ect).
Xtreme could of been an interesting game if it was finished and Naka letting the team using the Nights engine could of done a lot to get the game out and ensured the team had little stress. He also had a role with Sonic 06, as left Sonic Team mid-production to form his own studio to stop working on Sonic. But, he took some staff with him, polling resources that Sonic Team JP could of used to make the game.
- - - - - - - - -
Collection of Information on the Game
The game is filled to the brim with lost content and collection assets, so going to make links to as much as I can
.
-Music that was going to be in the game/found with leaked builds of the game:
https://www.youtube.com/watch?v=CyAgI3gC_J8&list=PLDE73D1143AE03039&index=1
-A ton of gameplay videos from press and Chris:
https://www.youtube.com/watch?v=wzvS_beXtXk
https://www.youtube.com/watch?v=zq_iPxQsbm0
https://www.youtube.com/watch?v=hdFhXyRFJAM
https://www.youtube.com/watch?v=QsbjGaUYunM
https://www.youtube.com/watch?v=3NicOQRdtXU
-Leaked builds releasing and being restored/playable:
https://www.youtube.com/watch?v=iNHkiuseIFo&list=PLjVabxmQnqwxgQ0lQOhGN4equ4Jc9e-Ep
-Video Series covering the history/development of the game:
Part 1 -
https://www.youtube.com/watch?v=HLPk2rGgg7s
Part 2 -
https://www.youtube.com/watch?v=hePIWmjV4bg
Part 3 -
https://www.youtube.com/watch?v=zIP6GlmyXuI
-Site Chris Sheen made to collect as much information on the game as he can:
http://scp.webulate.com/
Going to be a bit more positive talking about this next game
.