Announced in the new Famitsu.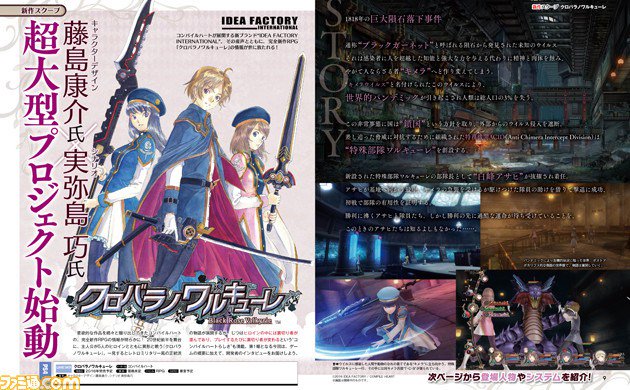 Teaser
Key Staff:
Character designer:
Kosuke Fujishima (Tales of)
Scenario:
Takumi Miyajima (Tales of Symphonia, Tales of the Abyss)
Director:
Kenta Kanno (Hyperdimension Neptunia Mk2)
Producer:
Norihisa Kochiwa

Infos courtesy of Gematsu
Black Rose Valkyrie is a completely new RPG set in the first half of the 20th century where a hero, together with five heroines, battles monsters.

At first glance, it appears to be a retro military style orthodox story, but as a matter of fact, there is a traitor hiding among the heroines, and each time you play, the traitor is different.

The concept of day and night is key to the story. Some events only occur at certain times. Enemy strength and appearance rate also changes based on the time.

Interview Tidbits

Event scenes use Live2D technology.
During interview parts, you can investigate signs of treachery among your group. Apparently, if you don't investigate properly, things won't turn out very well.
Several different endings are being prepared.
It's possible your favorite character ends up being a traitor, but you'll get results appropriate to the actions you take as their commanding officer.
Battles use a turn-based command system where the order of actions changes based on the speed of the character. Add another little twist and you've got a system that you can really dig into.
http://gematsu.com/2016/02/compile-heart-announces-black-rose-valkyrie-ps4