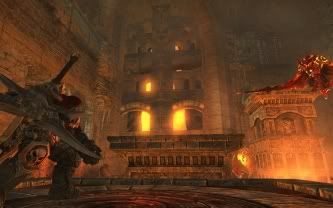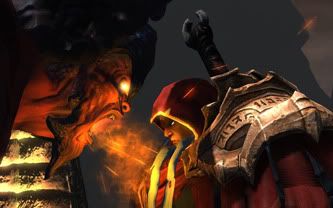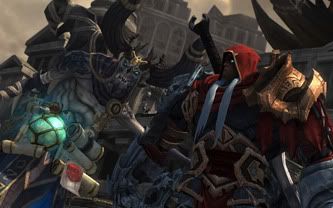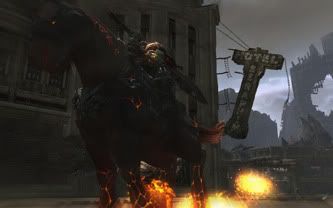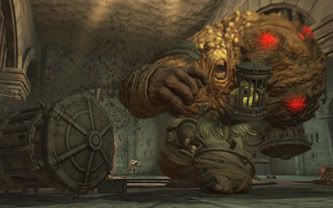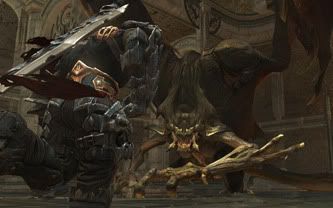 Alternate Title:
DARKSIDERS | The Official Thread | I Can Separate With A Vertical Line, Too!
Thread by
ZealousD
. Thanks to
Tokubetsu
for helping with the banner and general assisstance.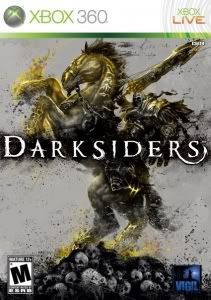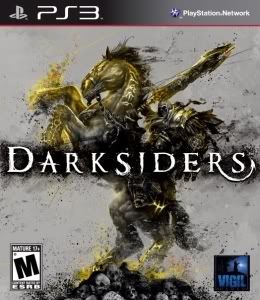 Note: The subtitle "Wrath of War" was removed during development. It may be omitted when referring to the game's full title.
Website
|
http://www.darksiders.com
Facebook
|
http://www.facebook.com/Darksiders
Twitter
|
http://twitter.com/darksiders
Release Date
NA | January 5, 2010 (Street Dated)
EUR|AUS | January 7, 2010
ASIA | January 8, 2010
(PAL-GAF, check your local retailers. I sometimes got different answers for the release date in your countries)
Platforms
| Xbox 360, Playstation 3
Genre
| Action-Adventure (More on this later)
Developer
| Vigil Games
Publisher
| THQ (JPN: Konami)
Notable Talent
|
Joe Madureira
,
Mark Hamill
360 Achievements
|
http://www.xbox360achievements.org/game/darksiders-wrath-of-war/achievements/
PS3 Trophies
|
http://www.ps3trophies.org/game/darksiders/trophies/
Content Rating
NA (ESRB) | M for Mature - Blood and Gore, Intense Violence, Suggestive Themes
BBFC (UK) | 15
EUR (PEGI)| 16+
AUS (OFLC) | MA15+
JPN (CERO) | RP
No regional censorship has been reported.

Sadly, some people have misconceptions about Darksiders. Early videos and screenshots could make the game look like a rather standard action game, similar to games like God of War or Devil May Cry.
Now honestly, I myself never had ANY problems with this.
But, there is actually a lot more to Darksiders than it initially appears.
Actually, Darksiders resembles a large scale adventure game, similar to something like the Legend of Zelda. You'll progress through Darksiders by exploring the overworld, going into dungeons, solving puzzles, finding new items, and defeating impressive bosses.
This is of course, in addition to the combat system. Vigil even contracted out the lead combat designer in the first two God of War games, Eric Williams, to assist in fleshing it out. There are lots of weapons to use, and you can even swap and use them in combos on the fly. Customization of the combat is also important in Darksiders. There are weapon upgrades, attachable enhancements, and special abilities to find and purchase throughout the game.
Variety is the name of the game in Darksiders. The game even includes on-rails shooting segments inspired by games like Panzer Dragoon and StarFox, and there's even 3rd person shooting segments that call to mind Ratchet and Clank.
And of course, there's the unique style. The post-biblical apocalypse setting of the game was created by Joe Madureira, known for his work in comics on The Uncanny X-Men, Battle Chasers, and
and others
.
Vigil Games Lead Designer Haydn Dalton talks about the difficulties of communicating the game
on his blog:
I guess one problem we've had through the development of Darksiders is getting people to understand what it is. Early on, and even up to quite recently, we've released a lot of action/combat videos. Due to this fact, the public are judging the game based on other action heavy games. If combat was our main goal, then this is justified, but we're attempting so much more than just focused action.

If high octane action all the time is what you want, then people may be disappointed. Don't get me wrong, there are some incredibly intense sequences in Darksiders, but there's also plenty of puzzle solving, adventuring and traversal to be done too. We wanted players to feel stripped of their powers, to be vulnerable, but then slowly unfold the world around them as their abilities begin to flourish and their own skill levels increase.

The best analogy, gameplay-wise I could give for Darksiders would be; a mature Zelda (more action with some blood). To some, this may not seem that interesting, but to me, and other people at Vigil, it's an awesome goal to attempt to achieve.

The game was announced over 2 years ago. As such, some videos may not be representative of the finished product. The newer and more relevant videos tend to be listed first in each category.
Official Trailers
Story/Game Overview Trailer
UK Launch Trailer
Accolades Launch Trailer
TV Commercial
Heads Will Roll Trailer
Shocking Moments Gameplay Trailer
Hunted by Heaven, Hated by Hell Trailer
Mayhem Trailer
Turmoil Trailer
Vengeance Trailer
Game Intro Trailer
The Apocalypse Cinematic Trailer
Comic-Con Cinematric Trailer
Hellbook Trailers
Hellbook 1 | The Horsemen's Road (Wrath Powers and Abilities)
Hellbook 2 | War's Arsenal (Weapons and Items)
Hellbook 3 | The Hordes of Hell (Enemies)
Hellbook 4 | Ruin (Steeds)
Video Previews | Walkthroughs
IGN Live 30 Minute Demo
GameTrailers Video Preview
IGN Video Preview
Giant Bomb Quick Look
Gamespot UK Video Preview
GameTrailers Comic-Con 09 Exclusive Walkthrough |
1
,
2
,
3
Gamespot E3 2009 Walkthrough
IGN Walkthrough
Gameplay Clips
Dungeoneering Gameplay
Big Hurt Gameplay
Guns N Gadgets Gameplay
Combat Gameplay, Machinima.com "Headshot"
Puzzle-Solving Gameplay
Graveyard Combat Gameplay
Downtown Gameplay
Welcome Party Gameplay
Panzer Griffon Gameplay
Ratchet and War Gameplay
"Can I Pay With Souls?" Gameplay
Demon Slaying Gameplay
Dev Diaries | Interviews
Classic Adventure Interview
Joe Mad Interview Trailer
|
Part 2
GameSpot Start/Select Gameplay Interview with Joe Mad
War Character Bio (with Liam O'Brian)
The Watcher Character Bio (with Mark Hamill)
Dev Diary: Gameplay Design
Dev Diary: The 4 Horsemen
1UP Interview
GT E3 09 Joe Mad Interview
Gamespot TGS 09 Joe Mad Interview
GT PAX 09 Waleed Kamel Interview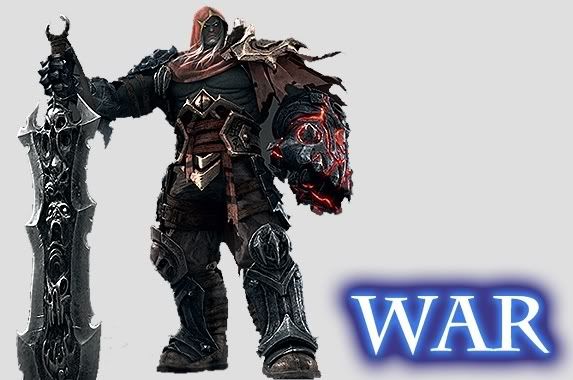 And there went out another horse that was red: and power was given to him that sat thereon to take peace from the earth,
and that they should kill one another: and there was given unto him a great sword.

-Revelation 6:4
I am he who is described in this passage. I am War, one of the Four Horsemen. Ruin is my steed.
My destiny as a Horsemen is to be the hand of the Charred Council. We are the enforcers of the laws that maintain order and balance in the universe. The law is clear. When the seventh seal is broken, The Four Horsemen must ride forth and punish the wicked. Be they man, demon, or even angel, all shall receive the judgment of the Horsemen.
But the seals were broken before the proper time. The Charred Council charged me with prematurely starting Armageddon. But I know that I am not to blame. I must find the truth and restore the balance between Heaven and Hell.
I convinced the council to send me back to Earth. Either I prove my innocence or I am slaughtered by the demons. 100 years have passed and Armageddon is over. My power is now limited and I currently lack my steed. But, I must press on. Who is the true culprit behind the early Apocalypse? How can I restore the balance? And where are the other Horsemen, Strife, Fury, and Death? I need answers, and I will scour the Earth until I find them.

Though the council allowed me to return to Earth, it was not without conditions. My powers are largely gone, and I am shackled to their servant, The Watcher. I must bear his presence, as the council gave The Watcher the power to end my life if he saw fit.
Though he occasionally helps in my search for answers, I largely wish this wicked creature was no more. He delights in the suffering of others. His mouth is filled with poisonous insults and sarcastic remarks. I long for the day when his leash is broken and his cruelty is paid in kind.

Amongst the most wicked demons of Hell, is Samael. Under normal circumstances, he would receive his just reward, courtesy of The Horsemen. But these circumstances are anything but normal, and he knows much. He could be the key to unraveling this mystery.
Samael is of terrible power. His wings are hideously inverted, a cruel mockery of the angels he has battled against for so long. But angels are not all he has battled against. He rejected the rule of The Destroyer, and thus has been imprisoned by Hell. I must break him from his prison, and find out what he knows.

Vulgrim is a glutton. Not of food, but of souls. This warped demon craves for the lost souls of man, demon, and angel alike. His appetite is insatiable. But he has much power.
As I kill the demons that stand in my way of finding answers, I can trade their souls to Vulgrim for various powers and artifacts. Perhaps through him, I can regain much of what I have lost.

The angels that appeared during the premature Armageddon were lead by the Archangel Abaddon. But Abaddon's life was taken by a large demon during the battle, and they place the blame upon my shoulders.
Uriel leads them now. She and her band of angelic warriors now hunt me. But I am not their real enemy. I must find those truly responsible for the early Apocalypse, and Uriel and her angels shall not stand in my way.
These are not the only souls that I will encounter. My task will be long and difficult. It will not be easy. Help is little, and obstacles are everywhere. I am hunted by heaven, and hated by hell.

GameStop|EBGames "Guide to the Underworld", 100 page book featuring
Graphic Novel | Prequel based upon Joe Madureira's epic vision of the Four Horsemen of the Apocalypse.
Concept Art | Exclusive in-depth look at the creation of the epic Darksiders.
Exclusive Fold Out Poster | Original concept art created by Joe Madureira.
Weapons Feature | Master the weapons of Darksiders with this exclusive guide
The Harvester | Code to unlock exclusive in-game weapon. This powerful weapon belongs to the rider of the pale horse. Its enormous, fearsome blade can cleave through flesh, bone, and even the ethereal demons of Hell. Though its jagged blade is deadly, the power locked within makes its master like unto a god. It can also cut through an aluminum can, and never needs sharpening. Note: The code for unlocking The Harvester is universal. Once you obtain the game, go into the in-game options and choose "Enter Code". Type in the code "The Hollow Lord". This code is space and case-sensitive. After that, the weapon will be available for sale from Vulgrim.
Amazon.com (US)
|
Play.com (UK)
| You'll receive a Ruin Head Mask and War Costume for either your Xbox Live avatar or your PlayStation Network Home avatar. May be available at other retailers.
GameCrazy (US)
|
JB-HIFI (AUS)
| You'll receive a 7" War Figurine, complete with Chaos Eater sword. May be available at other retailers.
Preorder specials may be available at other brick-and-mortar and online retailers. Please be sure to check your local retailers to determine preorder bonus specials and availability.