GAF>INTERNET>GAF, BITCHES
Aug 24, 2016
2,449
890
470
One thing we are hearing about Stacey Abrams from Georgia (who's considering a 2020 run for some reason) and many other elections during the mid-terms and after that led to a white or Black republican win, is that it's all because of "voter oppression". That is the excuse pushed by White people on the left to basically bury straight Black mens opinions and also why the media almost never interviews these men.
What's actually happening is something that's been happening from 2016. A lot of it comes from older seniors lecturing the 20-30 and 15-19 age ranges, tons of influential people using the internet to reach wider audience, rappers that didn't sell out and have been speaking against the entertainment and educational industry, religious groups from christians and hebrew israelites, to organizations that want to rebuilt black communities, and those trying to create new schools. Plus blexit and kanye may have gotten some to more recently.
This has been causing a wave of straight Black Men to basically flee the party in a much larger number in a shorter amount of time. The reasons are of course varied, but Black Voters in electoral college winning numbers are moving away, and the democrats are so dumb, to involved inside their bubble, to realize that's a major problem
. instead the thoughts of these men are buried under racism and voter oppression as excuses.
Once again, getting candidates to lie about fixing issues in the inner city to do nothing for 2-4 years and then repeat the cycle, and the Democrats are directly denying the FACT that's it's happening.
Stacey Abrams is a good example of Black Men in higher numbers than reported post election voting for the opposition (which is why some of the older articles mentioning black male voters might throw people off since they switched it to voter suppression) she was nothing more than a token symbol running under the DNC banner, and the Black men chose the choice that "may' actually help improve things instead of an obvious con put there to try and attract black votes. Just like Black men having helped elect several GOP anti-trans/anti-gay candidates, and support legislation against those groups as well.
The black vote percentages are generally inflated by women and in some states black latinos/hispanics (
despite the fact they track them separately all the other times
) there isn't really "88% of the vote going to the DNC, it's more like the DNC is getting maybe 60% of the vote to the GOPS 40% in most of these cases.
You saw this trend happen from Trumps 2016 election, to Cruz beating out Beto, to Brian Kept over Stacey, Heck even in Florida with Andrew we had articles actually removed talking about some of the polling statistics.
It's clear to be the Democrats want to remain in lala land, and it doesn't surprise me, Black men have been thrown under the bus by Democrats for other groups for around 40 year now. Feminism, Hispanics, Illegal Immigrants of all type, etc. Heck, LGBT is the largest group of minorities and it's controlled by white people, yet the media for 5-6 years allowed these members and advocates of the LGBT to do all kinds of terrible things and say all kinds of terrible things about black people, masculinity, forcing the agenda in the communities, and worst yet, allowing them to basically consistently highjack and revise parts of the civil rights movement to propel their movement up with the leftists, and for a group that says they aren't racist i find that very interesting. Honestly, they still do it now but not as openly.
Democrats
lack of interest in this group makes no strategic sense for electoral victory
in 2020 as 2016, the 2018 mid terms, and numerous local elections has proven, and because it makes no strategic sense i suspect the democrats will CONTINUE to do this until their defeat.
Democrats being split was already an issue that could prevent their victory, but black men from a bunch of must win states will likely be THE nail in the coffin just like it was recently. It is very likely a near guarantee loss at this point.
Let's look at 2016 map: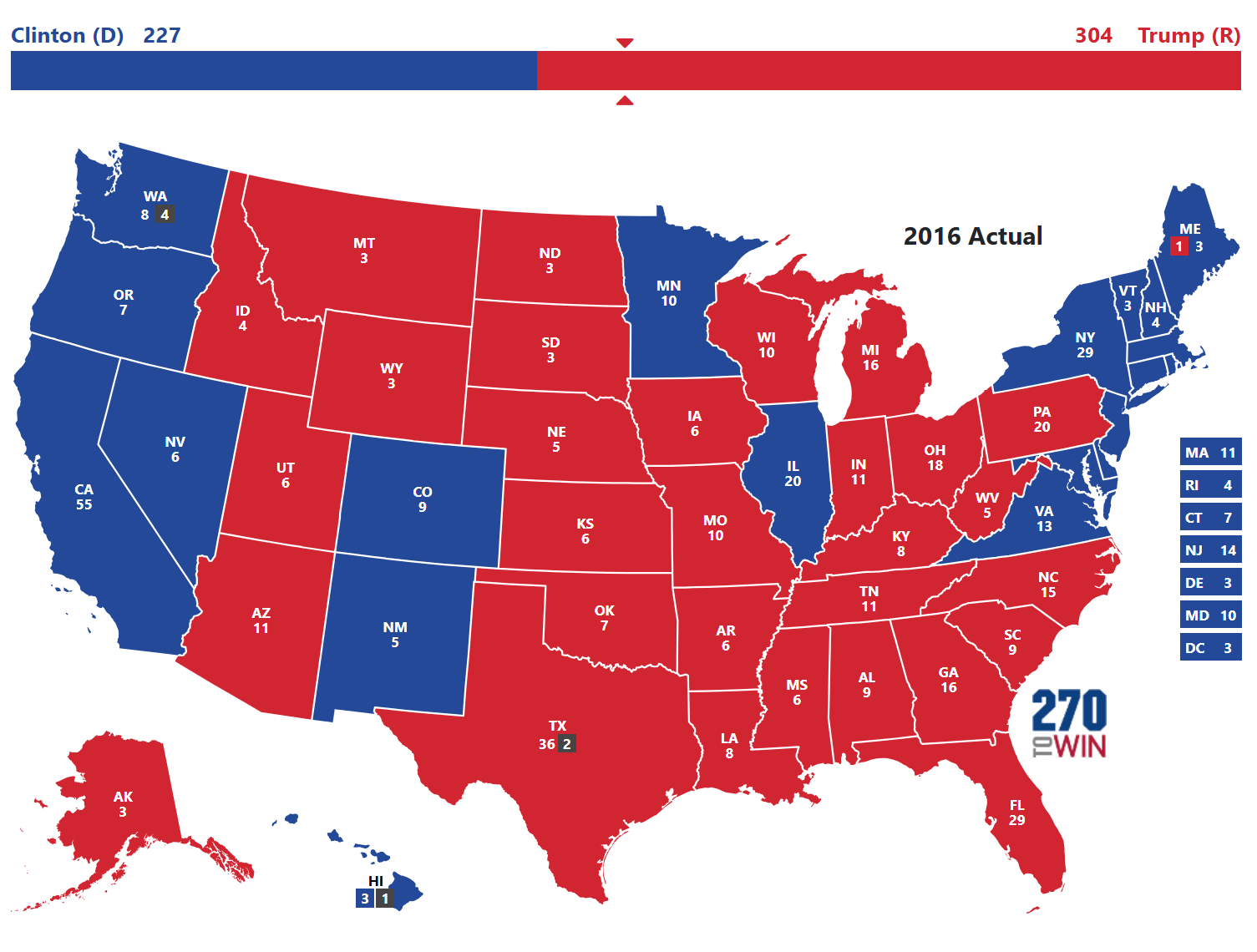 In Georgia there's a massive anti-LGBT backlash among Black men going on that's criminally under reported making the predictions from post 2018 midterms of Georgia being flipable impossible. Thus sealing east half of the south with the possible exception of florida.
Increases for changes and lack of dem outreach in michigan, along with a few health related environmental incidents that have been underreported, will likely keep michigan red.
I also suspect based on recent events and general dem uninterest the last two years to keep Wisconsin. Also want to mention Michigan and Wins got economic and job increases that have polled favorably.
Penn will be a wild card as there's a lot of push to bring in more immigrants, a good chunk illegal, and there have been times where Penn has admitted to illegals voting in election,. including 11,000 in one district and others under investigation. He could still win them, but it won't be easy, just like with Virginia and it's refugee problem and felon voting platform. which gave Hillary the win after 98% of the vote came in and it was still red and flipped blew by getting a surge of votes out of nowhere.
If Trump hold all the east half of the south (outside florida) and keeps Michigan and Wins, he can still win even if he lost florida. Still giving him 277. Assuming he also wins Penn or makes up for Penn.
Given 2016's strategy Trump could win Penn if he engages with Urban and Rural voters early as the democrats won't be trying to hard there. They will be aiming again to flip Arizona, try and take Florida, and put tons of money in Texas. Democrats don't realize Penn is a must win if they want to at the VERY LEAST have no one hit 270. With Penn Trump is basically guarantee to win, especially if he holds Michigan and Winscon which is most likely.
He might be able to get Virginia if he actually does some strong campaigning in Hampton county and Richmond greater area. The increased voter turnout of Blacks for Republicans since 2016 could cause a long-term voting patter if the increase in 2020 is good.
The fact Trump doesn't have to work even half as hard in 2020 as 2016 will make this a walk in the park and it's all because democrats won't admit they are the problem and they are proving no solutions to issue, even in their own states (Hi CA) and the conditions are worsening. This hivemind everyones against them attitude, and these social SJW movements are doing nothing but causing backlash and they will soon find out about that the hard way.
The Electoral college isn't a popularity contest, which the democrats want to turn this into by trying to remove the EC, it's a strategic game that requires actually considering moves ahead and where to go. Dems haven't realized this in decades.
Proof of that is in the map above. A good chunk of those states had zero or minimal campaigning. If Hillary actually though about the EC strategically and won, MT, ND, SD, NE, KS< OK, and actually went to Wisconsin and and won it, she would be president right now. Instead she spend much time in states she couldn't possibly lose, stuck her nose up at working class state treating them like second class citizens and then made all other states flyovers.
In conclusion it seems to me if the party splitting on socialism wasn't the killer, this issue they are not addressing will make sure they lose 2020 just based on the EC board and the placements of the increases.