First of all,
what is "field of view"?
In short, the field of view (or FOV) is the angle measured in degrees in which you can see in front of you. In most games, it's measured horizontally, but sometimes it's measured vertically (Bad Company 2, Bioshock 2).
A standard
horizontal
FOV for a PC game is around 90 degrees on a widescreen monitor.
For games like Bad Company 2, which use a
vertical
FOV, 75 is roughly the sweet spot.
Here's a GIF of Bad Company 2: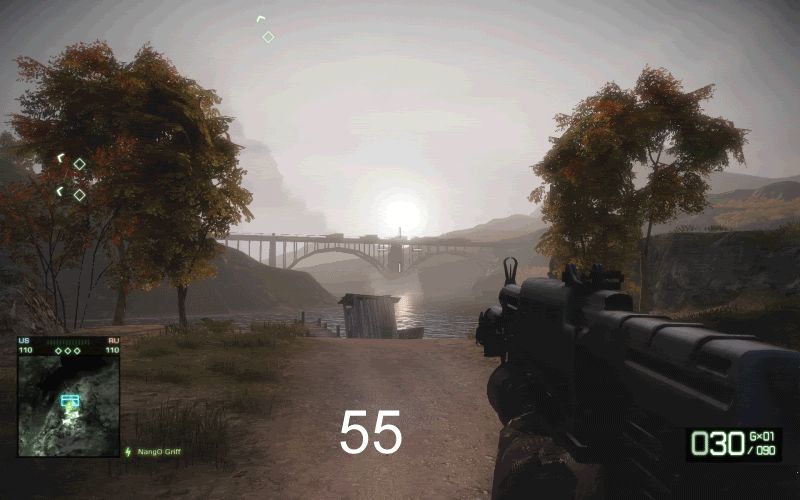 Notice how above 75-ish, things start to look like a fish-eye lens. 75-ish vertical is around 90-100 horizontal.
Here's a handy utility to convert:
http://www.rjdown.co.uk/projects/bfbc2/fovcalculator.php
I'm honestly curious about how FOV is envisioned from a developer's perspective. Is it difficulty in programming? Something that developers simply don't think about? A deliberate decision to make someone feel a particular way?
I know that Irrational said that the low FOV in Bioshock was deliberate, because it gave off a sense of claustrophobia which they though added to the game. However, I think that idea was somewhat misguided.
On a console game, I perfectly understand why a low FOV would make sense. It decreases the rendering area, which can improve performance, and it also makes things more fair because everyone sees the same thing. But more importantly is the natural way that most people sit.
Imagine you're looking out of a window of your home. If you're 6-7 feet away from the window, you can see less side to side out of that window. If you're 2-3 feet away from the window, you can see a lot more side-to-side.
This is comparable to how sitting in front of a TV is different from sitting in front of a PC monitor. I drew up an incredibly shitty drawing using my horrible artistic skills to try to demonstrate:
Developers
- this is why field of view is something you can never "un-see" once you recognize it. It's simply unnatural to have a low FOV when you're sitting just a couple of feet away from your monitor. The opposite of looking like a fish-eye lens, it instead looks like you have tunnel vision.
You don't need to go to the extreme of everything seeming like it's through a fish-eye lens either! A 90-100 degree horizontal FOV looks perfectly natural on a widescreen monitor, without fish-eye effects.
Gearbox and Irrational, please take this into consideration for Borderlands 2 and Bioshock Infinite. It really does make a difference, and isn't a meaningless or trivial complaint. I get that consoles are usually the focus for development, since that's where most sales are at, but it's little details like this that go a long way in making a huge difference in a PC version of your game.