PEINS PEINS PEINS PEINS PEINS PEINS PEINS PEINS PEINS PEINS PEINS PEINS oh god i am drowning in them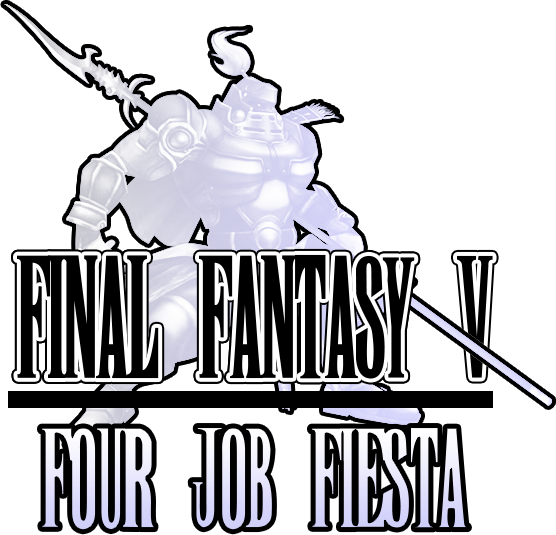 Welcome to the NeoGAF thread for the
Final Fantasy 5 Four Job Fiesta 2017
!
The official page can be found
here
.
Gilgabot, the official Twitter Bot for the fiesta, is found
here
.
Hashtag:
#FF5FJF2017
This is an event for
Child's Play Charity
! By making pledges and donations you can affect you
and
I play the game! And of course raise money for an awesome cause!
Schedule
Now to June 18:
Preregistration
June 17:
The Run
June 19 - August 31:
Play! Play! Play! Get your #victory in!
What is the Final Fantasy 5 Four Job Fiesta 2017?
You play Final Fantasy Five, the best Final Fantasy game. The only difference is, you are allowed only four jobs, one from each crystal. And they are randomly assigned to you. When you beat Exdeath, your picture must show all four of those jobs being used to qualify you as a winner.
Spell that out for me in lots of small words.
As you play Final Fantasy Five, jobs are unlocked at certain parts of the game. The wind crystal, water crystal, fire crystal and earth crystal. When you unlock the wind, water, fire and earth crystal jobs, send a tweet to @FF5ForFutures with #wind, #water, #fire or #earth respectively. You will then be informed of your new job!
What versions of FF5 are acceptable?
Any legit version. GBA, iOS or Steam are recommended. GBA for it being the best version, iOS/Steam because heck, screen capturing could not be easier. And it is cheap. Comparatively.
But I have no no way to screen cap!
A picture taken with your friend's partner's mother's niece's dog's uncle's webcam reflected off of a feature phone and then uploaded to your local Internet is okay. I trust you can find a way.
Can I use the extra jobs in FFVa?
Guess what? This year...
What if I have never played FF5 before?
It is cool, you can still sign up.
Me, rk, would not recommend this be the way to play the first time. But, no one is stopping you from trying. Many say this is the first way they beat
FF5
. I personally find that sad, but hey, Y Burn?
I have random number generators! Why do I need you?
Because we are a loving community. Plus: Gilgabot. He is going to yell at you. And we raise money for charity. Child's Play! Last year brought in
$19365.61
. To date the Fiesta has brought in lots of cash.
Twitter is a crime! Let me do it some other way!
I am terribly sorry, but Twitter makes automating this much easier and open to a wide array of people. Twitter requires no personal information, you could easily make a junk account and use it entirely for the Fiesta. If you delete your account or change your name, though, things will get funky and not work as nicely. Many lovely people on Twitter began their Twitter-Life with the Fiesta. Why not you?
My twitter account is private!
Gilgabot will not be able to see your tweets until you follow him and he also follows you. So you will have to either notify me somehow or I will be checking for private accounts following Gilgabot as frequently as I can (maybe once a day). It would be easiest if you made another Fiesta-only account. You like things to be easy, right?
What if I do not get any tweets back?
Gilgabot works on a schedule and will respond to tweets when and if it is able. Should ten or fifteen minutes go by, do not resend the tweet, but let revenantkioku know. He will look into it and if something is really funky - and by funky I mean smells not so sweet - he will manually set you up. It just may take a while if that is the case, but it should not be.
Gilgabot can get overloaded.
This happens. The Fiesta can get kind of crazy. Try to calm down and get your jobs when you are playing, not just because you can. Outside of the opening rush, however,
stuff
should be fine. Emphasis on the stuff even though it should be on the should.
If you encounter any problems, please message me (
@revenantkioku
) instead of Gilgabot because that account is so swamped with messages that it is hard to dig through. You
could
PM me on GAF, but I might not see it as soon. Actually, don't PM me on GAF. Please.
Is The Run happening this year?
Yes! Stay tuned for details. You can vote for the jobs here:
http://fourjobfiesta.com/therun.php
Are there any goals?
Yup! Donation incentives for The Run are:
$500: ᕦ(° Д°)ᕤ PIANO FLEX ᕦ(° Д°)ᕤ
Players must play every piano and flex each time.
$1000: Hi, Gilgamesh!
Players must do all Gilgamesh fights.
$2500: Final Savepoint
Players must defeat Necrophobe.
$5000: Legendary Weapons
Players must collect all four tablets and all twelve legendary weapons.
Any new rules?
Oh yes!
#FifthJob: Tweet out #Krile when you get her to join your party and your Earth job will be overwritten with an entirely different job. You
lose access to that job and its skills
and have to use the new one you get!
#RegPopular: Jobs are weighted to the Twitter voting that went on during the Spring.
Contest Rules
Runs
Normal Run (#reg)
Players will be assigned one class from each crystal. Until all four classes are unlocked, players are only permitted to use the classes they have currently unlocked. Bare/Suppin/Freelance can only be used until the Wind Crystal job is unlocked.
Random Run
(#regrand)
Players will be assigned one class from any of the available jobs when new jobs are unlocked. As above, Bare/Suppin/Freelance can only be used until the Wind Jobs are obtained.
Team 750
(#reg750)
Players will be be assigned jobs that can only break rods or jobs that are similar in play style and theme.
Team No 750
(#regno750)
Players will only be assigned jobs that cannot break rods and follow within that play style and theme.
Classic Jobs

(#regff1)
Players will be assigned jobs that were only in the original
Final Fantasy
. Dupilcates (up to four, even!) can be assigned. Only Red Mage is maxed out at 3 because it is a Water Crystal Job.
Classic Jobs Runs are Natural Runs by default.
No BERSERKERRISK.

Chaos
(#regchaos)
You will be assigned jobs.

Pure Chaos
(#regpurechaos)
Freelancer and Mime included. No weight towards variety. Just pure randomness.

Popular (#regpopular)
Players will be assigned jobs randomly, kind of like Chaos. But jobs that were more popular during the voting session will show up more often.

Natural
(#natural)

Natural can be added to any run. To do so either tweet #natural to Gilgabot after registering or include it in your registration tweet. What this means it that you intend on playing with these extra rules in mind.

1. Bartz must use the Wind crystal job exclusively. Lenna the Water, Faris the Fire and Galuf/Krile the Earth.
2. If you are playing a mode other than Normal you simply assign the job listed in that slot on the players page for your job.
3. Characters must remain Freelancer until their job is unlocked. Team No 750 players must not break rods.
4. Characters may not use skills from other jobs. This means no giving Black Magic to Bards and the like. Only skills learned naturally from the one assigned job may be used.

Upgrade
(#upgrade)

Upgrade can be added to any non Natural-run. To do so either tweet #upgrade to Gilgabot after registering or include it in your registration tweet. What this means it that you intend on playing with these extra rules in mind.

You will only use your Wind Job until you get your Water Job. Water until Fire, and then Fire until Earth. Then your Earth job will be the job you use until the end of the game. Any abilities learned from the previous jobs may be used.

Fifth Job
(#fifthjob)
This will let you unlock a fifth job by using the command #Krile once she joins your party. Your Earth job will be replaced by a new job based on your registration type.
You cannot use the old job or any skills from it once you unlock the Fifth Job.
BERSERKER RISK
(#BERSERKERRISK)

BERSERKER RISK can be added to any run to give the player a chance of getting the Berseker job assigned to their Water, Fire or Earth Crystal slots. The only difference is that a Normal run will have their Water Job set to Berserker instead of any other slot. To do so either tweet #BERSERKERRISK to Gilgabot after registering or include it in your registration tweet. When the fiesta starts, for every $10 of donations, one player with BERSERKER RISK will get another Berserker. If there are more Berserkers to hand out than players with BERSERKER RISK players will end up with multiple Berserkers. This is the only
way in the Fiesta to end up with a duplicate job. Once the fiesta has started, BERSERKER RISK is no longer an option.

Both Natural and BERSERKER RISK may be added to a run. Except Classic Jobs Runs.

Any questions? Leave them! I will try my best to answer them.

CLARIFICATIONS
Every $10 in donations before the Fiesta starts means one person with Berserker Risk gets an extra Berserker.
Normal Run players will get it as their Water Job.
Random or Team No 750 (Or Team 750, but that would be weird to register that way. You COULD. I am not stopping you. But.) they get their Berserker assigned to any non-Wind slot.
Natural works with any. You just apply the job assigned to that crystal slot to that character.

The list of all available commands responds to is available here.

If you are curious about how last year went: http://fourjobfiesta.com/infopicture/infopicture2016.png

Best of luck and have fun!