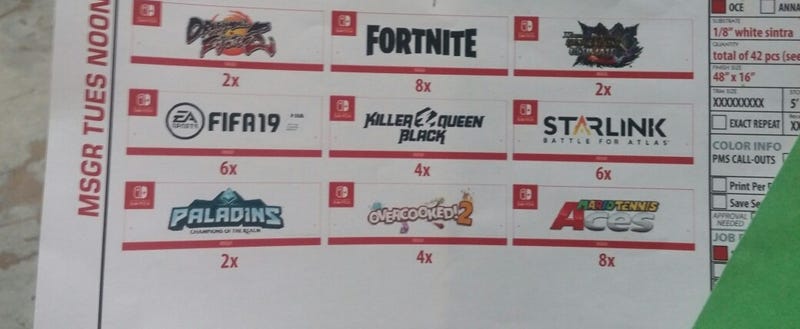 You've probably seen this already, right?
The document,

posted on 4chan

this afternoon by someone who said it was part of E3 showroom display planning (and discovered by Twitter user

AAMARMO

), features marketing materials for

Fortnite

,

Paladins

,

Dragon Ball FighterZ

,

FIFA

, the previously announced

Monster Hunter Generations Ultimate

, and unannounced games

Killer Queen Black

and

Overcooked 2

. Although it's safe to be skeptical of 4chan leaks, we have a few reasons to believe that this one is legitimate.
"A few reasons," they continue:
...we've heard separately from a person familiar with upcoming Switch games that

Dragon Ball FighterZ

was planned for the system. The Twitter account for

Killer Queen

, an indie arcade strategy game released in 2013,

has also changed all of its images to black.
Killer Queen Black, huh? If only there was someone here who had a huge, pulsating love for that game who could tell us more and make us feel more certain about this leak oh wait there is it's me
The really great thing about Killer Queen, if you haven't heard of it, is that it's a local-only arcade game. Every tournament has to be held in person. You're not playing against Dongfighter69 and then never talking to him again, you're meeting people. Friending them. Sending them urgent texts demanding they explain what in the hell Killer Queen Black is.
Nikita and Joshua, the guys behind Killer Queen, do a lot of demo testing and mentoring at NYU. And they also often come out for events, some of which I've been to. And the first two things that happened after this leak dropped was that someone our scene texted said they couldn't answer our questions because of their NDA. The second thing was that we regrouped and recalled that yes, Nikita had mentioned a new spin on the game last time we talked to him at a tournament earlier this year.
This is all just coming from me, and I'm not gonna claim to be an incredibly great source, but I'll say I'm 100% confident in this leak. Uninformed posters on other forums have said stupid things about how Killer Queen came out half a decade ago (
we got a major beta patch last month and new cabs are being sold all the time
) and how it was out of the blue (
it wasn't
). So to my eyes, everything in this leak is absolutely true because there's no way someone would fabricate Killer Queen Black of all things, and guess it correctly.
edit: Oh yeah, and thanks EviLore for letting me post this, apologies for being a mad lad.
Last edited: