Namco has opened the
website
for its upcoming Wii RPG, Fragile. There isn't a whole lot there, but there is a song (which is absolutely gorgeous) and a short little trailer you can view:
Trailer:
mms://wmt9-od.stream.ne.jp/vod11/bngi/fragile_trailer_web.wmv
Youtube Version:
http://www.youtube.com/watch?v=nvYFZGlMHQI
If you haven't heard of it yet, Fragile's being made by a collaboration between the internal Namco team responsible for Venus & Braves and Seven, and tri-Crescendo, which made Eternal Sonata and collaborated on Baten Kaitos and Baten Kaitos Origins.
duckroll said: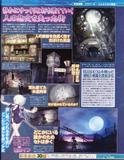 Okay, let's celebrate the banning of Eteric Rice with Fragile celebration!
- Game design and graphics direction by the Seven/Venus & Braves team led by producer Kentaro Kawashima
- Game developed by Tri-Crescendo
- Third person exploration RPG set in a post-apocalyptic era
- The main character is a boy named Set that explores abandoned city ruins in a future world
- The theme of the game is exploring lonely and empty ruins while encountering things once in a long while
- The wiimote will be used to aim the flashlight while you move around