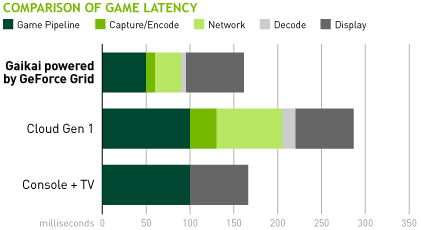 Nvidia's partnered with cloud gaming provider Gaikai, and claims that the GeForce Grid GPU has reduced latency of streaming games to just ten milliseconds by capturing and encoding game frames rapidly, and in a single pass, and promises that the enhanced Gaikai service will be available on TVs, tablets and smartphones running Android and iOS.
Perry showed off an unreleased FPS shooter called Hawken running on an Asus Transformer Prime powered by the new GeForce Grid GPU. Perry played against an opponent who was running the game on an LG Cinema TV without the need for an external console — Huang made a big deal of showing off an ethernet cord hooked up to the TV, saying that the cord was the console. One of the most noteworthy aspects of the GeForce Grid demo is the fact that gamers can play across platforms of varying power, thanks to the Grid doing all the heavy lifting. Also of note in that demo was that the server hosting the gameplay was a good 10 miles away — but the gameplay was lag-free, as you'd expect to see when playing on a local machine.
Following the presentation, Jen-Hsun Huang was able to provide a little more detail on how exactly GeForce Grid works, in response to a question by PC Perspective:
Where we used to render from frame buffer and copy to the CPU for compression and streaming, here it's already streaming right out of the GPU, saving encode time, not to mention copy time. Compressing and streaming in parallel... we've taken maybe a couple hundred milliseconds of lag, and reduced it to something that's the same performance and snappiness as a game console.
Nothing special is needed at the client-end, just a standard H.264 hardware video decoder. Anything that can play YouTube can run GeForce Grid-streamed games, Huang told us. He did say hat there's still optimizations possible at the client end to further reduce latency, though, but wouldn't confirm whether Nvidia or partners were working on a Geforce Grid-specific client for the task.
http://www.theverge.com/2012/5/15/3022233/nvidia-geforce-grid-gtc-2012
Cloud Gaming Moves at the Blink of an Eye With NVIDIA GeForce GRID
Tuesday, May 15, 2012
GPU Technology Conference -- Gaming enters a new era today with the launch of the NVIDIA® GeForce® GRID cloud gaming platform, which allows gaming-as-a-service providers to stream next-generation games to virtually any device, without the lag that hampers current offerings.
With the GeForce GRID platform, gaming-as-a-service providers can deliver the most advanced visuals with lower latency, while incurring lower operating costs, particularly related to energy usage. Gamers benefit from the ability to play the latest, most sophisticated games on any connected device, including TVs, smartphones and tablets running iOS and Android.
"Gamers will now have access to seamlessly play the world's best titles anywhere, anytime, from phones, tablets, TVs or PCs," said Phil Eisler, general manager of cloud gaming at NVIDIA. "GeForce GRID represents a massive disruption in how games are delivered and played."
GeForce GRID was introduced at the GPU Technology Conference (GTC), as part of a series of announcements from NVIDIA, all of which can be accessed in the GTC online press room.
The key technologies powering the new platform are NVIDIA GeForce GRID GPUs with dedicated ultra-low-latency streaming technology and cloud graphics software. Together, they fundamentally change the economics and experience of cloud gaming, enabling gaming-as-a-service providers to operate scalable data centers at costs that are in line with those of movie-streaming services.
http://nvidianews.nvidia.com/Releases/Cloud-Gaming-Moves-at-the-Blink-of-an-Eye-With-NVIDIA-GeForce-GRID-7e1.aspx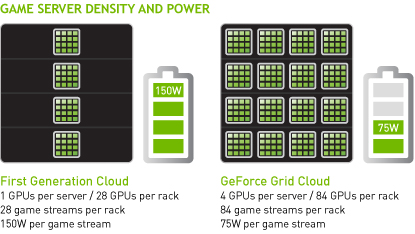 NVIDIA GeForce GRID GPUs
Using the highly efficient NVIDIA Kepler™ architecture, NVIDIA GeForce GRID GPUs minimize power consumption by simultaneously encoding up to eight game streams. This allows providers to cost-effectively scale their service offerings to support millions of concurrent gamers.
Featuring two Kepler architecture-based GPUs, each with its own encoder, the processors have 3,072 CUDA® technology cores and 4.7 teraflops of 3D shader performance. This enables providers to render highly complex games in the cloud and encode them on the GPU, rather than the CPU, allowing their servers to simultaneously run more game streams. Server power-consumption per game stream is reduced to about one-half that of previous implementations, an important metric for data centers.
Fast Streaming Technology
Fast streaming technology reduces server latency to as little as 10 milliseconds -- less than one-tenth the blink of an eye -- by capturing and encoding a game frame in a single pass. The GeForce GRID platform uses fast-frame capture, concurrent rendering and single-pass encoding to achieve ultra-fast game streaming.
The latency-reducing technology in GeForce GRID GPUs compensates for the distance in the network, so gamers will feel like they are playing on a gaming supercomputer located in the same room. Lightning-fast play is now possible, even when the gaming supercomputer is miles away.
GeForce GRID Enables the Virtual Game Console
Also at GTC, NVIDIA and Gaikai demonstrated a virtual game console, consisting of an LG Cinema 3D Smart TV running a Gaikai application connected to a GeForce GRID GPU in a server 10 miles away. Instant, lag-free play was enabled on a highly complex PC game, with only an Ethernet cable and wireless USB game pad connected to the TV.
http://www.nvidia.com/object/cloud-gaming.html