THE CONFERENCE IS 5PM GMT SO STOP ASKING
Sony has announced PlayStation Experience, a new event set to be held from December 6 to 7 in Las Vegas, Nevada.
The event will offer two days of PlayStation gaming, content, and activities, including "in-depth panels," the opportunity to meet the developers and purchase rare collectibles, hands-on gameplay demos of upcoming PlayStation games, free swag, and
"an exclusive first look at what's coming next in 2015,"
which PlayStation Blog senior manager Sid Shuman teases "I am told you will not want to miss."
If you're interested in attending, details on how you can be part of the event will be released on October 20. Tickets will cost $50 for a one-day pass, and $90 for a two-day pass. Attendees must be 18 or older.
Of course, if you can't make the event, the PlayStation Blog will be offering "comprehensive coverage" of the event, including "breaking news as well as live video through multiple distribution channels."
Stay tuned for further details.
Read more at
http://gematsu.com/2014/10/sony-hold-playstation-experience-event-december#WCCe5x87rp6eHwKl.99
Edit: Trailer:
https://www.youtube.com/watch?v=H0rt83T2X44&feature=youtu.be
PSX Keynote!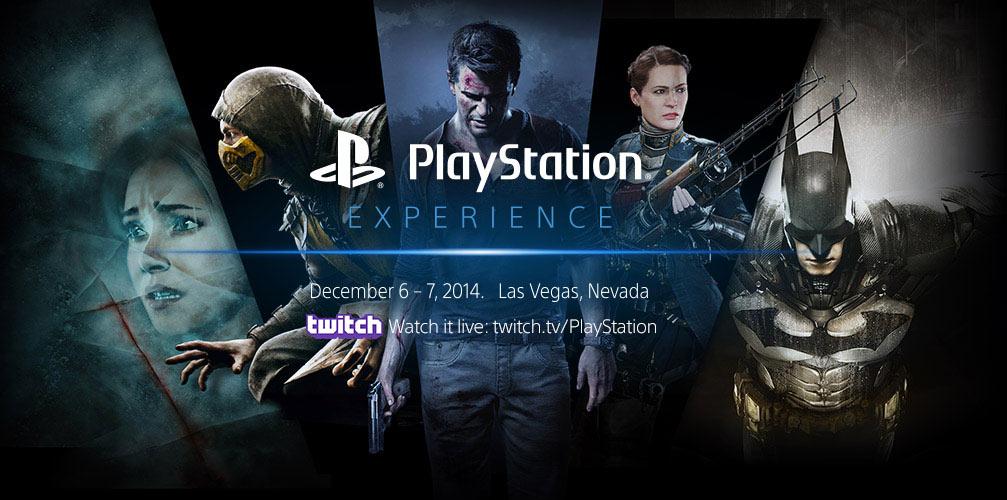 List of confirmed titles
Uncharted 4
Bloodborne
The Order 1886
Ratchet and Clank Redux
Tearaway Unfolded
No Mans Sky
Hotline Miami 2
The Talos Principle
Titan Souls
Not A Hero
Broforce
[REDACTED]
Metal Gear Online
Metal Gear TPP
Grim Fandango Remaster
RESOGUN's last expansion pack
Batman: Arkham Knight
Until Dawn
MLB15 The Show
Battlefield Hardline
Mortal Kombat
RIME
MilitAnt
Neptune Interactive Castle Game
Relativity
Tinertia
EMAGON
Project Morpheus
Project Morpheus related games
Square game
Fun Bits game
David Jaffe/Bartlet Jones game
Capcom game
Level 5 RPG
CyberConnect2 game
A return of an old IP
TLOU annoucment
*You can assume that Silent Hills will be shown with Kojima in the house
List of
POSSIBLE
games/studios to expect!
- Guerilla Games New IP
Trailer was apparently ready to go at E3 or Gamescom but Sony decided to not show it. Art leaked, rumoured title is Horizon.

- PS1 and PS2 Classics
Eurogamer reported a rumour of PS2 Classics coming to PS4 earlier this year with HD uprising feature. This would be the perfect time to introduce this.

- Parappa The Rapper
Developed by a Indie dev, also Shahid tweeted hint that a Indie dev could possibly be making a old Sony IP.

Square game
- The recent rumour that Square will reveal a new console game in December fits well with this event.

Level 5 RPG
- New information today that Level 5 will reveal a new game more epic than WKC.

Beyond Directors Cut
- Trophy leak, this game not only should be announced soon, but release soon too

Capcom game
- Rumours of Capcom exclusive, also Ono visiting SCE as well as tweets and finally Ono having a untitled game in development for PS4 showing then taking it down.

David Jaffe Indie game
- Teaser shown on Playstation YouTube channel

Also we should get new trailers for Uncharted 4 and Ratchet as well as BloodBorne, The Order, Tearaway, Until Dawn and update on Indie game that are already announced.
Added two studios myself since they have teased reveals.
Cygames
- Stated they were developing a PS4 title. No hints given at when it would be revealed though...
CyberConnect2
- The .Hack team stated they're working on a HUGE reveal before the end of the year. Could be PSX or Jump Festa... my guess? FF7 Re-make (Yeah, I'm saying it... they made G Bike, they SAID they wanted to remake FF7 AND they had a huge announcement to make... dunno... could also be a new .Hack or new IP too. Just hope it's not another Naruto game.... just my speculation!)