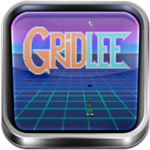 Thanks to the kind generosity of the three co-founders of Videa—Howard Delman, Ed Rotberg, and Roger Hector—the original ROM images from the only existing Gridlee machine have been made available for free, non-commercial use.
What's this?
Gridlee is a game that was developed in 1982 for arcade hardware, but it never officially released. Now, it launches on the App Store. At first, Gridlee looks like a simple game where you play as a little green dude that shoots at bouncy red figures, but that's not the important bit of the game.
Why not?
Well, as developer David Loureiro explains, Gridlee was developed for the Bally/Sente SAC I cartridge-based arcade machine. It has been brought to iOS devices using an emulator: MAME4iOS.
MAME4iOS?
Well, there's a rom folder hidden inside the game and if one copies other MAME ROMs into that folder, the Gridlee app starts up with the standard MAME4iOS ROM listing, allowing for a great many games beyond just Gridlee to be played on the iPhone or iPad in this Universal app.
Important info:
At the heart of Gridlee sits MAME4iOS v1.3 (MAME 0.139u1), which is much more advanced and feature-rich than the version of iMAME4ALL that powered iMAME. The MAME4iOS settings include advanced visual filters to enhance games' renderings, support for MAME cheats, and support for external controllers such as the iCade, among other features.
Link:
https://itunes.apple.com/be/app/id595117070?mt=8
http://toucharcade.com/2013/01/26/mame-is-back-in-the-app-store-for-now-with-gridlee/
Thanks to Pray For Death for pointing it out.