Jun 17, 2006
11,649
0
1,170
47
Cooking is manly. Manly is cooking!
/// Edited as of 8/21/06:///
Since this thread has grown to somewhat epic proportions, there was some input for an index of the recipes at the top of this thread.
LOTS OF MORE RECIPES IN HERE, INDEX ONLY COVERS 1/4 OF ZE THREAD! BROWSE AND FIND MORE GREAT STUFF!
So here it goes (in order of appearance):
Wiener Schnitzel, German style
Käsepätzle
(
ingredients
) (
homemade preparation of noodles
)
"
Lousy Züricher Schnitte
" from yilmazz
Spaghetti con Pesto
(ingredients)
Ei-uienprut Deluxe (rough translation: A mire of eggs, onions and bacon) from Rei_Toei
tomato mozzarella salad
from thirty
Paglia e Fieno (italian pasta dish with gorgonzola)
(
ingredients
)
"Steak, potatoes and salad late night sensation"
from catfish
Zürcher Geschnetzeltes with Rösti
(
ingredients
)
Invaluable kitchen tips and tricks
Apple pancakes
(OnkelC's personal heartbreaker) (
ingredients
) (
freehand flipping video
)
Burger deluxe
from catfish
Pork fillet with Estragon/taragon
(
ingredients
)
Pasta Putanesca
from Rei_Toei
Homemade Aperitifs, Digestifs and anything in between
, courtesy of Zensetsu
Assortment of German sweets and chocolate
Thai Pasta dish for the broke student
from Hooker
Saturday Sausagefest as Ze Germans do it!
(ingredients and preparation are kinda mixed, read all of them for complete coverage):
"
Nudelsalat
" (
ingredients
) (Noodle salad German style)
Homemade bread
Ze sausages and finale
"
3 K Sunday Breakfast
"
The famous "
London broil and rosemary potatoes
" from Nerevar
Hot chicken in tomato sauce
from Rei_Toei
"
Simple Man, Girlfriend away CURRY!
" from catfish
"
Nudeln mit Tomatensoße
" (noodles with tomato sauce) (
ingredients
)
Guarcamole deluxe
from Mama Smurf
Basics of food acquisition in Germany, Part 1
Tasty quesadillas
from Mama Smurf
Reading the whole thread greatly enhances the experience and is therefore heavily recommended!:lol
Have fun and contribute/comment!
---the original thread started here:---
Preparation of Wiener Schnitzel, German style fresh from OnkelC's kitchen like an hour ago. The wife wanted some Schnitzel for dinner, so I thought you would like to share the experience.(Basically, I just got a new cam and wanted to try it out :lol ).
Ingredients:
Meat (preferably Pork, but veal will do, too),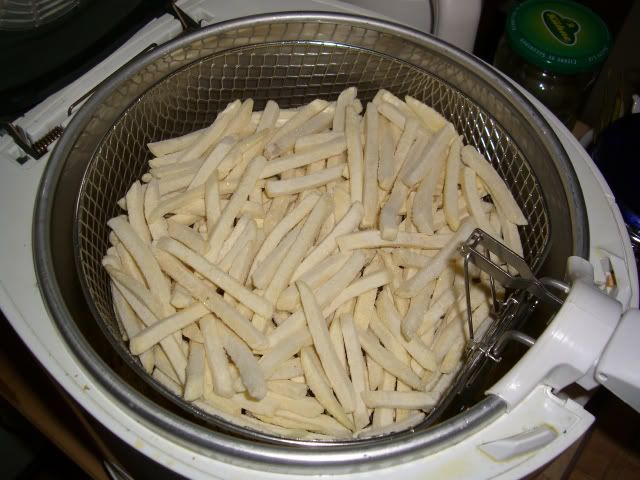 Some fries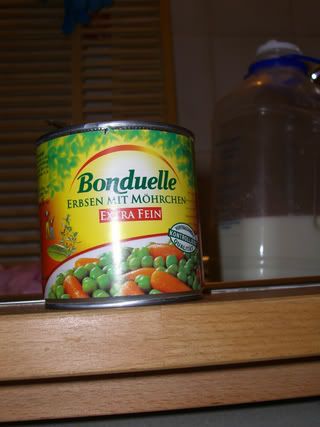 Can of baby carrots and peas (Essential for the German Style Wiener Schnitzel)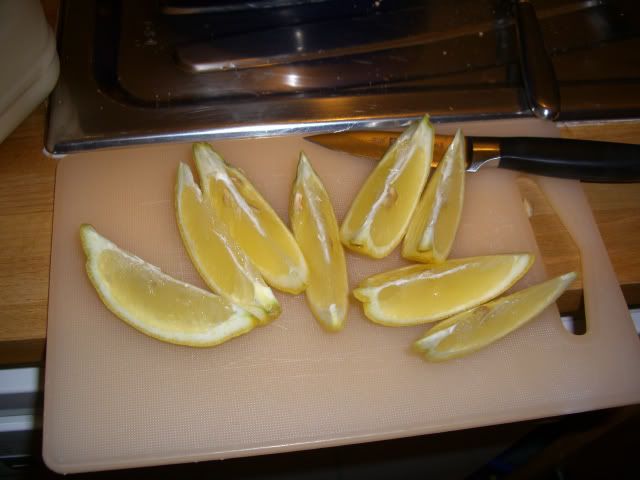 Some organic lemons for taste
First, beat the pork until it has about double size (it's the same slice as pictured above):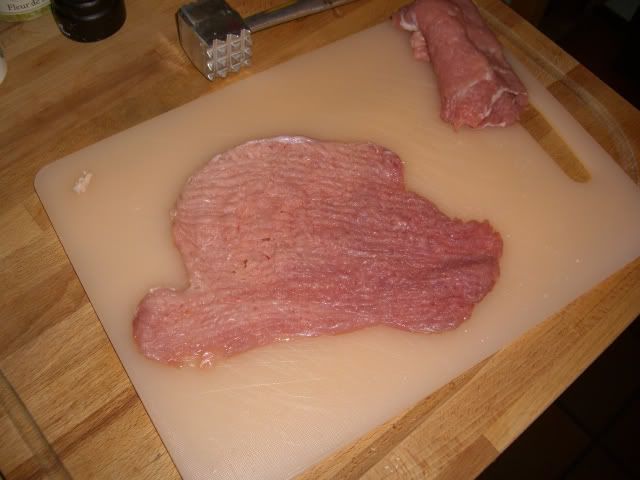 Cut the slices in half so they will fit in the pan.
Then fix the Panade (usually flour, battered egg and breadcrumbs, but I was a lazy ass and used some readymade panade with milk:
Ready for the pan: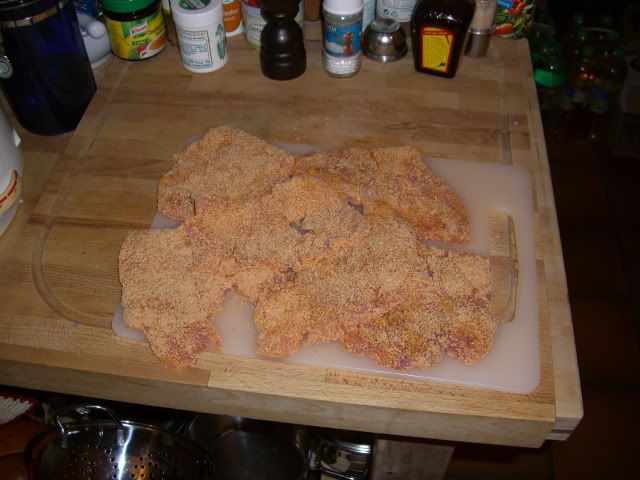 Next, get the fries going
and put the carrot/peas on the stove, add some butter: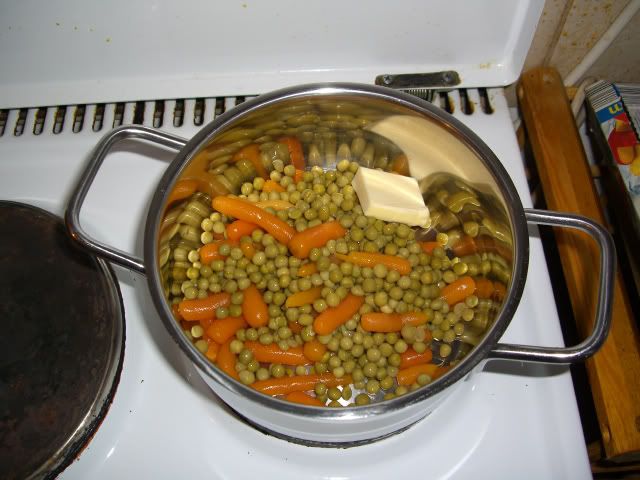 Put some oil and butter in a pan and fry away:
Goodness in the making: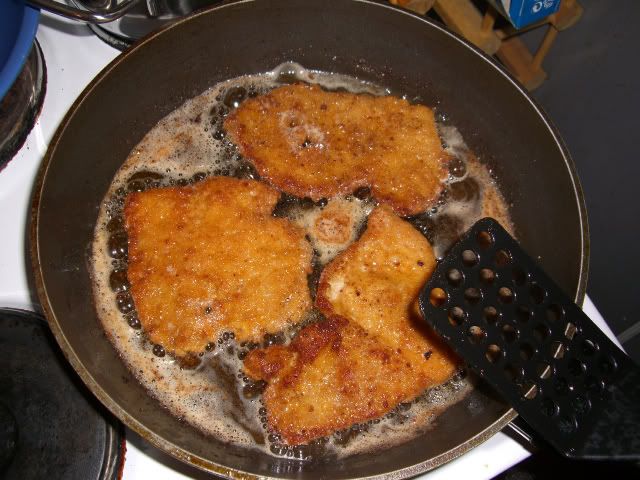 voila, serve with some lemon for the extra twist: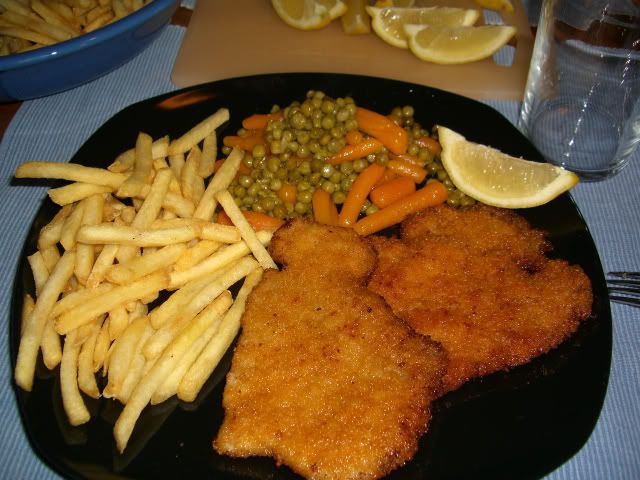 If there is interest, I will post the preparation of Käsespätzle (traditional noodle dish) tomorrow.
Guten Appetit from Bonn.