Deleted member 713885
Unconfirmed Member
Title pretty much sums it up.
Last 1.5 years I've been stuck coming and going to the gym. Reading 100 books, 1000 web sites, buying 10000 supplements etc..
I need a direction, a fool proof spelled out Sun-Sat regime.
Size/Weight: 6'1 158lbs
Heres my deal. Joined a place 3 years ago, paid for trainer services. 2 trainers quit a couple sessions in and my last guy was a power lifter who tried to kill me lol. Had 3 trainers over 3 months and the last one didnt understand I our body differences. So, I quit. 3 months, no free weights/squats/etc.. all machines and leg presses.
Then I joined good old Planet Fitness and just did my own thing.
No direction, no plan. 5 days a week just doing what I found enjoyable.
But...Planet Fitness just has Smith Machines and dumbbells and every sight I read says the place sucks.
But! What do I see!?!?
A massive AWESOME gym opens up across the street from my house! Its huge! It has a cafe, studios, a MOVIE THEATER!
I go for 3 months, just doing random stuff and BAM...
I think from having zero idea on a routine, form, weight I should use and using Planet Fitness Smith machines...First my hip is sore ALL the time! And my shoulder, is a MESS!
That was 3 months ago. Havent stepped foot in the gym since but now I feel good, I've healed.
So now I need someone to help me make a road map, a list of what to do and when. I have zero gym buddies (my closes friend lives 90min away)
Also...while this gym has EVERYTHING..theirs lines to use the squat racks.
But, I do have some home equipment I can use!
I have access to the gym as I said but heres what I have at home..
Bench/Bar and 100lbs in plates.
Since it seems I'll never get a chance to use the squat rack at the gym I have these now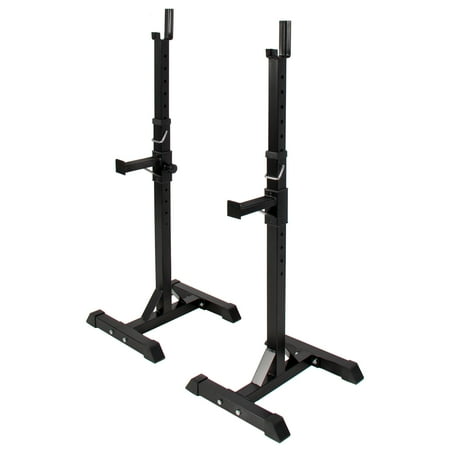 I also have a set of 10lb, 20 and 25lb dumbells.
And I have a Power Tower or some shit for pull ups.
(I suck at pull-ups. I use the assist of 20lbs and can do 10 that way tops)
So give it too me guys.
I need the full plan. The stretches, do I do push-ups, sit-ups?
Do I do cardio? How much? What kind? Before or after workout?