(03/20/2013) - Excellent blog post by Al Byrne that sums up everything that has happened, while doing it in a very entertaining and poetic way, click on the link to read it, here is some excerpts FTA:

It seems like people—for some reason—were waiting on Polygon to call the industry out on its crap. Polygon, that Microsoft-sponsored, humourless, 70s prog rock supergroup of games journalism. Expecting any kind of populist uproar from Polygon is like expecting One Direction to vilify the X Factor culture that spawned them – they're entirely within the system, with no interest in existing outside of it. Probably the only thing you needed to know in order to be sure that Polygon was never going to change the world of games journalism was that they could afford to make a multi-part documentary trumpeting all the ways they were going to change the world of games journalism.

As the fine folks at NeoGaf tirelessly collated, Polygon's reviews editor Arthur Gies scoffed at Walker's inside source, insisting that the always-online battle was one the publishers had already won, and pooh-poohing the suggestion that the game could be workable offline. Until—no! But yes!—Polygon newsy guy Brian Crecente threw up an interview with the modder who'd tweaked the game to work offline, neglecting to mention that his mag had loudly refused to believe anything about such a tweak despite John's publishing a very similar interview with that selfsame modder days previously. Crecente even went so far as to deny seeing that interview, which was fine until it was awkwardly pointed out that he'd actually tweeted about seeing it shortly after it was lobbed online. In essence he went back in time to shoot himself in the foot, somehow managing to be impressively unimpressive.

So: Polygon and their ilk will continue with their nonsense, proudly accepting always-on DRM, or microtransactions, or day-one DLC, or whatever new and harmful gimmick the increasingly obsolete publishers wheel out, as the inevitable industry norm. They will continue to award 9.5 to broken or unworthy games, and then point out the fact that people buy those games as an infallible sign that they were right, as if completely oblivious to the part their exclusive reviews play in that. Because they don't have the will or the courage or the drunken recklessness to opt out of the loop.
http://ridiculoushuman.wordpress.com/2013/03/20/pure-folly-miss-polygon/
A lot more in the link, very funny and good read.
(03/19/2013)
Twitter Battle updates at the end of the RPS articles.
Any specific details that lead to this or the flak John got from these news articles can be found after all the RPS stuff(including twitter and PR timelines).
Anyone who has been following the SimCity debacle probably knows about John Walkers fight for consumers, and the damaging policy of the always online drm, starting with this article:
SimCity Is Inherently Broken, Let's Not Let This Go
FTA:
EA reports that SimCity is slowly getting into a state where it's playable. Many of the launch issues are getting sorted, and soon it may well be in such a place that it becomes functional. So we should forgive and forget, right? Wrong.

Claiming SimCity fixed, by removing the server queues, random crashes, lost cities, server drops, and the artificial restrictions placed on the game just to make it run, is like claiming a broken leg fixed because you've mended the crutches. The game, by its very design, is hideously broken, and like Diablo III before it, it has only served to scream a complete disregard for sense and a massive disregard for customers. So what we mustn't do now is say, "Well, teething problems."

These aren't teething problems. These are continuous deep-running flaws designed to cripple the game for you as a player, simply to serve some nebulous notion of protecting the game against piracy.
From there he started digging into the BS PR comments of the community managers, over at EA's forums and the "media defense force", that came out talking about how the problem wasn't the always online DRM, but that it just wasn't done good enough.
Awhile after this, Walker got a hold of a source that indicated to him that the actual things the servers are doing, for the game, is less then 1% of the total computation of the sims, with this article:
http://www.rockpapershotgun.com/2013/03/12/simcity-server-not-necessary/
"The servers are not handling any of the computation done to simulate the city you are playing. They are still acting as servers, doing some amount of computation to route messages of various types between both players and cities. As well, they're doing cloud storage of save games, interfacing with Origin, and all of that. But for the game itself? No, they're not doing anything. I have no idea why they're claiming otherwise. It's possible that Bradshaw misunderstood or was misinformed, but otherwise I'm clueless."
After posting this article, our great hero
Arthur Giess
did his best to dismiss his source, to help defend the narrative of EA, which resulted in a bit of a twitter battle. If you want to see what transpired from the arguement you can
click here
, also if you want to follow him on twitter:
John Walker's Twitter
.
So his last article he just posted has just been amazing:
SimCity Boss's "Straight Answers" Seem Pretty Wiggly
With some pretty great information and quotes.
My personal favorite's, FTA:
Repeated emails to EA have resulted in no response since, and the whole situation has become more muddy with each day. It's since been revealed that population numbers are nonsense, even down to leaked Javascript code featuring "simcity.GetFudgedPopulation" as a function. We've learned that city size limits are arbitrary, pathfinding is rudimentary at best, and Eurogamer's absolutely superb review lists many more bugs, broken features, disappearing pretend-money and never-arriving resources.

So it's all the more odd to see Maxis head Lucy Bradshaw acting as if none of this is happening, and instead just carefully rewording her mantra of how SimCity is only supposed to be played online, but this time leaving out the bit about server-side computations for local play.

Bradshaw's post, which appears to be some sort of attempt at damage limitation – without actually ever addressing the issues raised – re-emphasises the point that they wanted it to be always online because of how they designed the game. She then lists the functions those server sums supply. And they're what we already knew – they let the social game be social. This list that is basically just "the game has co-operative multiplayer" eight times seems to be an attempt to reveal just how grand this aspect is, how intrinsic it is to… something. It doesn't manage this. What we're learning from the many players posting videos, and the reviewers who actually played the game properly before smothering it with rosettes, is that those regional functions don't work very well either.
So it looks like we at least have one games media website that is clearly on our side, but I just thought since the article has pretty much the whole ordeal in it, it deserved its own topic.
New info from the modder who went offline with SimCity(3/16/2013):
SimCity Modder Tells Us Offline Regional Play Easily Done
FTA:
So how simple does Azzer think getting an offline version going might be? "They could make an entire region single player offline with absolute ease. It would be as simple as coding in a switch saying, 'Is this person playing single player? Take the power values of each city from local memory instead of ask for it from the server instead.' The only thing missing is saving to local hard drive – but let's be real, the code for saving your city already exists, I can't imagine even that would take more than an hour to put into the client (and it probably already exists in the client for development builds), plus a little bit of time for the UI elements for Save/Load."

"For an offline mode," he continues, "instead of asking EA servers how much power is available from a fellow city in the region, it will simply have it in memory, as a small handful of values from another city. No live calculations done on them. Just raw values, all the EA servers send anyway. And as you'll only be playing/simulating one city at a time in offline mode (cities you don't play are "frozen in time&#8221
– those values of how much spare power, resources, etc. other cities have won't even need updating, until you change cities."
New Article about the free games offered(03/18/2013)
A Sorry Tale: EA Offering SimCity 4 To SimCity 5 Buyers!
FTA - More in the link:
If you want to gouge them for the maximum amount, Dead Space 3 still costs £40 on Origin. And you'd be mad to opt for Plants Vs. Zombies, which is only £7. Well, unless you want it, and this isn't just about the graph EA execs will have to look at in a month's time.

But best of all is the SimCity 4 Deluxe edition, usually £20, that offers a fantastically detailed city building sim, along with an option for an offline regional game, where you can build multiple cities into one region, and have them share resources. The Deluxe version includes the Rush Hour expansion, and both let you terraform the land, design your own building types, and all sorts of other excellent features that you'd expect to find in a modern city-building simulation.
RPS - John Walkers take on CEO John Riccitiello stepping down(03/18/2013)

Offline: EA CEO John Riccitiello Has Stepped Down
FTA:
Well another person has learned: you don't mess with Rock, Paper, Shotgun. It seems our coverage of the SimCity… no, not really. The rather more unfortunate reason for EA's CEO, John Riccitiello's stepping down is due to the publisher's struggles to turn a profit, alongside warnings that the next quarter's targets won't be met...In saying so, this looks very much like one of those falling-on-a-sword moments, to stave off investor unrest when yet another set of pointy-down graphs are released.
Twitter Battles
The Tweet that started it all:
After Walker posted his secret source article, our great hero
Arthur Giess
did his best to dismiss his source, to help defend the narrative of EA, which resulted in a bit of a twitter battle. If you want to see what transpired from the argument you can
click here
, also if you want to follow him on twitter:
John Walker's Twitter
. The arguement is too big to fill the OP, so instead click on the link to read the fight.
Thanks to
DaBuddaDa
for pointing out more of his rant, since getting into a twitter battle with John Walker, you follow the full twitter conversation
here
.
What he says is that always online wont effect his review, unless it is broke... So he doesnt care about the use and function of the always online DRM, all he cares about is if it effects him from doing his review. This is him essentially saying,
I dont give a fuck if always online DRM is bad for you, I will only care if it becomes a hindrance to me.
With that said, always online is not always bad, but in this case, it servers very little purpose, which was Johns argument, which started all this. This also helps explain why he was so ready to take the EA stance and dismiss Walkers inside source.
Between this, Walker noticed something from another "fellow journalist" where he noticed an CVG article that was...less then helpful to consumers, by Rob Crossley:
You can find the, since edited, article
here
As you can see another great "game journalist" addition to the industry cause, also, decided to chime in and talk about how horrible Walker is: the great Mr. Ben Parfitt.
Polygon is now at it again! YAY(damnit)!(03/19/2013)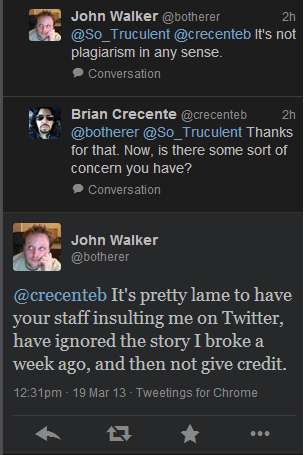 -

-
If this is your 1st visit, welcome to Polygon.
Here is all the PR BS that had John fact checking what they were saying. All of this is in the SimCity Boss's "Straight Answers" Seem Pretty Wiggly RPS article.
Starting with the original article that made us love what was coming down the pipe.
December 2012 Bradshaw Blog - The
Origin
al PR-BS
12th of March - Kotaku(Stephen Totilo) interview with Bradshaw - Finally more pointed questions from the games media:
EA censors its own support number on its forums
-
shinobi602
has a great find which shows an even more insane PR blunder -
check his thread for details and discussion
.