LA Times: #JusticeForHan: Does 'Fate of the Furious' twist betray the 'Fast and Furious' family?
- by Jen Yamato
We be resurrecting every other character willy nilly like the high-octane soap opera franchise that this is, but not the one most care about?
Michelle Rodriguez:
Rodriguez has played the street tough Letty Ortiz, a founding member of Toretto's original familia, through adventures and betrayals and melodramatic script turns since "The Fast and the Furious." If anyone knows the franchise's true definition of family and loyalty — and its willingness to bend the rules — it's her.

"I know," she exclaimed, feeling the pain of the Han faithful. "When [Deckard] was introduced, they didn't even think for us to give him any flack when he walked in. And we were like, 'Yo, dude, this guy killed one of our boys! You know it doesn't fly like that!'"

"At the end of the day, you're talking about a Hollywood demographic blockbuster character overriding story," she said, candidly. "That's the battle that you have when you make movies this big. They were like, 'We know that the grand majority of the audience wants to see this guy be on your side, so that overrides the fact that he killed one of your guys.'"

"I was like, 'I don't know if that's going to fly when we hit the Asian markets, but all right,'" she laughed. "I don't write this stuff. What can I tell you?"​
Letty keeping it real.
Writer Chris Morgan:
Evil twins and more soap operatic tricks may or may not be in store for the remaining films in the franchise. Morgan acknowledged that as the screenwriter mapping out "Fast 9" and "Fast 10," he does possess the ability to bring characters back from the dead. But with great power, the saying goes, comes great responsibility.

"You really have to think about choices like that, because if you do it too much then there are no stakes in your world. The cathartic process you've had in grieving Han's death — does it undo that, or are you just so happy that he's back that you're willing to overlook that? You have to be very judicious about resurrecting characters."​
C'mon, Chris Morgan. You know that's a flimsy excuse when Deckard is presumed dead and resurrected in the
same
movie.
Conspiracy theories:
Fans may have to see it with their own eyes to believe it — and they'll have to wait until 2019 and 2021, respectively, to see how the filmmakers address the Han pickle in the series' final two films. For now, conspiracy theories run the gamut, perhaps a little more fast and furious than what Morgan and Co. have planned.

"This is a pretty ingenious plan to bring Sung Kang back into the 'Fast' fold," speculated Phil Blankenship, a "Fast and Furious" fanatic and local film programmer in Los Angeles.

"It's beautiful long-form, multi-film storytelling," he argued after "Fate of the Furious"'s behemoth opening weekend, sharing his favorite theory of how the "Fast and Furious" franchise will make good on the aftermath of Han's death.

"The filmmakers had to recruit Statham into the team so that way Han's identical twin can hunt him down in Part 9 to avenge his brother's death. But — that in itself is a ploy! By 'Fast 10,' the ultimate film in the series, they're all friends who form the perfect supergroup."​
Gotta go full soap opera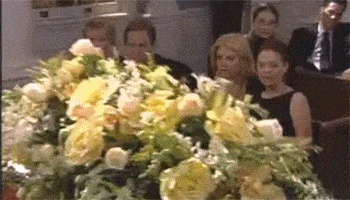 When will
BronsonLee
Han have his day in the sun?!