Mar 26, 2007
20,271
0
1,150
I was reading in the Yakuza 3 thread today and saw this:
slider said:
Oh, interesting comments on the gfx. I just created a Japanese account* to check this out. DLing now.

*The frikkin' process had always intimidated me in the past and since the FW upgrades the old guides had been a bit out of date.... but Youtube to the rescue. : )
So here we go.
First thing we have to do is create a new user on the XMB. This can be done by going all the way to the left and selecting the
Create New User
icon.
Choose a name for this local account, mine is "Japan". After you have done this sign in to the new account and go all the way to the right until you reach the
Network
tab of the XMB.
You should be looking at a screen like this. Select the
Sign Up for the Playstation Network
option.
We now reach this screen, pretty straight forward at this point since it is all in English. Select
Create a New Account (New Users)
.
Again simple stuff here, just select
Continue
.
From the
Country / Region of Residence
drop-down select
Japan
.
From this point forward all of the options will be in Japanese. Enter your birthday and then select
次へ
to continue to the Terms of Service.
Time to sell your soul to the Japanese, select
同意する
to agree to the Terms of Service.
The first input box is asking for an email address. I would recommend using a real one just incase you forget your password.
Under that is the input box for your password. The yellow text says must contain atleast 6 characters using numbers and letters. Re-enter your password again in the 3rd input box.
Check the box if you wish for your password to be saved.
The drop-down box is for a Security Question. Pick one.
In the box below make your answer something you will remember.
Select
次へ
to continue.
Now you are choosing your PSN ID. Make it anything you want.
After you enter a name you will see one of 2 screens.
If you get this screen, your user name is available. Select
OK
.
If you get this screen, the user name you entered is already used by another user. Hit
O
to return to the previous screen and choose a different name.
After your PSN ID is chosen select
次へ
to continue.
Last name, first name, and gender is entered here. Pick anything you want.
Select
次へ
to continue.
Time to enter a fake address. Enter numbers in the first input box.
For the drop-down box choose anything you want.
For the next 4 boxes you can input anything you want, Sony doesn't check the address.
Select
次へ
to continue.
Check this box if you wish to receive emails from Sony.
Select
次へ
to continue.
You are at the home stretch, all you have to do now is confirm the info you entered.
Select
確定
to confirm.
Congratulations you have a Japanese PSN account. Press
X
to go to the Store.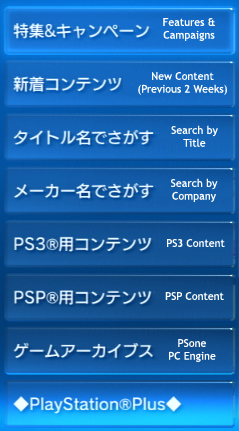 This is the updated translation for the store sidebar.
If you can think of anyway to make this guide more clear, just let me know.