Roller Coaster Tycoon was my first and only Tycoon series so far, so unfortunately I don't know if this game in particular implements any advances others in the genre may have come up with. I also know Chris Sawyer had almost no affiliation with this game.
With that out of the way, I can get on to slavishly praising it. The original Roller Coaster Tycoon (or RCT) was one of my first computer, sim, and turn-based games (along with Alpha Centauri), and I loved it. I spent endless hours micro-managing everything to the smallest possible details; employee paths, employee uniform colors, path patterns (trash bin, then bench, then lamp post, then trash bin, ad infinitum), and more. I then moved on to RCT2, and loved it as well. I played around some with 2's expansions, but I was never a big expansion buyer.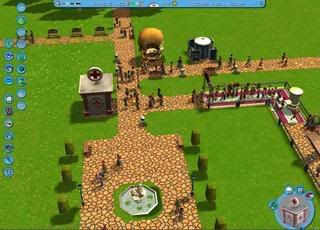 Flash forward to yesterday. At my local Walsmart I was looking around for a few things to stave off boredom (and found Buffy seasons 2, 3, and 4 to my luck, at $15 each), when I happened upon Roller Coaster Tycoon 3 Platinum, which includes the two expansions "Soaked!" and "Wild". I was in the bundle-buying mood as evidenced by my Buffy purchases and the price was right- $30 for three games, not bad.
Wow. The series' transition to 3D could not have gone any smoother. It retains all the micro-management facets of the first two and brings it to life in full 3D, complete with godly camera controls and all.
In addition, RCT3 boasts possibly the single greatest game-to-game user interface redesign ever. In game, you're given a top-bar that functions like the old games (except that updates appear in an Android-like drag-down menu, neat); on the left are a column of circular icons with which you're able to play the game; and depending on the context, two controls appear at the bottom corners of the screen. The left corner is the control for creating things like paths and rides, while the right corner displays the control for whatever you clicked on with the left mouse button. It's really fluid.
But the biggest thing I've found is the
CoasterCam
. I never really played around with making my own coasters unless I had spacial issues, but with CoasterCam, I'm definitely am going to be building my own for hours on end. CoasterCam is a feature in RCT3 that plops you square in the seat of almost any ride you've made- from coasters to carousels to go-karts. I understand this wasn't possible with the isometric games, but I have to say, RCT3 is worth it for this feature alone.
The graphics are actually pretty OK considering all the stuff that has to be rendered in full 3D; definitely low-poly, but you usually won't be staring at things up-close anyways. While the framerate occassionally dips when you're panning around, I have yet to have it cause serious issues (and it never stutters during CoasterCam.) It's actually a
lot
better than I thought it was going to be, although that's just because I've been unlucky with PC games before. No glitches or errors to speak of, either. One more thing I have to mention is this game goes even further into customization than I thought- you can load up your own images to display as in-game banners (useless, but fun), and you can customize both the background music while playing as well as the music that plays during rides.
I really can't wait for RCT4 (and also hope Atari does a Sim City-like port of it or this to Wii.)
Thoughts on 3? The series as whole?
Images can be embiggened, though I did save them in JPG so forgive any poor qualities.