What is LEGO?
LEGO (trademarked in capitals as LEGO) is a line of construction toys manufactured by the Lego Group, a privately held company based in Billund, Denmark. The company's flagship product, Lego, consists of colorful interlocking plastic bricks and an accompanying array of gears, minifigures and various other parts. Lego bricks can be assembled and connected in many ways, to construct such objects as vehicles, buildings, and even working robots. Anything constructed can then be taken apart again, and the pieces used to make other objects. The toys were originally designed in the 1940s in Denmark and have achieved an international appeal, with an extensive subculture that supports Lego movies, games, video games, competitions, and four Lego themed amusement parks.
Source Article
The Lego Group began in the workshop of Ole Kirk Christiansen (7 April 1891 – 11 March 1958), a carpenter from Billund, Denmark, who began making wooden toys in 1932. In 1934 his company came to be called "Lego", from the Danish phrase leg godt, which means "play well".
It expanded to producing plastic toys in 1947. In 1949 Lego began producing the now famous interlocking bricks, calling them "Automatic Binding Bricks". These bricks were based largely on the patent of Kiddicraft Self-Locking Bricks, which were released in the United Kingdom in 1947. Lego modified the design of the Kiddicraft brick after examining a sample given to it by the British supplier of an injection-molding machine that the company had purchased. The bricks, manufactured from cellulose acetate, were a development of traditional stackable wooden blocks that locked together by means of several round studs on top and a hollow rectangular bottom. The blocks snapped together, but not so tightly that they required extraordinary effort to be separated.
The Lego Group's motto is det bedste er ikke for godt which means 'only the best is good enough'. This motto was created by Ole Kirk to encourage his employees never to skimp on quality, a value he believed in strongly. The motto is still used within the company today. The use of plastic for toy manufacture was not highly regarded by retailers and consumers of the time. Many of the Lego Group's shipments were returned after poor sales; it was thought that plastic toys could never replace wooden ones.
By 1954 Christiansen's son Godtfred Kirk Christiansen had become the junior managing director of the Lego Group. It was his conversation with an overseas buyer that struck the idea of a toy system. Godtfred saw the immense potential in Lego bricks to become a system for creative play but the bricks still had some problems from a technical standpoint: their locking ability was limited and they were not very versatile. In 1958 the modern brick design was developed but it took another five years to find the right material for it. The modern Lego brick was patented at 1:58 p.m on January 28, 1958;bricks from that year are still compatible with current bricks.
Source Article
Shamelessly stolen from Wetwired's OP for the last Lego thread.
Click the logo to be taken to the Lego home page for the theme.
Probably the most diverse and all encompassing theme for Lego sets out there. Almost all sets come with complete instructions for three different models. Sets include things ranging from dragons to eagles, cars to jets, and houses to robots. One of the most well regarded themes going right now, and the best gateway sets to introduce someone to Lego. It is also the theme with the greatest bang for your buck, with many sets coming in below the magical $.10 a brick threshold.
One of the most popular and enduring themes in Lego history. It focuses on city life and normal city services. Popular sub themes include Fire Fighters, Police, and Construction. LEGO City must obviously be more crime infested than NYC in the Marvel Universe since all they have are police and fire sets. However, we did get underwater exploration stuff in 2015…
Introduced in 2012 to much controversy, Friends was a series designed mainly to appeal to girls. Featuring unique figures unlike any other Lego series, the sets also feature bricks in very unique colors such as pastels and pink. The uniqueness of the brick colors make this a popular theme with collectors.
Don't be put off by the girly nature of the sets, as the sets are still full blooded Lego goodness, and feature many neat and advanced building techniques. It also represents good everyday life items and scenes that seem woefully unserved by the City theme.
There are even subthemes available in Friends, such as jungle explorers and pop star fantasy.
LEGO® Brand Disney Princess allows girls to build and play stories from their favourite fairytales. Princesses including Cinderella, Ariel, Merida and Rapunzel, in glamorous dresses, will come to life for them as they recreate romance, adventure and heroism. LEGO Brand Disney Princess has all the elements, such as castles, towers, a carriage, treasure chests, gateways and more, for girls to play out these classic stories, time after time. Yet among the spells, secrets and hidden treasures¬ there is plenty to inspire them to build their own fairytales.
One of the biggest selling themes for Lego, the Star Wars theme encompasses not only the film series, but also the animated Clone Wars series as well as extended universe properties like The Old Republic. The cream of the crop from this line is the Ultimate Collector's Series (UCS) line. Massive sets focused on extreme detail and meant to be displayed proudly.
New this past year were sets tying into the Rebels TV show, and The Force Awakens.
Featuring some of your favorite super heroes from Marvel and DC. Many sets are on the smaller side, as the big appeal of this theme is the array of mini figures. But there are some fantastic builds from them as well.
You can't keep a good ninja down. One of the best selling themes ever, LEGO took it out of circulation in 2013. But due to overwhelming demand, Ninjago made its triumphant return in 2014, and continued its domination throughout 2015.
If Friends was made to appeal to female fans of the City theme, then Elves appeals to the magic and fantasy female fans. Featuring wonderful fantasy elements as well as unique colors and builds, Elves is a welcome addition to the LEGO family.
Newly returned in 2015! In the LEGO® BIONICLE® world, six Toa must seek the Masks of Power before they fall into the hands of the evil Makuta and his helpers. Children can easily build and rebuild durable action figures. Each Toa comes with an elemental mask and a golden power mask, as well as a mask pop-off trigger. Figures can also be combined to enhance powers. On the Mysterious Island of Okoto, fight Skull Spiders and their evil lord! Fend off their attacks with cool dual weapons and rapid fire shooters! LEGO BIONICLE sets offer children intuitive building, intense action play, cool weapons and the chance to save the world from evil!
Scooby-Doo, where are you!? Rumored to be a one off theme, the small assortment of sets released in summer 2015 may be the only things we get from the classic and beloved cartoon. Featuring the entire gang, as well as villain figures to unmask, this theme basks in the warm glow of nostalgia.
Designed to recreate famous buildings in micro scale, this series appeals mainly to adults and make fantastic desk decorations. Some sets are vastly overpriced in the price per brick ratio, but some are amazing display pieces, such as White House. New entries to the series coming in 2016 include skylines to famous cities.
For the truly advanced builder, Technic focuses more on the mechanical and engineering aspect of Lego. From gears and levers, to actual motors and pneumatics, these sets are both challenging and rewarding to assemble.
[imghttp://cache.lego.com/images/shop/shop11/Themes/2013/img160x210_Mindstorms31313.png[/img]
Technic a little too tame for you? How about building an actual working robot? Used in universities around the world to help teach robotics, the Mindstorms line has just been updated with the brand new EV3 kit.
Have an idea for a set? Upload it to the LEGO Ideas website. If it gets enough votes and approval from LEGO, it could become a real set that anyone can buy. Just look at what happened to Wetwired!
It started with one little micro world set, and then it became four. Now, Minecraft is exploding into a full fledged line, complete with mini figures!
Cute and fantastic little creatures. Each wave features three tribes, with three sets per tribe. Buy all of one tribe and download instructions for how to make a Max Mixel. Also very popular for MOCs due to the unique joint pieces.
LEGO® DUPLO® bricks are twice the size of ordinary LEGO bricks – perfect for small hands and growing imaginations. For ages 5 and under.
The nice stopgap between Duplo and the rest of the LEGO line, the Juniors series features small and simple builds, but also fun and unique mini figures. Another bonus is the printed parts.
BREAK THE RULES! Introduced in 2015 is the ultimate LEGO video game, Dimensions! Featuring a vast and ever expanding world, you can by special sets that allow you to upload the characters and creations from the set into the game world. It also allows you to cross over with many other worlds. How else can you actually have Doc Brown fly the TARDIS!?
All currently available Lego themes
In addition to all the regular themes, Lego also has sets and sub themes aimed at adult fans of Lego (AFOL) and those with deeper pockets.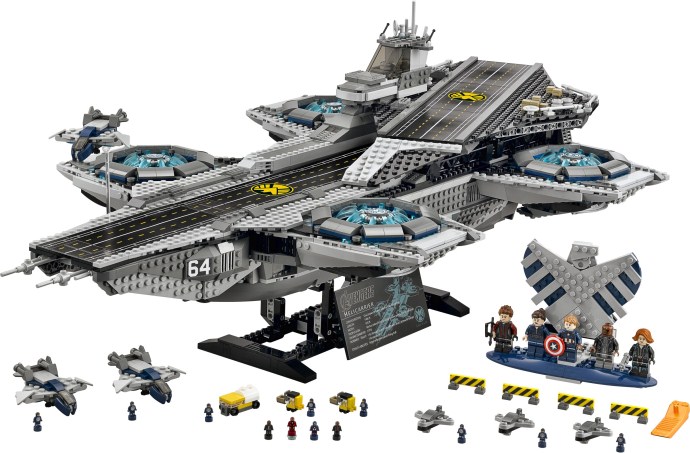 Ultimate Collector Series
Once reserved for just Star Wars, the UCS series has branched out into Super Hero territory and beyond in the past couple of years. Featuring absolutely massive and intricate builds, these sets are made to be displayed with pride.
They are also on the pricier side, ranging anywhere from $200-$300+ a pop.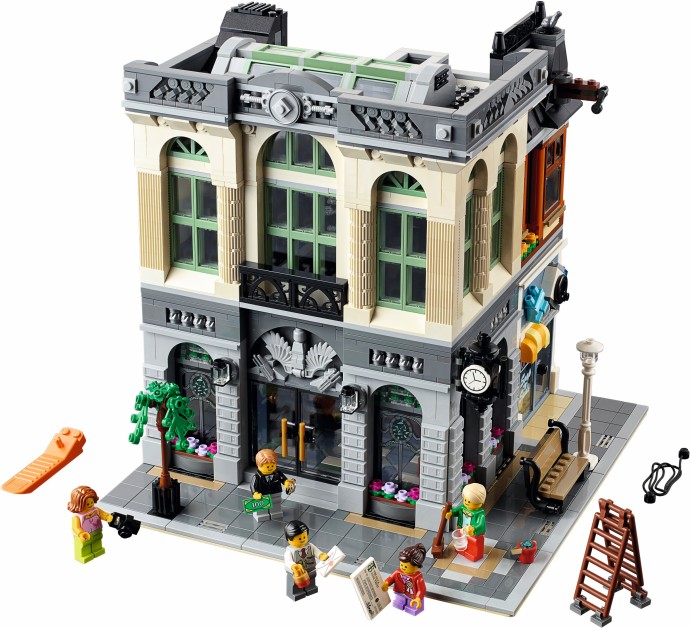 Modular Buildings: Prices range from $150-$200 MSRP
Released at a rate of one per year for the last several years, the modular buildings are designed to mimic buildings seen on a normal downtown street. Beginning with Cafe Corner, a new building was released each year to keep the street growing. Beginning with Green Grocer (now OOP), the buildings started to feature extensive interior details. Like the UCS sets, these tend to spike in price once going out of print.
These sets also feature a fantastic price per brick ratio, as sets average 2000+ pieces for only $150-$200.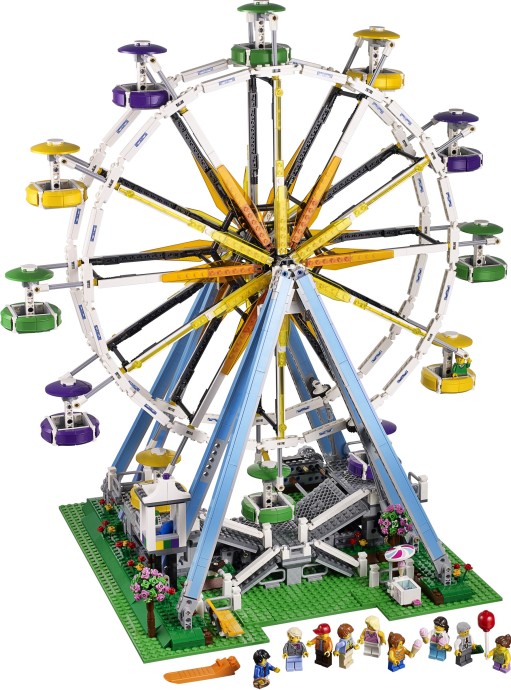 Lego Creator Expert: Prices range from $80 MSRP and up
From miniature modular buildings to the Ferrari. From Winter Cottages to Tower Bridge. These sets, usually identified by their blue boxes, are timed exclusives to Lego stores and feature very detailed builds and high piece counts. These sets also spike in price in the after market after going out of print.
One of the most iconic pieces of Lego, and what helps drive the collector craze. Not only do many sets come with unique mini figures, but Lego also releases a line of unique figures. Each series consists of 16 different figures, and it is a mystery as to what you get in each package.
Or is it? Many figure out tricks to decipher which figure is in which bag. One method is to know the dot code that is embossed on the packaging itself. This one is a bit trickier than the good ole feel method. Just feel the bag to figure out which figure is inside. The trick is to feel for unique pieces to certain figures, such as the unique wings that are on the Man Bat figure show above, or Santa's sack of toys. Is it an exact science? No, but it will help you get the figures you want to complete your collection.
There is also an active community in here for trading figures among users.
Wanting to display your mini figures? Our very own Wetwired, Lego Nut Extraordinaire has one of the coolest methods for displaying your collection:
Wetwired's Flickr Gallery of Minifigures
The frames are IKEA Ribba Frames.