thinks Halo Infinite is a new graphical benchmark

Kojima figured out the 3rd person action genre with Death Stranding, just a well developed game and I'm very happy to have played this game, Kojima for life. Offering humor (BB), show-boat moments (Zipline, BT's) stuff like that makes a game a game. Let's give this man the respect he deserves.
Ok.
The story escalates quickly, we're introduced Sam "Porter" Bridges (Norman Reedus) who is a guy 100% committed to delivering packages and is in a situation where he must deliver a dead
president's body to an incendiary
. Looks like we're loading up a dead president's body on your back. I thought this was a brilliant start to the game.
The game is open to so much speculation and some of it makes sense others not but it's not where I'm going with this LTTP. Sam as a delivery porter is in a great situation as the world he's in needs things as they're struggling to survive the aftermath of essentially a nuke. The story can get a little distracted but Death Stranding should be considered a super masterpiece.
The soundtrack is something to appreciate.
Look around at other game's cutsceens and it's easy to say Death Stranding is top of the line and for what it's worth it's actors all contribute. The cutsceens allow you to put your controller down and should be considered an all time achievement.
(You understand the hand print/yellow controller design choices if you played the game)
If you play this game at a 1-4 hour rate you'll likely finish the game in 50 hours, which shouldn't be considered long these days and looking back you could put in many more hours. No offense to other Kojima games but America in Death Stranding kinda pushes the interesting level design, interesting quests, incredible graphics and "beach things" that makes the game more fun.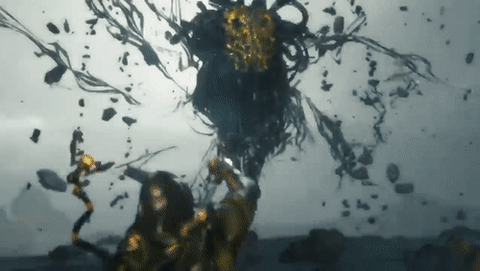 That, is awesome.
The story is too much about super natural "beach things" (Spectral creatures plaquing the world) rather than terrorism, delivery etc. Now that the smoke has settled with Death Stranding, characters like Amelie (Emily O'Brien), Die-Hardman (Tommie Earl Jenkins) were pretty cool and I will say they did an incredible job. Clifford Unger (Mads Mikkelsen) is a great enemy but you can mostly knock him out in a hit or two and should be considered light. You spend a lot of time facing BT enemies and it's an important part of the game, because of these BT's your destination time'd delivery is a concern because you're sometimes time'd. These enemies are deep and it makes me believe they're weird, another dimensional beings in a sense they arrive on Earth finding you.
The game's problems are solvable likely in a sequel. Try their best to clean up the cargo menus. If possible involve more gunplay. Make the traverse less of a chore, limit backtracking etc. Kojima just did a great job I can see him getting comfortable with his next but knowing Kojima they'll likely be risks taken.
This is an established studio and I don't think anyone believes Death Stranding is a bad game...
What's more likely MGS6 or Death Stranding 2? It's a "Would if" Question, and I think Kojima and SONY are on the same page. What will the roster of celebrities look like? That is a question they're having now at Kojima Productions, the philosophy of the next game and the characters.