thinks Halo Infinite is a new graphical benchmark
The Legend of Zelda Majora's Mask (2000)
First off, don't say that Majora's Mask is a bad game, it's remaster sold out, but it is just for a certain type of gamer, Majoras Mask might not be even ok for casual Zelda gamers (side quests that you must be patient for, the fact you're under a time limit etc.) a lot of hard work was put into this game.
The whole point of the game is in wearing different masks that possess powers for Link, and you spend a lot of time farming masks also every side quest feels like an important episode and can overwhelm the casual gamer. Completing them is certainly unspoken in the Zelda community, as you power link up with hearts, magic etc. the more power Link has the more power you have over boss battles. You need bottles for potions, you need hearts to keep link alive so completing side quests is how the game is constructed. Milk road, and romani ranch is legit, I do wonder what they were thinking with the
aliens
, considering sharpening &
upgrading your sword
is an interesting experience (clearing the snowhead temple, and winning the goron races) I liked that a lot and it's all design to make Link stronger.
(You get a heart piece of teaching these twin girls this dance)
I give Majora's Mask credit on its schedule, it tries to keep you on track. The schedule won't let you stay in one location for long and the argument is with so much to do why would you want to make the mistake of camping out an area? When you have fairy, a horse to roam around on you often want to discover new things.
There's 4 temples and 4 bosses, the swamp kicks off the quest in the Woodfall Temple and it offers an opportunity to try out new weapons. There's still enemies(deku baba's, black poe's, dragon flies, dinoflos etc.) most you can knock out in a hit or two, nothing shocking and really light enemies, you'll lose some hearts but the good news is the woodfall temple is the perfect starting area to begin.
The rest of the games areas (snowhead temple, great bay and stone tower temples) throw a little bit more enemies at Link (freezards, keeses, skulltulas etc.) by this point solving puzzles, defeating enemies etc. is second nature to Link at the same time the game is getting more difficult.
Yoshiaki Koizumi and Eiji Aonuma are the architects and were heavily involved in game design and overall decisions (they spent a lot of time on it) it's remarkable what they did. They offer a little sense of humor, show-boat, moments, stuff that makes it a great game.
Termina is Hyrule field with a better atmosphere and continues to offer potion shops, game stores etc. certainly a top 5 location just a beautiful town a lot of detail and a lot to see.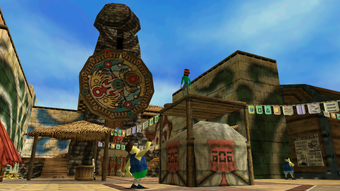 The game is a powerhouse of originality and was apart of the 90s early 2000s gamings golden years. Zelda today has still been mostly Windwaker just with different art styles, Twilight Princess, Skyward Sword, BotW all look the part and maybe are some of gamings best but Majora Mask reminds me of smart game design, a little edgy, risky and is good at keeping eyes on it. I can't figure out why the game hasn't influenced next gen Zelda installments the way Nintendo takes stuff from Wind Waker, Twilight, Skyward (collecting, characters, enemies, music etc.) into the next Zelda release.