Todd Howard's Secret GAF Account
If you want to REALLY see what this engine and Massive can do, look no furthur than this Flickr Page.
And this Gamersyde Timelapse. Incredible stuff.
Absolutely incredible, The Division Manhatten vs Real Manhatten.
So there have been a ton of arguments about The Division and it's technical prowess. Everything from, "It looks Amazing" to "It looks good but huge downgrade from 13", to "It looks like a PS3 game, I am not joking. No hyperbole, PS3 game." Much of the talk of downgrades stems from the fact that The Division is a Ubisoft published game, and they are known these days for such shenanigans.
However, Ubisoft is merely publishing and supporting the dev team they purchased in 08, Massive Entertainment, who were responsible for the great, and also technically impressive RTS games, Ground Control, and World in Conflict.
To start out, there was a Target Video/Vertical Slice/Early WiP, whatever you want to call the announcement video in 2013. That video did set a graphical expectation. However, after 3 years, much had changed. And understandably so, 3 years is as long or longer than the entire development cycle of many games, from scratch paper to gold. We now have the beta in our hands, and have had some time to mess around in the alternate Manhattan Massive has created.
And it is bloody amazing.
Right off the bat, there is one Key "Downgrade" from the early demos. And that is global illumination.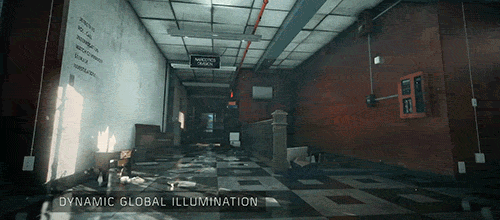 This effect, is beautiful, grounding, and very expensive. (If you remember it was stripped from UE4 for this reason. )
Note it's absence here.
Volumetric Smoke/Fog? Check.
Night/Day Cycle with fully Dynamic weather and lighting? Check.
One of the most comprehensive destruction models to date? Check.
Subsurface Scattering? Check.
Volumetric Lighting? Check.
Screen Space Reflections Everywhere? Check.
I could go on.
This actually began when I was comparing
The 2014 Gameplay Demo.
, to the beta, since we actually have the exact same playable area of the game (though 2 years apart in time) to compare.
So I went frame by frame of the 2014 gameplay trailer. And while some assets have obviously changed, or moved around. They are not downgrades. Just changes. In fact again, aside from Global Illumination, (paint buckets?) And possibly the fidelity of the Flamethrower stream, EVERYTHING from the 2014 demo is retained.
Keep in mind, things are moved, altered, and ToD/Weather are not the same. Also, the left are youtube captures. Working with what I have got.
High Quality Version of 2014 Demo
SnowDrop Engines Destruction:
MUST WATCH
http://youtu.be/UKtjDDsO6Y4
Amazing.
Reflections:
Everywhere!
Volumetric Lighting/Lit Particles and Fog
I mean. Holy Shit.
The snow on and inside of that traffic cone (as well as everything else) accumulating, and falling off when you kick it, then re-building up...melting, footprints, that stuff is amazing. The weather effects are insane too, when it gets snowstorm-y it's so hard to see and awesome.
Keep in mind, I took all of these shots in around an hour, for the express purpose of this thread, and as such, my screenshots are only a small fraction of the examples I have seen during my playtime with the Beta. These screens were all taken on my gaming PC, 3770k, SLI 970's, 16GB, W10. Max Settings.
Most of my playtime with the beta however was with the PS4 version, while not quite up to par with PC obviously, it still looks damned amazing.
Hats off to Massive for making one of the most detailed and technically impressive games of all time up to this point. Really can't wait to see what more we will get to see in the final game.
What are small details you noticed in the beta? Such as Dogs being on tires, NPC's interacting in multitudes of ways? Snow building up and melting throughout the day, etc...