Mar 3, 2014
3,468
3,500
725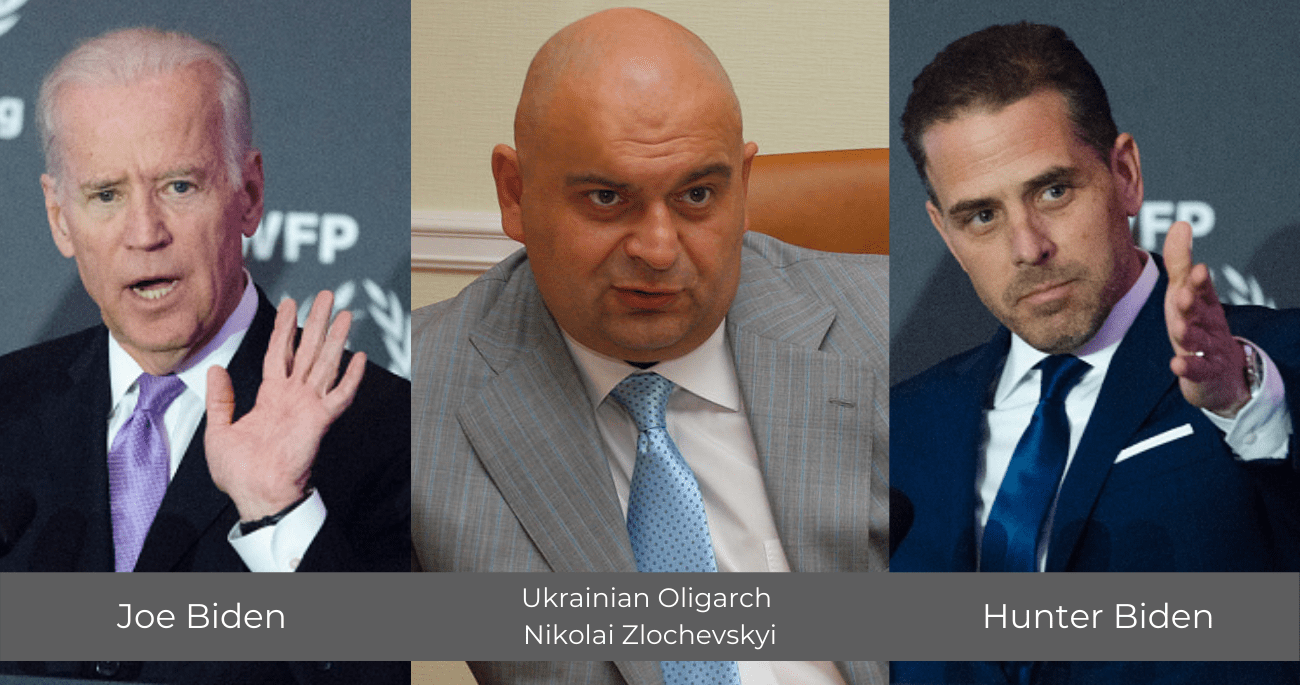 The verified facts about Joe Biden's dealings with Ukraine implicate him in a web of corruption that involves bribery, extortion, and obstruction of justice.
www.justfactsdaily.com
After

big tech companies

suppressed a New York Post article exposing

written evidence

that Joe Biden "spent some time together" with a top executive of a

corrupt

Ukrainian energy firm that was

enriching his son

, media titans are misleading the public about the central facts of this explosive affair.

Twitter, for a prime example,

pinned a post

to the top of its home page claiming that Biden "played no role in pressuring Ukraine officials into firing the prosecutor" at the core of this case.

That is flatly disproven by the words of

Biden himself

, who stated

on video

that he told Ukraine's president and its prime minister that he would withhold $1 billion in U.S. aid from their nation unless they removed the prosecutor. "If the prosecutor is not fired," warned Biden, "you're not getting the money." Biden then added, "Well, son of a bitch, he got fired."

Twitter's brazen falsehood only scratches the surface of media misinformation about this matter. In addition to spreading outright fictions, media outlets are failing to present key verified facts that are necessary to see the big picture. These facts—which are documented in the following bullet points—build upon each other and implicate Joe Biden in a web of corruption that involves bribery, extortion, and obstruction of justice:
Authenticity of the Laptop's Content

A common media refrain is that the

content

published by the NY Post from Hunter's laptop is not authenticated or verified. Leslie Stahl of CBS's

60 Minutes

went as far as

to say

that it "can't be verified." Such claims are belied by the fact that key aspects of it have already been verified.

For example, the listed recipient of one of the most damming emails released thus far has confirmed that he received the email. Tony Bobulinski, a former business partner of Hunter's, issued a

public statement

that he is "the recipient of the email" and that the "email is genuine."

The

email

lays out how the "equity" of a business venture with "CEFC" (a Chinese energy company) will be "distributed." It does this by using the initials of the people copied on the email and numbers that add up to 100 percent. The last one of these says "10 held by H for the big guy?" According to

Bobulinski

, "the big guy" is "in fact a reference to Joe Biden," as "Hunter Biden called his dad 'the Big Guy' or 'my Chairman'."

Beyond such first-hand testimony, the NY Post

points out

that it has published an

array

of

pictures

and emails from the laptop that "contain an extraordinary level of detail," "most of which have nothing to do with Ukraine or China." These include, for example, a picture of Hunter in a bathtub and a picture of a Biden family meal, along with emails to friends and family all bearing dates and times. On their own and collectively, these confirmable details corroborate that these are Hunter's communications.

Moreover, if any of these communications were fictitious, it would be easy to prove this by showing that other people copied on the emails and texts received something different. Yet, no one has even claimed this is the case, much less presented proof of it.

While ignoring all of the evidence that supports the authenticity of the laptop's contents,

Joe Biden

,

Adam Schiff

(Chairman of the House Intelligence Committee), and a group of government

intelligence officials

led by James Clapper (Obama's Director of National Intelligence) are claiming that the contents of the laptop could be or definitely are Russian "information."

Yet, as Clapper and company

admit

, "we do not have evidence of Russian involvement—just that our experience makes us deeply suspicious that the Russian government played a significant role in this case."

That

same group

of

people

who are now invoking Russia previously spread demonstrable falsehoods that Trump and his team colluded with Russia in the 2016 election. These rampant accusations were disproven by a

2-year

,

$32 million

investigation by an

independent counsel

which "did not establish" or "identify evidence" that members of the "Trump Campaign" or "any U.S. persons" "conspired or coordinated with the Russian government in its election interference activities."

Furthermore, the

Inspector General

of the U.S. Department of Justice (an Obama appointee) "identified at least 17 significant errors or omissions" in warrant applications that the Obama administration used to surveil people associated with the Trump campaign for their Russia collusion investigation. The Inspector General also reported that he "did not receive satisfactory explanations" for these misleading warrant applications.

Nevertheless, a range of broadcasts and publications by

NBC

, the

Daily Beast

, the

New York Times

,

Business Insider

, and

Vox

have given more airtime and credence to politically opportune speculation from partisans who previously spread misinformation about Russian collusion than to the verifiable facts of this matter.
Biden's "Official Schedules"

Another

common

media canard is the uncritical parroting of this

statement

from the Biden campaign: "We have reviewed Joe Biden's official schedules from the time and no meeting, as alleged by the New York Post, ever took place." That talking point is effectively meaningless because Biden's official schedules are not comprehensive, and after Politico pressed the campaign about this matter, it

reported

:

Biden's campaign would not rule out the possibility that the former VP had some kind of informal interaction with Pozharskyi (the energy company exec), which wouldn't appear on Biden's official schedule. But they said any encounter would have been cursory.

Even that admission is deceptive because Biden's

official schedules

are so incomplete that they are even missing White House meetings. A prime example is an Oval Office meeting on

January 5, 2017

in which Biden, Obama, and other administration officials discussed prosecuting Trump's incoming National Security

Summary

The documented facts of Joe Biden's dealings in Ukraine show that the following events unquestionably took place:

In the very same month that Biden promised Ukrainian legislators that the U.S. would help Ukraine increase its fossil fuel production, his son Hunter began a lucrative deal with a Ukrainian natural gas company owned by a notoriously corrupt oligarch who had just fled to Russia.
Both Bidens claimed that they never discussed Hunter's business dealings with each other, but a corroborated trove of emails shows that Hunter brokered a meeting between his father and one of the gas company's top executives.
A month after the same top executive ordered Hunter to get "high-ranking US officials" to visit Ukraine and persuade "the highest level of decision makers" to "close down" all cases against the oligarch, Joe Biden visited Ukraine and told its president and its prime minster that they must fire the nation's chief prosecutor or he would withhold U.S. aid to Ukraine.
Two weeks after the chief prosecutor secured a court order to seize property of the oligarch, the president of Ukraine fired the prosecutor amidst multiple phone calls with Joe Biden.
The Ukrainian president then appointed a new chief prosecutor who was recently let out of jail and who quickly dropped all criminal cases against Hunter's oligarch benefactor. Joe Biden later called this prosecutor "solid."
Two weeks after the criminal cases against the oligarch were dropped, the energy company made its last known payment to Hunter.
After Biden's "solid" prosecutor failed to prosecute anyone of note during his three-year tenure, he was replaced with a new prosecutor who began to investigate the oligarch. The oligarch then attempted to bribe people in the prosecutor's office with $6 million.

While failing to report those key facts that illuminate this affair, major media outlets are spreading conspiracy theories, half-truths, and brazen falsehoods that hide what occurred. This includes but is not limited to claims that:

the chief prosecutor who was sacked at the insistence of Biden was not investigating the oligarch or his company at the time.
the contents of the laptop are not verified.
Biden's official schedules don't show the meeting.
the email isn't clear about whether Joe Biden actually met with the energy executive.
the Russian government is behind all of this.

No evidence has yet emerged that Joe Biden voiced illicit intentions about his dealings in Ukraine, but the verified facts about his actions align with textbook definitions of

nepotism

,

bribery

,

extortion

, and

obstruction of justice

.

Moreover, grossly misleading coverage of this matter by Twitter, the Washington Post, NPR, Bloomberg, CNN, CBS, the New York Times, and the Associated Press is consistent with recent

academic research

that finds large corporate media outlets "play a significant and important role in the dissemination of fake news." In turn,

scientific surveys

show that a large portion of the public harbors critical misconceptions that have been spread by these outlets.
This looks incredibly damning. It blows my mind that this information is being suppressed by big tech and MSM. Dangerous times, indeed.
The article was too long to post. There is much more at the link. This is a pretty thorough accounting of what is known publicly to date, with a ton of supporting links. Hopefully, anyone who is truly interested in finding out what the Bidens are up to finds this information useful. If anyone is aware of any errors, omissions, or outright falsehoods, by all means point them out.