Jun 24, 2020
1,875
4,202
510
88 on Metacritic.
88 on Open Critic.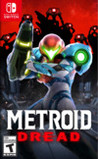 Metroid Dread for Switch game reviews & Metacritic score: Join intergalactic bounty hunter Samus Aran in her first new 2D Metroid™ story in 19 years. Samus' story continues after the events of the Metroid™ Fusion...
www.metacritic.com
VGC - 100
"With a near-perfect balance of nods to the past and fresh ideas, Metroid Dread brings cinematic flair, fast-paced action and a surprising story to the side-scrolling classic. This is the comeback fans have been waiting for."
GameInformer - 90
"Despite a few hiccups in this timeworn pattern, Metroid Dread is a white knuckle thrill ride that you shouldn't fear."
IGN - 9
"A surprise sequel after nearly 20 years, Metroid Dread brings back the legendary exploration and progression and merges it with excellent modern combat and some of the best boss fights ever."
Destructoid - 85
"Metroid Dread doesn't take a lot of big swings, but it rarely bats a foul ball. "
GameSpot - 8
"My first playthrough of Metroid Dread took nine hours, and I still had plenty of secrets remaining to uncover. My second playthrough clocked in around four hours, largely due to the fact I knew exactly where to go and had a solid grasp of each of the boss battles. While Dread definitely does have a few demanding fights, overall it's not as trying as Samus Returns. That said, you can go back through and play on hard mode after finishing the game, and this difficulty level significantly ups the challenge.
More than anything else, Metroid Dread feels like going back to a place of comfort after a long time away. Though the gameplay is refined and new features have been added to the mix, Dread sticks closely to the formula of its predecessors. In the end, for longtime fans like myself, that's probably for the best. There's nothing to dread here. We're home again."
VG24/7 - 80
"There are original ideas here - but they're better considered as evolutions of what came before rather than anything groundbreaking. There's stumbles here and there with the difficulty and progression signposting, but all of that feels very Metroid. Dread is no Super Metroid, but that game is a stone-cold all-timer. Putting that game aside, Dread is up to the series standard, and is well worth a look."
Digitally Downloaded - 70
"I left Metroid Dread feeling quite conflicted about it. On the one hand, I do think it is fundamentally well designed, and the main gameplay element - the robot stalkers - are woven into the Metroid formula beautifully. On the other hand, that Metroid formula is getting long in the tooth and Dread doesn't do nearly enough to revitalise it. Dread is fine. It's not just nearly memorable enough for a game that fans have been waiting so many years for now."
GamesRader+ - 70
"Frustrating boss battles and cumbersome controls distract from an otherwise fun and isolating adventure."
Last edited: