Rise to the challenge and join the hunt!​
Hunt solo or in a party with friends to earn rewards that you can use to craft a huge variety of weapons and armor. Brand new gameplay systems such as the high-flying 'Wire Action' and your canine companion 'Palamute' will add exciting new layers to the already robust combat that Monster Hunter is known for.
PLATFORMS: Switch March 26, 2021; PC 2022 (
IGN
)
GENRE: Action RPG
RATING: ESRB Teen
PLAYERS: 1 (1-4 Online Co-Op)
ABOUT

​
Monster Hunter Rise is an action RPG that will transport players to the colorful Kamura Village, an all-new serene mountain locale that attracts visitors with its unique culture and innovative hunting technologies. After hunters equip their armor and select from one of the various weapon types, all-new hunting grounds await, including the ancient Shrine Ruins and more. As players defeat monsters and progress through the game, items from fallen foes can be used to craft unique weapons and armor that will increase their chances of future success and survival. Hunters can tackle these challenges solo, or with up to three other players in local or cooperative online play.
Evolving the
Monster Hunter series
, Monster Hunter Rise will provide players with an inventive set of new tools to track down and defeat threatening monsters. For the first time ever in a Monster Hunter game, wire-based grappling actions can be performed by using a "Wirebug" while standing or in mid-air, adding an all-new level of aerial maneuverability to hunting strategies and attacks. The game will also debut new hunting partners called Palamutes, personalized and rideable "Canyne" companions that will provide players with a new set of attack options, while "Felyne" Palicoes will return as support characters for actions like healing.
FEATURES

​
Rise to New Heights – The debut of the new "Wirebug" mechanic allows for wire-based grappling actions that can be used to scale cliffs and other hard-to-reach areas, providing new traversal and aerial attack options.
New and Returning Monsters – The game will introduce Magnamalo, a menacing new flagship monster, as well as other new monsters like the shape-shifting Aknosom, the amphibious Tetranadon, and more. Hunters can also expect to encounter numerous fan-favorite and returning species from previous Monster Hunter games.
Canyne Companions – New hunting partners called Palamutes can be personalized and used to ride across the terrain, providing players with all-new traveling and attack options. On solo hunts, players can select both a Palamute and Palico to assist them, while multiplayer hunters can bring one or the other into the field.
The Rampage – In addition to the plethora of solo and multiplayer quests, the immersive story mode will task aspiring hunters with discovering the secrets behind the puzzling "Rampage" events that threaten Kamura Village.
Hunting Options – Play solo, or join up to three other hunters in local or online co-op play. The Nintendo Switch system also allows for hunting anywhere, anytime and with anyone!
Seamless Gameplay – Featuring maps with no loading times, the continuous gameplay ensures that players will remain on their quests as soon as the hunt begins, without transitions between areas.
WHAT'S NEW

​
IGN provides a quick guide for what to expect in MH Rise:
Rise is packed with changes both subtle and game defining.
www.ign.com
EDITIONS

​
Deluxe Kit Content
- Hunter layered armor "Kamurai" set
- Palamute layered armor piece "Shuriken Collar"
- Palico layered armor piece "Fish Collar"
- Gestures (4 Jumps)
- Samurai pose set
- Kabuki face paint
- "Izuchi Tail" hairstyle

Collector's Edition contents
- Monster Hunter Rise
- Deluxe Kit extra contents
- Magnamalo amiibo
- Monster icon sticker pack
- Kamura Mark – Enamel Pin

Magnamalo amiibo
Palamute amiibo
Palico amiibo

​

MH RISE Special Edition Switch
MH Rise Edition Switch Pro Controller
* Layered armor only changes the appearance of your Buddies.
* Purchase any qualifying version of Monster Hunter Rise at participating retailers before March 26, 2021 to receive the preorder bonus pack
* Images shown are for illustration purposes only.
* Content and features are subject to change without prior notice.
* Standalone amiibo available exclusively at GameStop locations in the United States and EB Games in Canada while supplies last.
​
​
REVIEWS
​
This encounter felt fated. Written in the stars. Ever since the Nintendo Switch was revealed in late 2016, one pervasive thought has been: "How great is Monster Hunter going to be?" While we saw the release of Monster Hunter Generations Ultimate in 2018, it was just a port of the 3DS title that...
www.neogaf.com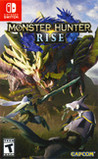 Monster Hunter Rise for Switch game reviews & Metacritic score: Rise to the challenge and join the hunt. The action-RPG series returns to the Nintendo Switch! Set in the ninja-inspired land of Kamura Village, explore lush ec...
www.metacritic.com
Monster Hunter Rise has been reviewed by 211 critics and currently has a 'Mighty' rating. Read and browse them all to learn what the top critics in the video game industry are saying.
opencritic.com
---
MONSTERS

​
A total of 55 monsters are in the game so far; 25 Small monsters and 30 Large monsters.
11 new monsters were added in Rise; 2 Small monsters and 9 Large monsters.
1 new Amphibian: Tetranadon.
3 new Bird Wyverns: Aknosom, Izuchi, and Great Izuchi.
3 new Fanged Beasts: Bishaten, Bombadgy, and Goss Harag.
1 new Fanged Wyvern: Magnamalo.
2 new Leviathans: Almudron and Somnacanth.
2 new Temnoceran: Rachnoid & Rakna-Kadaki.
Magnamalo is the flagship monster of this game. Its face exudes a fearsome malice, and its hide is as tough as armor, as if it were the physical manifestation of the grudges of fallen warriors. The purple gas that rises from its body when it eats other monsters is called "Hellfire," and it makes Magnamalo's already ferocious attacks even more destructive.
WEAPONS, ARMOR, SKILLS

​
Enter a new hunting dimension with the 14 weapon types! Thanks to the Wirebug's powers, your actions are bigger, more powerful, and more spectacular than ever before! Pick the armor and Talismans that best suit your playstyle, and get ready for a new hunt!
Your armor consists of five pieces, and each piece has its own defense and elemental resistance stats, as well one or more skills that will help you on your hunt. Skills can also be added by equipping Talismans, which can be earned by progressing in the game. Make sure you pick the right skills to suit your playstyle and objectives!
Skills are a variety of abilities that affect hunters in a number of ways. Each Talisman or piece of armor has its own skills, which are activated just by equipping the corresponding gear. If you equip more than one piece of gear with the same skill, this will augment the effect. (Note that each skill has its own level cap.) If you equip three or more pieces of the same armor set, you will receive a bonus to all of your resistance stats.
BUDDIES

​
Can you pet them? Of course you can!
Palamutes are a new type of Buddy that will join you on your hunts. They will synchronize their attacks with you, and they will even let you ride on their backs!
As long as you're riding a Palamute, you will not consume any stamina, so you can run across the fields to your heart's content. You can even use some items and recover health while on the move!
Of course the Palicoes also make their triumphant return. As always, they will provide you with various kinds of support.
You can create not just your own player character, but your own Palico and Palamute as well. You can customize your Palamute's coat, eyes, ears, tail, and voice, and Palicoes let you pick your favorite support type on top of that too!
HUNTING GUIDE

​
MONSTER HUNTER RISE arrives on Nintendo Switch, breathing new life into the genre!
www.monsterhunter.com
---



SCREENSHOTS

​
TRAILERS

​
---
WEBSITE

​
MONSTER HUNTER RISE arrives on Nintendo Switch, breathing new life into the genre!
www.monsterhunter.com
WIKI

​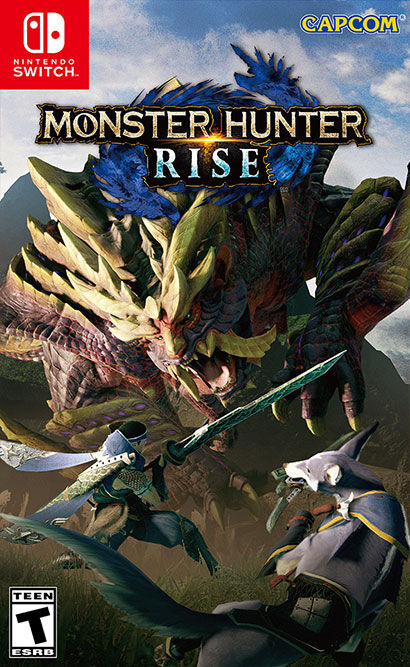 Monster Hunter Rise is an action RPG that will transport players to the colorful Kamura Village, an all-new serene mountain locale that attracts visitors with its unique culture and innovative hunting technologies. After hunters equip their armor and select from one of the various weapon types...

monsterhunter.fandom.com
SOCIAL MEDIA

​
Twitter
|
YouTube
|
Facebook
|
Instagram
---
​
GAF FC EXCHANGE
​
JONEZZEEonGAF
: SW-8379-6154-5503
F31 Leopard
SW-5369-4481-5897
​
OTHER MH THREADS
​
Genre: Action / Adventure / RPG Release Date: January 26th, 2018 Platforms: Playstation 4 and Xbox One * Distribution: Retail and Digital Price: $59.99 Players: 1 - Online Multiplayer - No Couch Co-op * A PC release is planned for later in 2018 OpenCritic: 91 "Mighty" Metacritic: 91 NeoGAF...
www.neogaf.com
All credit goes to Camjo-Z for the thread title Title: Monster Hunter Stories Platform: Nintendo 3DS/2DS Release Date: 9-8-2017 (US/EU), 9-9-2017 (AU) Genre: RPG/Monster Collector Publisher: Capcpom Player(s): 1-2, has Streetpass Functionality and online battles ESRB: E (Everyone 10+) Price...
www.neogaf.com
Last edited: