Oct 2, 2008
43,260
31
1,165
And they don't come more twisted than this one.
Vermillion from Paradise Hotel 51 is working on
translating the script
(to be put into a future translation), and my god is this game
deranged.
Danganronpa 2 veterans may also recognize it.
Same composer, too.
Moonlight Syndrome is primarily a 2D adventure game, but it also has 3D renders in some areas for optimal creepy effect.
This game marks the beginning of the Kill the Past universe. This game can be best described as a Japanese psycho horror love story drama that masquerades as a game.

MS' story centers around a girl named Mika Kishi.

She was supposed to die when she was kidnapped by a stalker/rapist. However her life expectancy was actually extended when a silver haired kid presented Ryo Kazan (A friend of Mika's.) an ultimatum or a contract that would extend Mika's life & ensure her safety.

Ryo consented to the contract, because Mika reminds him of his dead sister.
(Mika was the only other person whom Ryo was close with.)

However the contract is automatically nullified once Ryo or Mika make physical contact with each other. (In other words. Ryo is forbidden to get intimate with Mika & vice versa.)

Moonlight Syndrome actually shows you the origins of the blinking moon that was shown before targets/stages in Killer 7.

Long story short: The phases of the moon reflect the sanity of those who are affected by the enchanting light of the moon.

Think of Moonlight Syndrome in the same way that would think of Koudelka in the Shadow Hearts series, Marathon of Halo, or Shin Megami Tensei IF of Persona.
Suffice it to say: you are in one for sadistic journey into the minds of
several
psychopaths.
The effects of Moonlight Syndrome directly tie into The Silver Case, and are also later referenced in Flower, Sun, and Rain & Killer7.
Do not be too at ease. This area and the people in it are as restless as they come. Seems I haven't lost my touch.
"There is nothing you know. Nothing at all."
They were all crying their eyes out.
They cried and screamed, and tried to put up a fight. It was so pitiful.
Oh, what's wrong with your face? Ahaha! Foolish girl…
"
Ohhhhh dear. Look at this now. How dead they all look. All whom you call your friends, that is. So Mika. How does it feel to take revenge on the people whom you associated with?

All on your own? Here lie the ones that you resented with all your heart. Haven't you understood a thing about this yet? People are truly frightened of each other.

That's why humans make friends: to keep a close eye on the person they fear. But once it all tumbles down…
"
Who is Ryo Kazan?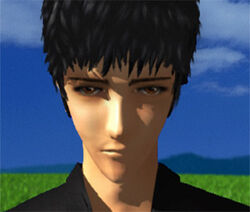 Why did he go on a killing spree in The Silver Case?
The answers begin here.
Or maybe just more questions...
Once Vermillion finishes her project, myself and Esper will begin work on a fan translation. Until then, welcome to the madness.