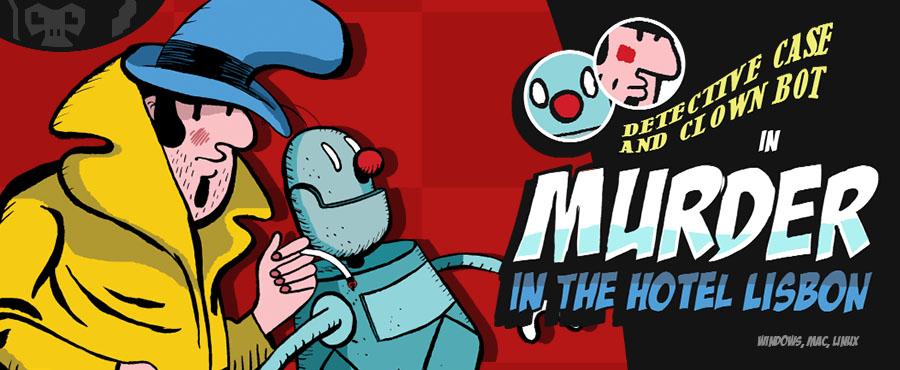 Detective Case and Clown Bot in: Murder in the Hotel Lisbon
On sale on the 5th of December 2013.
WINDOWS / MAC / LINUX
9.99€ / £9.99 / $9.99
Buy it on the official website -
http://caseandbot.com/
On Desura -
http://www.desura.com/games/murder-in-the-hotel-lisbon
Or vote on Steam Greenlight to get it there -
http://steamcommunity.com/sharedfiles/filedetails/?id=175472897
SYNOPSIS
A strange murder has occurred in the Hotel Lisbon, a man committed
suicide with 14 stabs to the back while at the same time he peacefully
drank his coffee. This case with contradictory facts was too complex
for Policeman Garcia to solve, so he decided to hire the only
detective duo in town capable of solving it: the mythical Detective
Case and the unmistakable Clown Bot.
Together, they will solve a network of love relations so complex and
so intricate, that it would take at least 14 clairvoyants, 5
apocalyptic sect prophets who can predict the end of the world and 3
of those gypsies that can read the palm of your hand just to guess the
final outcome.
THE VIDEOGAME
Murder in the Hotel Lisbon is a videogame inspired by the classic
point and click adventures from the 80's and 90's. It adopts these
eras characteristically design and it is built using only the pixel
art technique. The game itself runs at a native resolution of 256x192,
the same resolution used by the old ZX Spectrum 48k and most recently
by the Nintendo DS.

MAIN FEATURES
There are thousands of features and things to do in this game, like
clicking on the Ground to make Detective Case move or reading through
extensive and boring Dialogues. Here are the main bulletpoints taken
from the producer powerpoint presentation.
- Play as Detective Case and Clown Bot (duh!)
- Gather items and manage your inventory.
- Search for clues and interview witnesses.
- Solve the murder in the Hotel Lisbon.
- Includes 3 aditional cases.
INVENTORY
Clown Bot manages the inventory.
He is capable of carrying an infinite amount of items because he...
er... is capable of... er... well, you have to see it in-game to
believe it because it is all very complicated and involves an octopus.
INTERFACE
Play as Detective Case and Clown Bot.
Interact with things and stuff using your mouse. Click on doors,
people, items and random stuff and see a radial pop-up menu appear!
It's magical! You can even click on Clown Bot and ask for a random
joke.
CHARACTERS
A cast of thousands.
Murder in the Hotel Lisbon has a cast of thousands, but unfortunately
only a few accepted to work for free to be in the game. It has
something to do with "onions" or whatever.
SIDEQUESTS
3 aditional cases.
Are you tired of the main case? Stuck on some stupid awfull puzzle?
You can always go for a sidequest and relieve your tension with an
easier assignement!
SCREENSHOTS
AWESOME TRAILER
OFFICIAL WEBSITE
INDIEBD
PAGE
STEAM
GREENLIGHT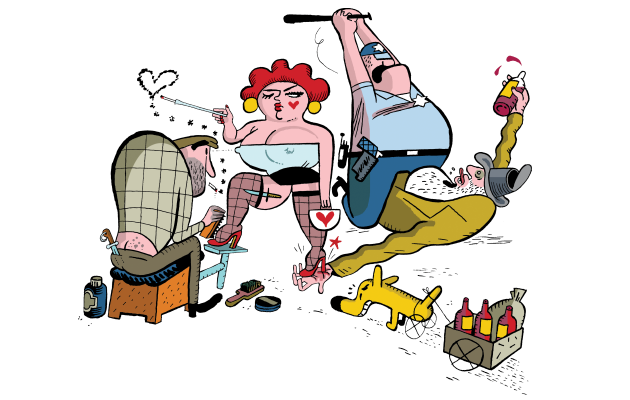 PS. This game was made by some very good friends of mine, and ex co-workers and I wish them all the best, it's looking great! Hope it gets some more well deserved attention here on GAF!
Also, thanks to Filipe Pina, artist in the game that made the OP, I'm only posting it! Best of lucks guys!