Feb 19, 2014
10,102
0
470
Director: Jayson Thiessen (show director of Friendship is Magic)
Writers: Meghan McCarthy (former head writer of Friendship is Magic), Rita Hsiao (assistant writer for multiple Disney movies)
Produced by: Hasbro Studios, Allspark Pictures, DHX Media/Vancouver
Distributed by: Lionsgate
Rating: PG
Early screenings start: September 30, 2017
US Release date: October 6, 2017
In late 2010 and early 2011, the Internet at large gained a sudden and inexplicable obsession with a show aimed at little girls about ponies, with a force strong enough to leave lasting impacts even here. Everyone thought it would be a minor fad that would burn out in a year, but now, Hasbro considers My Little Pony one of its pillars, mentioning it in the same breath as Transformers, and it culminates here, with the first MLP theatrical film for over 30 years!
... The Equestria Girls movies were direct-to-video specials that got limited theatrical screenings, they don't count.
Synopsis
In order to stop a threat to the town of Ponyville, the "Mane Six" – Twilight Sparkle, Applejack, Rainbow Dash, Pinkie Pie, Fluttershy and Rarity – must leave their home kingdom of Equestria, meeting new friends and overcoming challenges in the process.
To expand on the official synopsis: the newest princess of Equestria, Twilight Sparkle, is setting up the Festival of Friendship, when it's suddenly attacked by the evil Storm King's forces. His commander, Tempest Shadow, uses magic artifacts to turn the other princesses into stone, forcing Twilight to flee with her friends. They must travel across a desert, face sky pirates, and even go to the underwater kingdom of the seaponies to find a way to defeat the Storm King.
So, a pretty straightforward story, but it's one that's sure to be elevated by well-done 2D animation, including hand-drawn effects art from Michel Gagné (special effects for The Iron Giant, various Don Bluth films), and most of all, the fantastic cast of characters.
There are all kinds of guest stars, but we should look at the actual main characters first. Note that the show designs are used below.
And then there are these people. Vector sources linked in character names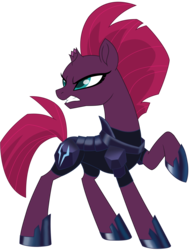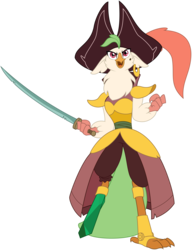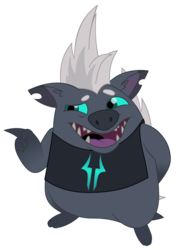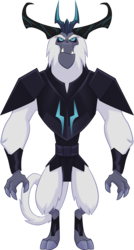 Emily Blunt -
Tempest Shadow
- Tempest left Equestria long ago after failing to find a way to heal her broken horn. Now, she follows the evil Storm King, who promises to fix her once she has collected the magic of all the princesses, with the aid of his technology and magic artifacts.
Zoe Saldana -
Captain Celaeno
- Once a fierce and free pirate, Celaeno and her crew were humbled by the Storm King and now simply deliver supplies for him. But an encounter with Rainbow Dash could rekindle something in her.
Michael Peña -
Grubber
- Ostracized from his species for being too small and weak, Grubber found his niche as a right hand man of the Storm King that's too stupid to ever betray him. He's kind and gentle at heart, but he has no way out.
Liev Schreiber -
The Storm King
- The Storm King has already conquered most of the known world, and now his sights are set on Equestria. With the magic of the princesses, he'll be able to control the weather and truly rule everything.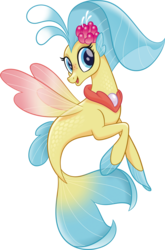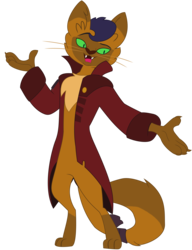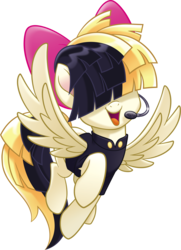 Kristin Chenoweth -
Princess Skystar
- Skystar is the secluded princess of the seaponies, who just wants to make friends with someone, anyone. Maybe even a clam. Also, shoo-be-doo.
Uzo Aduba -
Queen Novo
- Novo is the queen of the seaponies, who keeps them away from the outside out of fear of the Storm King's threat. However, she has a power that may be able to turn the tides.
Taye Diggs -
Capper
- Capper is a charming gentleman living the the desolate city of Klugetown, but you don't succeed there by being nice. After experiencing Rarity's generosity, something starts to change.
Sia -
Songbird Serenade
- Songbird is a popular singer who sings at the end, like in that other recent-ish movie with talking animals.
All the songs on the soundtrack are officially on YouTube for free, and while I haven't listened to them myself, I hear they're great.
Known to be in the movie:
1.
"We Got This Together"
- Mane Six (Twilight Sparkle, Pinkie Pie, Fluttershy, Rainbow Dash, Applejack, Rarity), Apple Family (Granny Smith, Apple Bloom, Big Mac)
2.
"I'm The Friend You Need"
- Capper (Taye Diggs)
3.
"Time To Be Awesome"
- Captain Celaeno (Zoe Saldana), Rainbow Dash, Celaeno's crew, non-Twilight Mane Six, Spike
4.
"One Small Thing"
- Princess Skystar (Kristin Chenoweth), non-Twilight Mane Six
5.
"Open Up Your Eyes"
- Tempest Shadow (Emily Blunt)
6.
"Rainbow"
- Songbird Serenade (Sia) - Link is to the music video, which does contain some footage from the ending.
Credit songs at best:
7. "Off to See the World" - Lukas Graham - No official free upload yet.
8.
"Thank You For Being A Friend"
- Rachel Platten - Yes, this is a cover of the Golden Girls theme.
9.
"Can You Feel It"
- DNCE
10.
"I'll Chase The Sky"
- Jessie James Decker
11.
"No Better Feelin'"
- CL
12.
"I'll Be Around"
- Palmer Reed
13.
"Neighsayer"
- Lukas Nelson
Trailers/Clips
Note that from reports, the footage used in the trailers is outdated and/or badly compressed. Keep in mind that the shading and especially the CGI are supposed to be better in the final movie. For some reason, the released clips are very low quality. Blame Lionsgate, I guess.
Teaser
Trailer 1
Trailer 2
Songbird Serenade clip
"We Got This Together" clip
"Time to Be Awesome" clip
"One Small Thing" clip
GIFs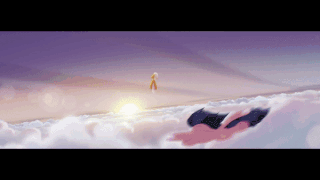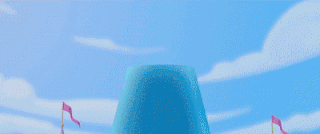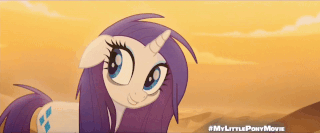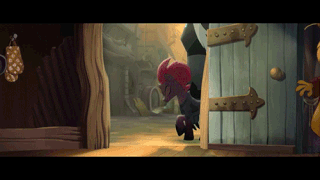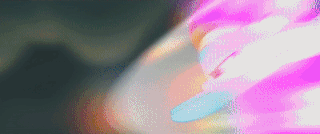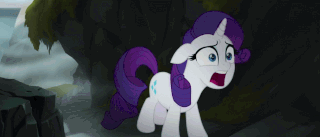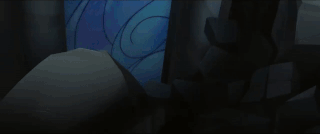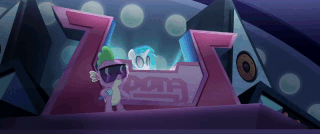 Pegasi
Cake
Rarity messy hair flick
Menacing Tempest
Sonic Rainboom
Rarity drama
Dodging lightning
Spike
And
ENDING SPOILER with Twilight looking epic
Before the actual movie is a short based on the new Hasbro property Hanazuki, which has a YouTube exclusive series that you can see for free officially
in this playlist
. The series is pretty decent, and I recommend checking it out if you like MLP. Perhaps more importantly, we actually have a GAFfer who works at Titmouse Animation, who worked on both the series and this short! And they'd really appreciate it if you post your reaction to it, even if it is just "what the hell is this acid trip?!"
The movie is meant to be standalone, but it's in the same world as the My Little Pony: Friendship is Magic TV show. As of thread creation, it has aired 162 episodes, 156 of which are on Netflix. There probably isn't too much danger in just starting the series from the newest episode, but if you're uncomfortable with that, then good news, we at PonyGAF have an episode guide! Last year, we made an image-based guide, but that's not quite ready yet, so I prepared a text-based one, linked below.
Introduction
Season 1
Season 2
What is Equestria Girls?
Season 3
Season 4
Season 5
Season 6
Season 7
Online Shorts
Friendship is Magic Season 7 OT
Friendship is Magic Community Thread
Movie Trailer Thread
Movie Announcement Thread
IMDB
Rotten Tomatoes
We have a Discord! Quote to see: