I just had this idea after seeing another thread at another forum. The idea is basically to make a city in isometric pixel art that represent GAF. Both Off-Topic and Game boards.
How can YOU help? Of course! Making buildings and giving ideas if you don't wanna build anything!. If you still want to build something but don't know how, here is one very simple tutorial:
http://www.opendb.net/element/869.php#pixel-art-tutorial
There are more tutorials at the bottom of the post.
Now, if you are ready to build something, just follow these guides:
-- UPDATED SIZE REFERENCE --
Also, here is the size reference:
Basically take this as the minimum smallest size. A door and a really small room. Make all the doors about this size or larger, but not much smaller because they will look weird.
To make it all homogeneous, we will do the buildings with
face A being your base color, B being a 25% lighter and C a 25% darker
. The
shadow will be black on 25% opacity
. If you can't use alphas with the software you use, leave the shadows that get casted outside the building and I will add them.
The shadows should be casted like in the picture I posted. If it isn't exactly like it, it doesn't matter, I will try to fix it or if it doesn't bother anyone, I can leave it like that.
ALRIGHT GUYS, NEW BYLAWS OF THE NEOGAF ISOMETRIC CITY:


YOU SHALL NOT CREATE ANY BUILDING THAT EXCEEDS THE NEW LIMITED SIZE BELOW. THE ONLY BUILDINGS THAT DON'T NEED TO FOLLOW THIS RULE ARE THE 'FHUTA TOWERS' AND 'MICROSOFT SKYSCRAPER'.




THIS BYLAW WILL STAY ACTIVE FOR AS LONG AS NECESSARY.
Also, save your image at
100% size on PNG with transparent background
so I can add it to the city.
-- DESIGN REFERENCE --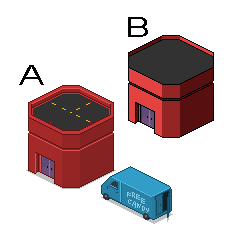 We have two buildings here, right? A and B. I guess probably everybody will agree on the fact that A looks tons better than B. And I want all you guys to do buildings that look as similar to A as possible.
Here are some tips:
* Have some kind of roof on your building or other details.
* Don't make a roof 1 pixel thin, but 3 or 4 like on the A building.
* Try to use nice colors that match and the difference isn't very huge.
* Try to pick up colors already on the image (look for the newest one I posted) instead of using new colors if you can't get a nice matching.
* Add shadows!. 25% opacity!.
* Details!. Details will help A LOT. Even the A building is lacking some details on the right side, but that can be fixed easily.
* Don't make ultra-small details that look ugly!. If you are going to add stuff, don't do them 1 pixel thin unless they are paintings or stuff like that, or tubes, etc..
* Don't make the buildings with incredibly weird shapes, but don't make them like a perfect cube either. Add some architecture details every now and then and make those big and easy to understand their shapes.
Thanks!
You can build whatever you want. Vehicles, people (they are quite small though) or buildings. You can build extra stuff like signals and whatnot, and also modify the area surrounding your building a bit.
Once you post new content, I will add it to the image and re-post it at 200% zoom (to see the details better) on a daily basis unless there is no new content.
Latest version of the city - size modified, starting all over again!-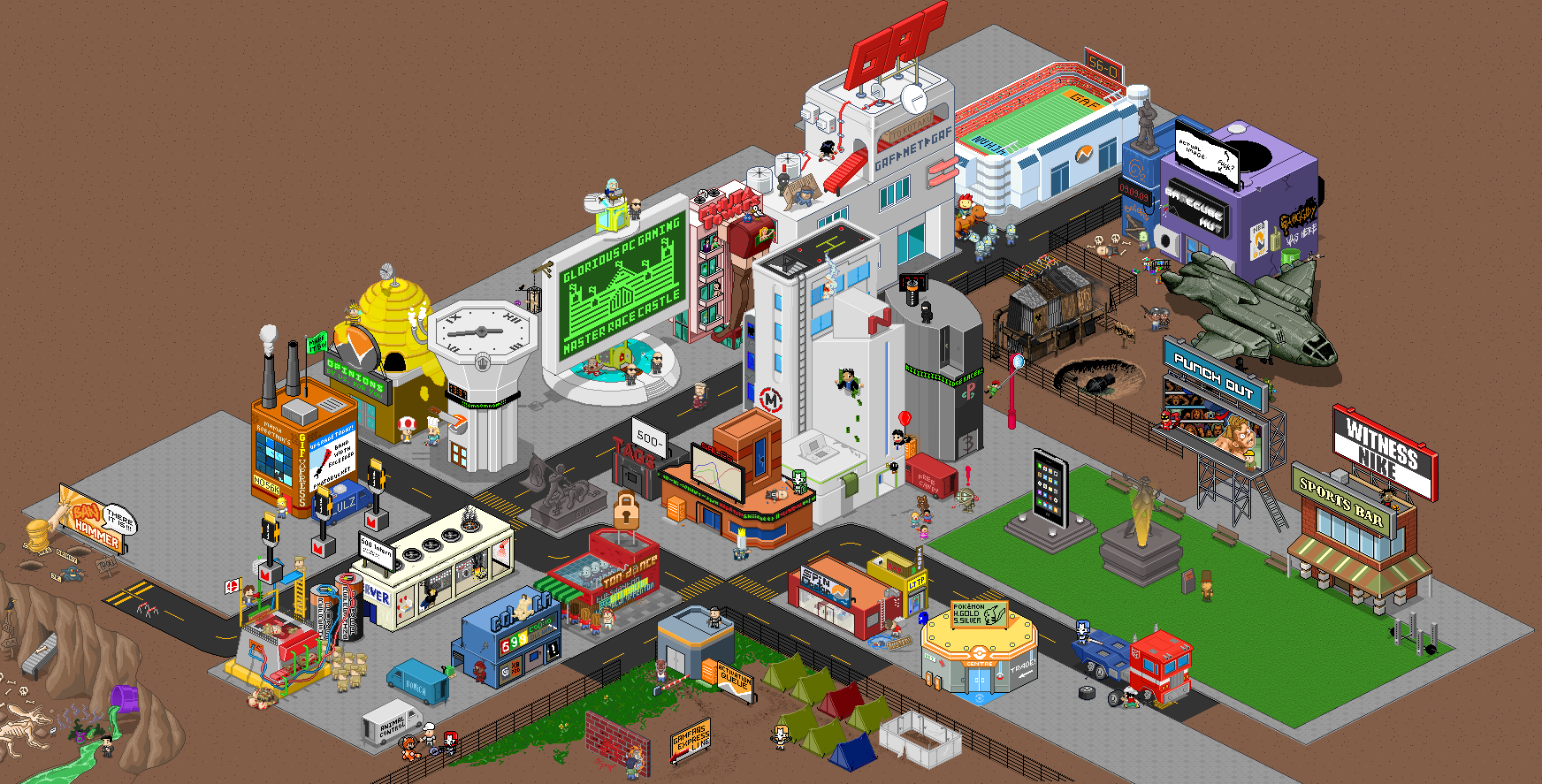 TUTORIALS
QuickSilverGunk said:
Put this in the OP if you like, idk.
Pixel Art/IPA tutorials:
Very detailed and organized, explains all the basics, definitely check this out if you're interested in contributing!​
Nifty tutorial explains basic shapes, how to make a building, lighting, some photoshop facts, etc.​
Basic IPA stuff, building a house yet again, gives some nice subtle lessons.​
How to make a swimming pool and other assorted stuff, check it out, kinda hard to navigate...​
I don't know about this one, first it costs money, then again, the first link is a revision of the original free iteration of this guide...​
Nifty little tut on basic pixel art.​
Make a box, it's simple!​
Make a chair, it's fun! :lol​
You can use
MS Paint
, Photoshop/GIMP,
Pixen
(OS X), and various other graphics editors.
I'll add stuff as I find it, but I think this list will suffice. :lol