New scans from german magazine Games Aktuell:
http://www.gtaengine.de/
(Note: Some screens in the mag are labelled with "PS3". I don't know if this is true, but if yes, these should be the first screens of the PS3 version)
Edit: I've rehosted the scans because they were removed from the site. Enjoy!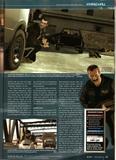 Some infos:
- There will be no Ammu Nation shops anymore.
- The girl with the lollipop is called Lola. It seems that she is a prostitute, but no further information is given about her.
- If you take a cab you can mark any point on the map in order to arrive there. There are even special options: If you have have hunger, you will be driven to the next fast food restaurant. If you're hurt you'll be driven to the hospital.
- If the police searches you, you won't find a cab that will transport you.
- The camera is now positioned lower and more left when you sit in a car. According to Rockstar this gives a more realistic feeling. But there are still different camera settings.
- If you're in a mission, the map not only shows a symbol, but even a line with the best route.
- You can walk, run or sprint. Latter will make you exhausted after a while.
- In the mission where you have to kill the Lawyer Mr. Goldberg there is a dialogue between him and Niko (after Niko pulled out his gun). Goldberg says: "I don't fear guns. You know, guns don't kill people - Videogames kill people." (Hello Jack :lol )
- The following shootout with the police is one of the best ever in a GTA-game according to the magazine. You have to cover and shoot while things fly through the room from the bullets. One policeman even fell down the escalator when they shoot him in the knee.
That's all new info i could find in the text. Everything else is known already.