Can you believe the regular season is upon us? Feels like mere days ago that the Eagles took a championship from the evil Patriots and Tom Brady's grasp.
But here we are. I went ahead and pulled from last thread anybody that posted relatively recently or appears still active on the message board and determined their fan allegiance. If want added, just call it out in the thread and will get you included. Admittedly, my picture skills are very low end, so if somebody with actual talent wants to contribute to the cause to make something that looks far superior, please do so I can get it added in. This thread will be the place to have regular, ongoing NFL talk. Posted in off topic, but was hoping mods could hold off on moving to community until at least the first week is up to try to bolster the conversation.
Quick super bowl predictions from myself (feel free to contribute with your own). From the AFC, it is really hard to pick against the Pats; however, gonna do it. Think the Steelers are primed to make their way back to the Super Bowl to try to bring one to Pittsburgh. From the NFC, I'm feeling strong regression from the Eagles for some reason. Think they'll disappoint. Key core guys on offense hurt (Wentz, Alshon, Ajayi). Superbowl Hangover incoming. So that takes me to the Saints. They should've beat the Vikings last year, and I truly think they would've made their way to the Super Bowl. Brees has another good year left in the tank to take it to the big game. When that match up happens, feeling the Saints to bring another back to New Orleans. Never know with the NFL though which is what brings me back over and over.
Here are week 1 match ups: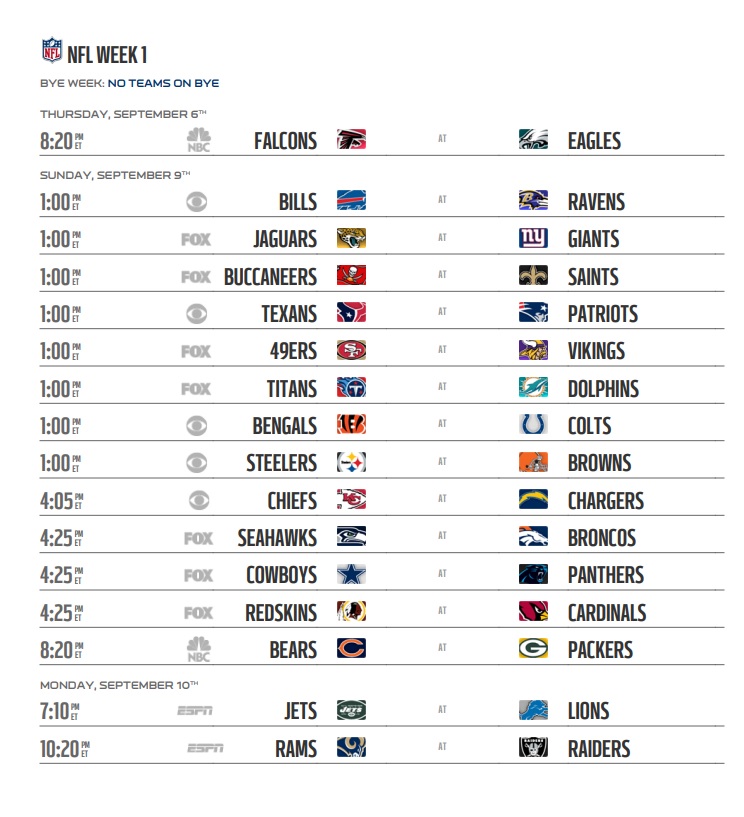 To go along with my regression prediction, think the Falcons pull off the week 1 upset over the Eagles. Expect the Pats to smoke the Texans like they always do, and Texans fans to voice concerns about the team right out of the gate. I'm a Colts fan, and simply can't understand how they are favored over the Bengals. Will be shocked if the Colts win.
Enough of my NFL takes, who do your allegiances belong to, who you got for the Super Bowl, and who you got for week 1?
Last edited: