NCL
has announced a presentation by Satoru Iwata tomorrow, Apr. 21st at noon in Japan, covering Wii and 3DS news.
http://www.nintendo.co.jp/n10/nintendo_direct/index.html
I will be providing live translations here in the OP and on my Twitter feed,
@Cheesemeister3k
.
Countdown clock
Iwata: This is Nintendo's "sealed room". It's blocked off from external wireless transmissions. Wireless waves don't bounce off the walls.
It's been 20 years since the original
Kirby
. 20th anniversary campaign: 3D Classics Kirby's Dream Land 4/25 for 600 yen, Wii collection this summer, orig. goods.
Ubisoft's Just Dance series has sold over 23 million copies. Just Dance 3 is coming to Japan as
Just Dance Wii 2
with Japanese songs. 4P simultaneous play with individual dance moves, chosen section replay. Songs include Rising Sun from Exile. July.
Pokemon Black 2 & White 2
trailer now, coming 6/23 for 4800 yen. New story.
Introducing downloadable software for use with Black 2 & White 2:
Pokemon AR Searcher
, a shooting game, also coming 6/23, for 300 yen. Capture Pokemon via AR shooting like in Face Raiders or Dempa Ningen, use them in Black 2 & White 2.
Pokedex Pro
, an upgraded version of the previous Pokedex program, coming 7/14. New features. Pokedex Pro will cost 1500 yen, will be helpful in BW 2. Will include all Pokemon from the entire series. The original Pokedex BW will no longer be downloadable as of 6/17, but won't be removed from users' machines. SpotPass service for the original will continue through year-end.
Guild 01
from Level 5 trailer. Four games in one: Unleashed Girl, Weapon Rental Shop, AeroPorter, and Crimson Shroud. 5/31 for 3980 yen.
Dragon Quest Monsters
trailer now. Over 600 types of monsters in Dragon Quest Monsters. Local, online multiplayer, up to 8 users' StreetPass data can be stored at a time. 5/31 for 5490 yen.
Etrian Odyssey IV
due on 7/5 for 6279 yen, development progressing well. Travel through a 3D dungeon with the stylus.
Cardboard Warrior: Explosion Boost
, 6B, StreetPass, 7/5, 4400 yen.
Taiko Drum Master: Little Dragon and the Mysterious Orb
3DS with Flying Get from AKB48 and We Go from One Piece among 50 tracks, adventure mode, 4P simultaneous play. Due 7/12 for 5040 yen.
In
Rune Factory 4
, a boy and a girl can adventure together, get married. Sell your items in town or even start your own shop. Due 7/19 for 5229 yen.
Project X Zone
from Bandai Namco, Capcom, Sega, developed by Banpresto. Contains mascot characters. Trailer now. Multi-character simulation RPG fighting game, due 2012.
Mario Tennis Open
5/24, 4800 yen. Character customization. Use your Miis in Mario Tennis Open. Over 200 types of items, customize your racket, power, spin, speed, uniform.
Culdcept 3DS
gameplay introduced. Download play included. 2-player co-op emphasizing mentoring newbies. Cards from Culdcept will be printed for veteran users to introduce the game to newbies. Introduction video following this presentation. National tourney. @3DS_Culdcept Twitter account.
3DS soccer sim game
Karuchobit
endorsed by famous local celebs, soccer players, coaches, who are to play exhibition matches leading up to launch. 7/12, 4800 yen.
3DS firmware update
on the afternoon of 4/25! Folders incoming, can be named. There will be lots of new apps, so we've heard lots of people saying there are too many to keep track of on the front page. Folders can hold up to 60 apps each.
Patch support to be added.
Mario Kart 7
patch will fix an issue with a big shortcut in online play.
New Love Plus and Kingdom Hearts 3D: Dream Drop Distance
will also get patches. Please wait for further announcements from Konami and Square-Enix, respectively.
Kid Icarus: Uprising
technique trailer now. Tune the gameplay experience in terms of camera movement speed. Go to Nachure's home after clearing Kid Icarus. Kid Icarus hint video following this presentation, soundtrack CD campaign: 250 points instead of 400 through 5/8.
Fire Emblem: Awakening
DLC w/ Marth illustrated by Senri Kita for free until 5/31. Fire Emblem DLC on 4/26 w/ Roy illustrated by Kimihiko Fujisaka for 250 yen, w/ Leaf by Sachiko Wada for 350 yen.
Monster Hunter 3G
challenge DLC to be made available following this presentation.
Theatrhythm Final Fantasy
continually getting DLC added.
3D game trailers for
Etrian Odyssey IV, Rune Factory 4, and Cardboard Warrior
available for download on eShop.
Animal Crossing 3DS
due this fall, title in Japanese is Tobidase: Doubutsu no Mori.
2D Mario coming to 3DS, all-new title. Includes Raccoon Mario. Coming in August.
New Super Mario Bros. 2
.
Show's over! Moving on to trailers, starting with
Etrian Odyssey IV
. 5-member parties. Create your own map in-game. Visible and invisible enemies. If you have confidence, attack them head on. Otherwise, sneak up behind them. Learn new skills, customize your party.
Starting with
Culdcept
intro video now. Start by taking a card. It's up to luck. Roll the dice. Go around the board, collect money to win. How to save money: lap bonus, expand your territory, charge fares. Over 480 cards. Use your skills so as not to rely on luck. Next time, how to use cards.
Kid Icarus: Uprising
techniques video. If you're firing while circling, you'll move slower than if you don't fire. Consecutive hits get stronger. By not killing enemies, your special move gauge fills. Adjust camera movement speed, strafing. Assign miracles to the D-pad. Fireworks miracle makes you invincible. Invisibility miracle. Dash attack. Play for records in multiplayer, get weapons. If you don't defeat opponents, you won't get weapons. Striking opponents while they're down is ineffective, so it's better to charge up instead. Super Armor makes you invincible for a few moments. Use miracles in combination with one another. Effectiveness multipliers. When you die, your number of miracles recovers by a number depending on the miracle. Visit Nachure's home and give her hearts, sound test allows you to choose the menu BGM. Random conversations after clearing the game.
GAME OVER! Thanks for reading!
NOE
has announced a presentation by Satoru Shibata tomorrow, Apr. 21st at 1 pm CEST.
http://www.nintendo.nl/NOE/nl_NL/news/nintendo_direct_47764.html
Countdown clock
NOA
has announced that it will be posting info from the Japanese presentation relevant to the North American market in English around 8:30 pm PDT.
https://twitter.com/#!/NintendoAmerica
Countdown clock
Because I hate clicking on countdown clocks and seeing as I recently adjusted my E3 multi-timezone image, I temporarily repurposed it: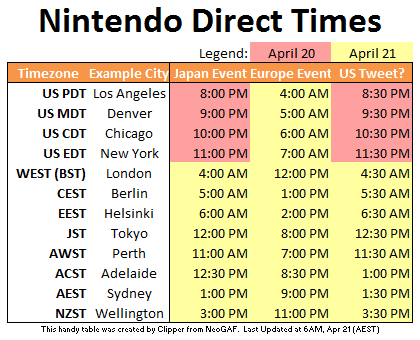 All times are local for the various regions.
Archive:
Nintendo Direct 2012.2.22
Nintendo Direct 2011.12.27
Nintendo Direct 2011.10.21