http://e3.nintendo.com/
Nintendo revealed a few months earlier that it would not have the usual annual Pre-E3 Press Conference this year. They decided to take the "Direct" approach with his fans while showing off its software line-up to retailers and journalist in less "flashy" ways at the convention center. While some may think of this as a bad thing, it also has its positives. For instance, less time will be lost because of technical difficulties, crowd reactions, awkward silences, etc. Time will be more controlled, which potentially means more announcements.
Nintendo started their "Nintendo Direct" initiative about 2 years ago, delivering their messages and announcements directly to us, the fans. It has proven successful, every Direct having record views.
This is the E3 Direct, has been confirmed to be approximately one hour long and will talk about the Wii U games that will be shown at E3 as well as future Wii U titles. (Probably maybe also some 3DS games, let's not forget about that.)
Super Mario U from EAD Tokyo, Mario Kart U and Super Smash Bros. 4 have been confirmed so far to be shown at E3 (and playable in Super Mario and Mario Kart's case) so expect to see those during the Direct.
Nintendo @ E3 Website:
http://e3.nintendo.com/
US Stream:
http://www.nintendo.com/nintendo-direct/;jsessionid=6C975C0984110C5F8141232ADA408DA6
US UStream:
http://www.ustream.tv/embed/11123648?autoplay=true
EU Stream:
http://www.nintendo.co.uk/Misc-/Nintendo-Direct/Latest-Nintendo-Direct/Nintendo-Direct-698557.html
EU Ustream:
http://www.ustream.tv/NintendoUK
JP Stream:
http://www.nintendo.co.jp/nintendo_direct/20130611/index.html
JP Ustream:
http://www.ustream.tv/channel/nintendo-direct-at-e3-2013
JP Ustream (with sub):
http://www.ustream.tv/channel/nintendo-direct-at-e3-2013-sub
CVG LiveBlog:
http://www.computerandvideogames.com/412037/live-blog/live-nintendo-direct-e3-2013-presentation/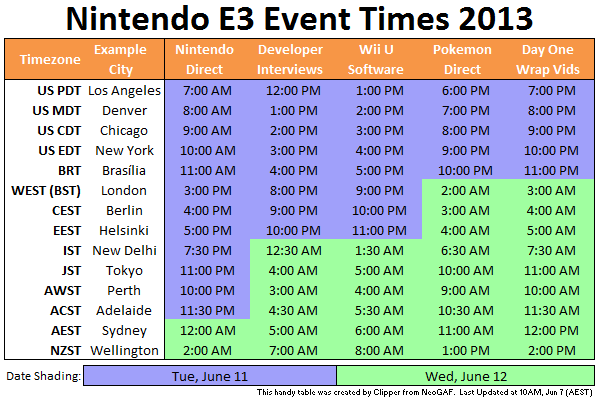 Super Mario 3D World Announced for Wii U. 4 Player Co-op, cat powerup.
Donkey Kong Country Returns: Tropical Freeze announce for Wii U by Retro Studio. Dixie playable.
New Monolith Soft's X trailer. Open-world RPG inspired by Xenoblade
Mario Kart 8 announced for Wii U. Features anti-gravity tracks.
Super Smash Bros for 3DS and Wii U revealed in trailer form. Village from Animal Crossing and Mega Man are newcomers
New Bayonetta 2 Trailer
Huge thanks to Nibel once again for the banners.