Two copies sold? That's not a bomb guys, stop trolling!!!
Mar 10, 2011
22,885
0
865
29
A while ago, Nintendolife posted an article where it was stated how IARC was coming soon to the eShop, specifically in this extract
http://www.nintendolife.com/news/2015/10/international_age_rating_coalition_system_iarc_set_to_come_to_the_eshop_very_soon
Already available on Google Play and the Firefox Marketplace, its arrival on the eShop seems to be around the corner. Renegade Kid's Jools Watsham has told us that when looking into obtaining ratings for Dementium Remastered he was advised by his source that the IARC system is coming "very soon"; it was suggested that he hold fire and rate the game for Europe through the new system. That leads to an optimistic assumption that it's a matter of weeks, not months for this to kick in.
It's worth recognising that this could be a hugely important development for small Indie developers, reducing some cost and time constraints in bringing their games to more markets. Hopefully more download titles will arrive across all territories once this rating system goes live.
Now, it seems it's already working, as testified by two indie developers.
RCMADIAX
https://twitter.com/rcmadiax/status/659872103366303744
And our own Gualtica (ZaciSa: Defender of the Crayon Dimension)
Nintendo IARC is a go!!! As a indie dev, I am so excited. Along with my next 2 games (both early 2016), now going back and releasing ZaciSa in AU!
In case you're wondering what IARC is
https://www.globalratings.com/
And how it works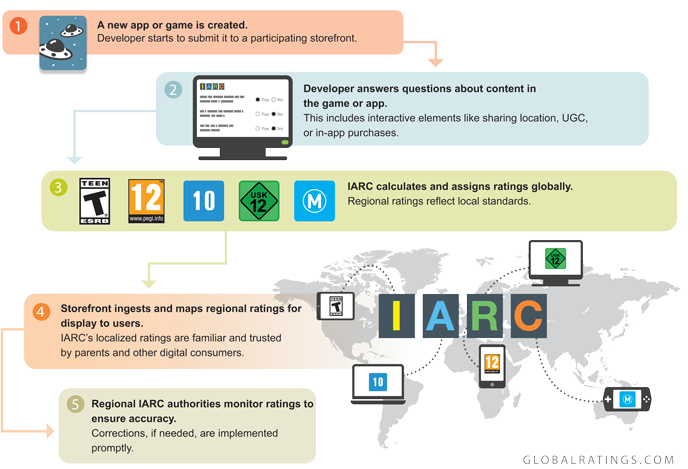 The Nintendo eShop joins Google Play and Firefox Marketplace as digital stores adopting the international standard. Both Xbox Live Store and Playstation Store will adopt it in the future.
Rate me L for Late if old.