https://twitter.com/gibbogame/status/428704863321464832
https://twitter.com/gibbogame/status/428705356814884866
https://twitter.com/gibbogame/status/428705589741359104
https://twitter.com/gibbogame/status/428706170589552640
Defines entertainment =improving quality of life QOL in the next 10yrs is to improve this, first area is health, want to find blue ocean

QOL could do wearable devices but wants to leapfrog that to non wearable devices by Nintendo, want to propose healthy structure for day2day

Thinks there will be synergies between games platform and QOL platform

QOL platform with roll out in April 2015,integrated with games, business plan details in 2014, business impact in fiscal year mar 2016
Mr. Iwata now going into how Nintendo is going to expand into new fields. He looks back the past 10 years of his tenure, saying he's had some success in expanding the gamer population by bringing Wii and DS to people who may not have played games in the past before.

What's Mr. Iwata going to focus on for the next 10 years? The main theme: enhancing the quality of life through entertainment. The key word is health, Mr. Iwata says. Citing a flood of wearable devices already on the market, he says Nintendo is trying out something completely new: non-wearables to monitor your health.

For those of you wondering what non-wearables are, Nintendo will unveil the details of its new business during 2014 and launch it for the fiscal year through March 2016. Mr. Iwata's speech is now over. And now the Q&A session is starting.
http://blogs.wsj.com/digits/2014/01/29/live-nintendos-strategy-briefing-to-address-future-direction/
some crazy person's geocities page will explain this whole plan to you: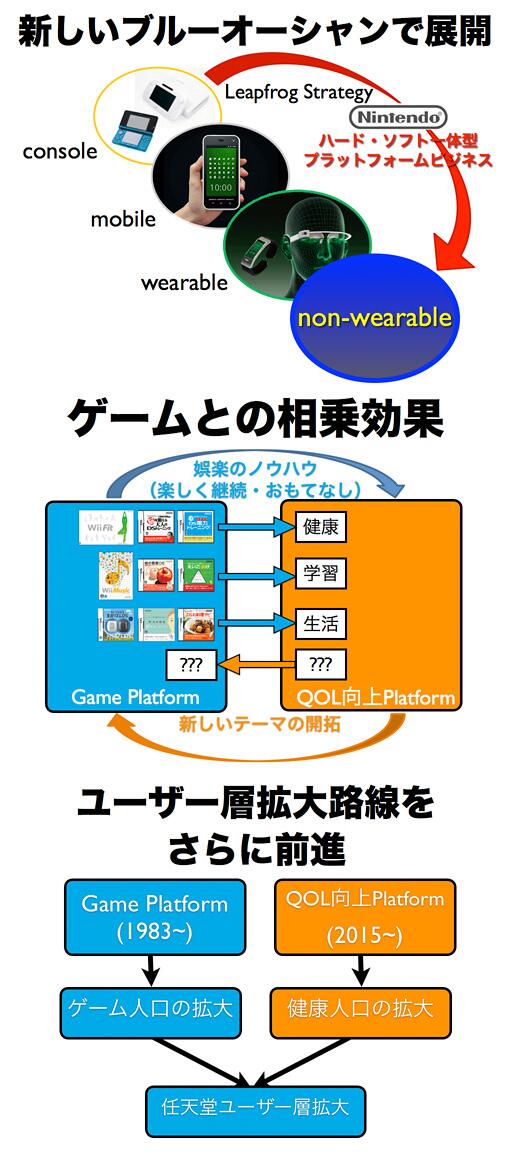 Iwatacare.